Posted by David Reed on 04/05/2014
LACSA- Central America Excitement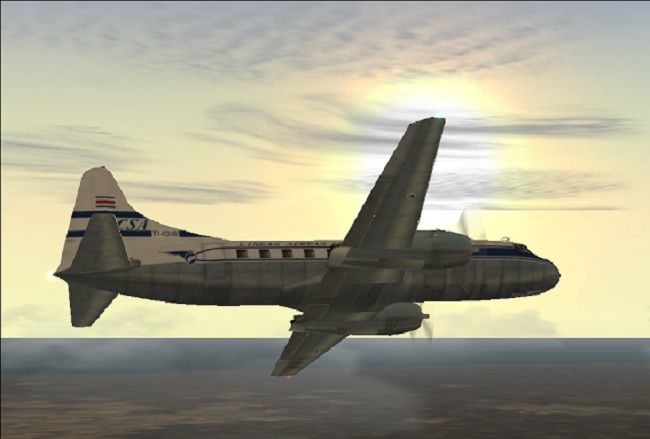 LACSA is the national airline of Costa Rica based in the capital of San Jose. Established in 1946 by PanAm, they went independent in 1949. Early on LACSA operated C-46's, C-240's and DC-6B's on domestic and international routes in South, Central and North America. HAG has numerous flights with LACSA and will be adding more. There are numerous scenery add-ons for Central America, where the flying is both challenging and scenic! Break away from the same old rut and try some real flying in Central America. Enjoy!

New Charter Aircraft: Cessna 210M

Sometimes we need to park the heavy iron and run a charter in a great single. Few single engine aircraft compare to the legendary Cessna 210 for speed, efficiency and endurance. We've added the Carenado Cessna T210M to our charter fleet. This is an outstanding model that will be an excellent basis for some good regional charter work. We have the Cessna based at all of our charter hubs: Hayward CA, St Louis MO, Chester CT and Layton UK. Just search the schedules for the Cessna T210M, and read more about this airplane in our About Us tab. Enjoy!

The C-130: Still In High Demand

The Lockheed C-130 first flew in 1955, and the production line is still open! Go to the About Us tab at the top of the page and select the page for C-130 SpecOps. Read about how even today the C-130 is still the airplane of choice for Special Operation Groups. Article copied from the National Defense Intelligence Agency Magazine.
Pratt & Whitney R4360 Wasp Major

Here at HAG we have a great general aviation fleet. Prominent in that group is Beechcraft, represented with the Beech 18, Beechcraft Baron and Beechcraft KingAir.

Beechcraft began business back in 1932 under the leadership of Walter & Olive Ann Beech. Their first aircraft, the infamous Beechcraft Staggerwing, was a success for two reasons. First, it appealed to the business traveler as an affordable and safe method of transportation. Second, Walter Beech got a contract with the Army Air Corps to build 250 for them, 1/3 of the total production.

Customers expressed a desire for the perceived safety of two engines, so Walter designed the Twin Beech, or Model 18. Powered by two reliable Pratt & Whitney engines, the cabin was large enough for up to six passengers, yet small enough to be both economical and fast. Business Aviation had it's first business plane. Walter sold the plane to the USAAF, where it proved to be a versatile trainer. Again, of the 9000+ built, one third were for the military. Sharing development costs with the Army helped keep the overall cost down and allowed for continuing improvements. 

In the 1950's, Beechcraft had created the single engine Bonanza and twin engine TravelAir & Twin Bonanza. The Bonanza was a big success, considered to be the Cadillac of single engine aircraft. Cessna's model 310 and Piper's Aztec were affordable and popular twins, but the Beechcraft TravelAir was lacking in performance and the Twin Bonanza was just not economical. A new, clean sheet design had to be made. The first Baron, the Model 55, had power, room and economy by utilizing many design charteristics in the successful Bonanza. For Bonanza owners, the Baron was a natural step up. Later they increased the length, added two doors to the rear, and installed powerful Continental six cylinder engines to create the most successful Baron ever, the Model 58. The six-seat, rear door arrangement is today the standard layout for both the Baron and the Bonanza.

Beechcraft had worked in pressurized aircraft, building the piston-powered Duke and pressurized Baron, but the real success came when they took a QueenAir (which had only enjoyed limited success), replaced the piston engines with P&W PT6 turboprops, pressurized the cabin and marketed the new KingAir. At last, business aviation had an affordable turboprop that could take off and land from almost anywhere while cruising above the weather in pressurized comfort. Beechcraft once went with a radical design, the Starship, but it didn't last. What did last was the proven designs that were improved year after year- Bonanza, Baron and KingAir. Never has a company done so much right with a product line. All Beechcraft types are available to all pilots including new hires, so fire up your favorite classic and do some business flying!  

Japan Airlines Returns To HAG!

Back by popular demand, Japan Airlines returns to the skies of HAG! We have brought back 50 flights, including the Douglas DC-7C, the smoother, quieter, faster DC-8 (you pick the model), and even the jumbo of all jumbos, the 747.

After World War Two, Japan faced a significant amount of prejudice in the world market. Founded in 1953, JAL was key to their return to the world of international business. With JAL, Japan could pick the destinations their business travelers wanted to visit. JAL became a strong believer in Douglas aircraft, putting them to good use in their emerging business. They focused on what they knew best- strict standards, efficency, first class passenger service and reliability. Crews were a mix of Japanese and American pilots. With strong leadership, JAL grew and so did profits so they were able to keep up with the rest of the international carriers when the jet age arrived. Japan Airlines is one of the reasons Japan is the economic power it is today.    

UPS Joins Historic Airline Group

UPS is the largest shipment company in the world. Headquartered in Atlanta with a mega-hub in Louisville, UPS delivers over 15 million packages every day, around the world.

UPS has always been primarily a ground delivery business. With deregulation in 1978 UPS was able to establish it's own fleet of aircraft. Based in Louisville KY, UPS started with used 727-100s, DC-8s and 747-100s. Nine years later the first new aircraft were acquired (B757F). The DC-8s were upgraded to Seventy-series, while new MD-11s provided heavy lift capability around the world. Today UPS flies 13 747--400F, 75 B757F, 59 B767F, 52 A300F and 38 MD11F aircraft. UPS operates several major hubs: Louisville KY, Philadelphia PA, Ontario CA, Dallas TX, Columbia SC, Cologne Germany, Hong Kong, Shanghai and Shenszen China. At HAG we have included three types, the 747, MD-11 and DC-8. National routes are available, as well as international trips. The B747 works from Louisville KY through Ontario CA and Anchorage AK to the Far East. The MD11 operates from Louisville to Cologne via Philadelphia, then on to the far East from Cologne. The MD11 and DC8-73 operates domestic routes between UPS hubs. If you like long haul and wide bodies, you'll love flying UPS!    
We have expanded our UPS flying to include several flights from Cologne, Germany. Cologne is the European hub for UPS, and the 727-100 was a common sight there. We have flights that range from 28 minutes (Amsterdam) to two hours (Madrid), so no matter how much time you have, you can find a UPS 727 flight for you. You can find the 727-100F at HJG and textures for it at Flightsim.com. Enjoy!