Posted by David Reed on 12/21/2013
UPS Joins Historic Airline Group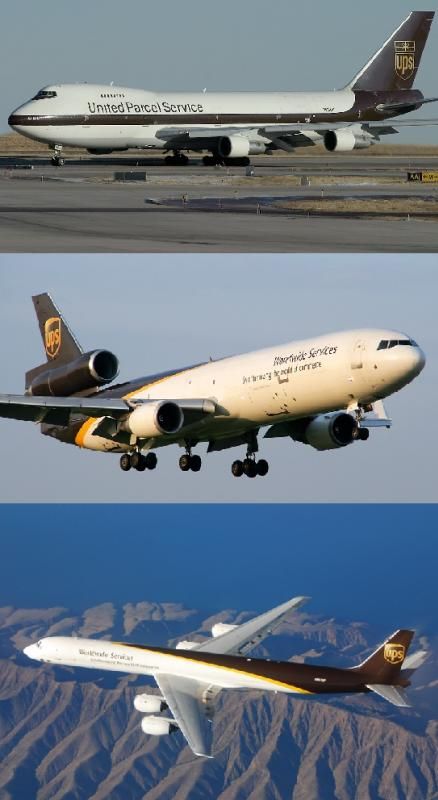 UPS is the largest shipment company in the world. Headquartered in Atlanta with a mega-hub in Louisville, UPS delivers over 15 million packages every day, around the world.

UPS has always been primarily a ground delivery business. With deregulation in 1978 UPS was able to establish it's own fleet of aircraft. Based in Louisville KY, UPS started with used 727-100s, DC-8s and 747-100s. Nine years later the first new aircraft were acquired (B757F). The DC-8s were upgraded to Seventy-series, while new MD-11s provided heavy lift capability around the world. Today UPS flies 13 747--400F, 75 B757F, 59 B767F, 52 A300F and 38 MD11F aircraft. At HAG we have included three types, the 747, MD-11 and DC-8. National routes are available, as well as an around-the-world trip from Louisville to Seattle, Hong Kong, Riyadh, Cologne, Phildelphia and back to Louisville.    


FedEx Joins Historic Airline Group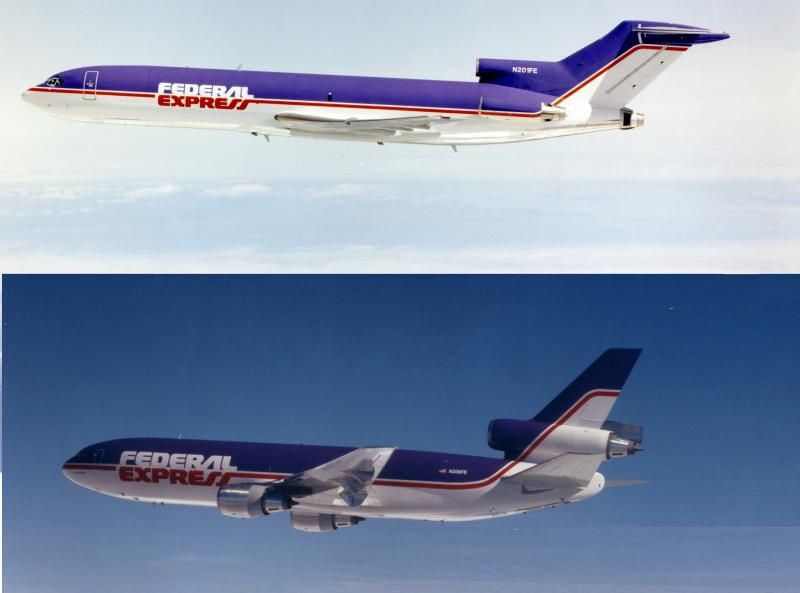 Federal Express began operations in Memphis TN on April 17, 1973 using fourteen Falcon 20F cargo aircraft. 187 packages were carried that night. It wasn't until three years later that FedEx turned it's first profit. In fact, at one point payroll was made when the founder, Fred Smith, won $27,000 at Blackjack in Las Vegas. In 1977 laws were changed that allowed FedEx to expand into larger aircraft, the Boeing 727-100. Computerized package tracking came in 1980 as did international operations, and in 1983 sales topped $1 Billion.

At HAG we focus on two classic FedEx aircraft. The 727 brought large capacity to the overnight business. At times it seemed like there was a FedEx 727 parked at almost every airport in the country. The DC-10 brought wide body, high capacity, long range capability to FedEx. Eventually FedEx did operate some 747s briefly, but only through the purchase of Flying Tigers. FedEx instead focused on the DC-10 and the MD11. Later they purchased other types from Boeing and Airbus, but it was the 727 and DC10 that made FedEx the world giant it was to become.


Airline Spotlight: Pennsylvania Central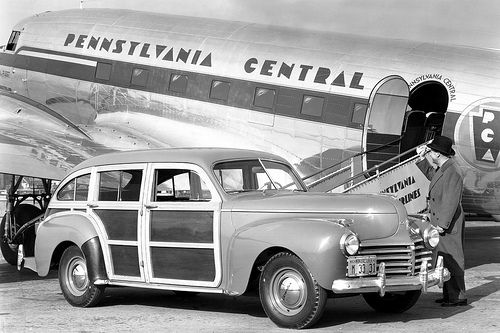 Pennsylvania Central began as the merger of Pennsylvania Airlines and Central Airlines in 1936. Central Airlines is known for hiring the first woman airline pilot. PCA was based at Allegheny Airport, near Pittsburgh PA. They were one of the first to connect Chicago with Washington DC, as well as other eastern destinations. Like many of the airlines of the day, PCA flew DC-3s exclusively.

In 1941 PCA helped design the new Washington DC airport (KDCA) and moved their headquarters there and began naming their planes Capitalliners. In 1946 they were the launch customer for the new DC-4. In 1947 they changed their name to Capital Airlines. In 1949 they were the first airline to install televisions in their airplanes. At the Historic Airline Group we offer over 80 flights with Pennsylvania Central Airlines. Enjoy flying the Mid-Atlantic regions today!

Back to Basics!
Recently my old computer was giving me trouble and nothing on FS9 was working rght so I got a new copy of FS9 and installed it on my newer desktop. With all the add-ons gone it's back to basics. My first download was a DC-8 from HJG along with the correct panel. So now I'm running National, PanAm and United flights again. I wouldn't mind that new DC-8 with the excellent VC, so I might just have to upgrade (finally) to FSX. Of course that means a better equipped computer, so until I can find a spare $1500 laying around I'll be exploring the FS9 skies again with HJG jets and CalClassic DC-7's. Actually, things are pretty simple now, and that's not bad!

DC-4: When The Airlines Became Majors
The Douglas DC-4 was designed for America's major airlines who wanted a larger, longer-range aircraft. The initial design, the DC-4E, was designed to carry 42 passengers in pressurized comfort. Boeing was competing with the model 307 Stratoliner and while the Boeing was barely economical, the DC-4E proved even less so. The wing was simply a larger version of the DC-3 wing, the systems were difficult to maintain and the performance expectations weren't being met. TWA & PAA went to the Boeing design, and United, American and Eastern told Douglas they would too if Douglas couldn't meet their needs. Douglas started over with a clean sheet. The wing was a new design, high on lift yet low on drag. Pressurization was dropped and every system was simplified. Proven and reliable PW R2000 engines replaced untried designs. The result was the DC-4. Compared to the DC-4E, the new DC-4 had a higher gross weight, a faster cruise speed, and more seating capacity. The design proved to be easy to maintain and economical to operate. First aircraft went to the USAAF in World War 2 where issues were corrected and improvements made. After the war there were hundreds of former Army aircraft available at bargain prices. This large availability limited new construction needs, so Douglas instead focused on a stretched version that could fly coast to coast, the DC-6.
Route Hopping

Today I embarked on a new thing. I took my classic B-17G "Devil's Tattoo" (repainted myself) and started a cross country journey. I started in Buffalo NY and am heading to Wilmington OH on an Airborne Express route. Remember, equipment substitution is allowed for all Senior Captains. After this I'll catch another Airborne route further west, then continue on using other airline routes to get me to my destination- Oakland CA. Remember, flight sim is all about imagination!

Upgrade

We noticed that on the website we don't show the upgrade process very well, and in fact the process was still confusing. So we decided it was time to simplify and clarify.

We eliminated the Senior FO position and the Captain VI position. Now you start as a New Hire, then move in to Captain 1-5 positions, cumulating in the Senior Captain position. I also put the hour requirements on the Aircraft of HAG page.
2014!
Hard to believe its 2014 already! I have no complaints about 2013, except the usual stuff we all come here to escape. I find that after a long day dealing with the seemingly never-ending issues associated with owning and running a trucking company, nothing relaxes my soul better than a good freight haul with one of my favorite cargo planes. Sometimes its a small amount in a Twin Beech from Chester to some remote airport in Wisconsin, other times it's a large quantity of essential perishables in my TransAirLink DC-7B. I once had a job flying in the Caribbean and on trips to a certain remote island I would often do a grocery run for the nice couple that lived there. I'd often surprise them with a box of cherry danish or an apple pie, items they had no access to in their little place. Next time you fly a cargo flight, think about what you would bring along for the ramp agents in the remote locations you fly to. What would make them happy? Historic Airline Group is a great place to dream and even fly a low approach in a howling blizzard if you so choose. Or not. Depends on how much I'm spending on diesel today...

PanAm Stratocruisers

Pan American placed the original and largest order for the double deck Stratocruiser, 20 of the 56 built. It later purchased one of the prototypes, and acquired six by merge with American Overseas Airlines, for a total of 27. Ten were later modified to "Super" Stratocruisers by installation of additional 450 gallon fuel tanks, allowing non-stop flights to London and Paris from New York. Complete with a lower deck lounge and bar, the "Strats" were the ultimate in luxurious travel, and served Pan Am from April 1, 1949 until the last was retired on December 18, 1960. PanAm Stratocruisers are available at CalClassics.