Posted by David Reed on 07/25/2014
Douglas DC-7CF N869TA: The ultimate piston freighter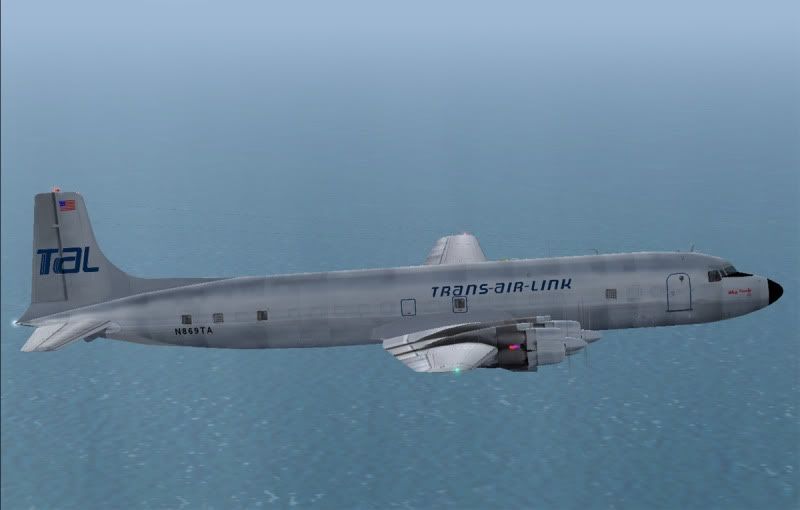 N869TA was the last DC-7CF to operate in commercial service. The biggest of the Douglas piston airliners, N869TA started its life with KLM in 1957, registered PH-DSI, "Zuider Zee". Later she went to Air Turas in Ireland as a freighter, then to Affretair in Rhodesia where it flew high quality beef out of the country against international sanctions for sale in Europe. When Affretair shut down, the Rhodesean Air Force took over the aircraft but two years later she was picked up by a US broker and eventually sold to Trans Air Link in Miami FL in 1985, carrying cargo in the Caribbean. TAL was the last US operator of the "magnificent seven" but sent it off on lease to Filair in Zaire in 1998. Sadly, she never came back and was last reported derelict at Kinshasa. HAG has four classic TAL flights for N869TA, flying round trips from Miami to San Juan and Kingston. Textures are available at this link, using CalClassic's DC-7C: http://flyawaysimulation.com/downloads/files/17404/fs2004-trans-air-link-douglas-dc-7cf/ 
New Fun Flight Added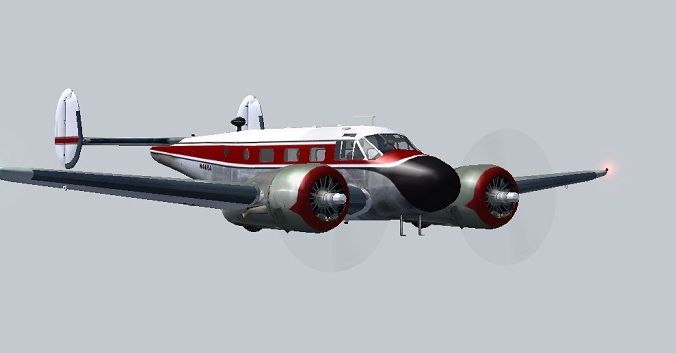 We've added a new fun flight for the new commercial pilot who's looking to build some quality multi-engine time. On this trip you load up your trusty (ha!) Beech 18 with 800 lbs of newspapers, NY Times & Wallstreet Journal. You run out to the islands and Cape Cod, dropping part of your load at each stop. Don't be late, they'll be waiting on you. The problem of course is the early morning fog so prevelant in this region. Have fun! Find it in the About Us tab under Fun Trips.

Highlight: Vickers VC-10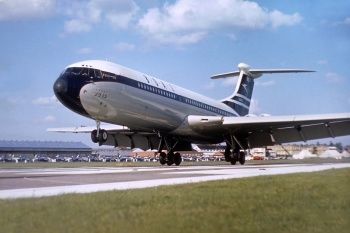 The Vickers VC-10 was a long range four engine jetliner that was 100% British. Designed for long range as well as operations from smaller airports, the VC-10 is a challenge to operate yet a delight to fly. Dave Maltby has an excellent model for you to download as freeware. Go to the "About Us" tab and read the page on the Vickers VC-10 to learn more about this unique and historical aircraft.

Update: Scandanavian SAS Caravelles

We have uploaded more SAS flights for the Caravelle as requested. The routes are across Europe and the Mid East and some interesting airports in Scandinavia, Many thanks to Ralph Connell for the schedules. The Caravelle was the first jetliner with aft-mounted engines and a clean-wing design that has been used on many other aircraft since. Sud Aviation's design used fuselage features from de Havilland under license, The nose area and cockpit layout were taken directly from the de Havilland Comet, the rest of the aircraft was locally designed and manufactured.
Pink Slips

Pilots that join and then don't fly are a mystery in the VA community. But it happens much more often than many may believe. I recently canned every pilot who has joined yet not flown in the past 45 days. 41 of 151 got cut. This makes our percentage of pilots to active flying much better.
Highlight: Scandanavian SAS Caravelle

Scandinavian Airlines (SAS), previously Scandinavian Airlines System, is the flag carrier for Denmark, Norway & Sweden. Founded in 1946 and officially becoming SAS in 1951, they entered the jet age in 1959 when they purchased the Sud Aviation SE-210 Caravelle. SAS started with the Caravelle III, the most popular version of the aircraft. Carrying 74-94 passengers depending on configuration, the Caravelle flew international routes at first, then transfered to domestic service, ending it's career at SAS in 1974. SAS was the Caravelle's largest operator with 21 aircraft. The Caravelle cruised at 435 knots for up to 920 nm. HAG has eight SAS Caravelle flights: Copenhagen to Rome (R/T), and Copenhagen to Dusseldorf, Zurich & Rome, and back again.
Highlight: Mohawk Convair 240

Mohawk Airlines was an American regional carrier that started life in 1952. Mohawk Airlines was known for many firsts- they were the first airline to hire an African-American stewardess; the first regional airline to use simulators in training; the first airline to use a centralized computer-based reservation system; and with the introduction of the BAC 1-11 they became the first regional airline to use jets. On July 1, 1955, Mohawk aquired their first Convair 240's from Swissair, American, Northeast and Ozark. Standardized with 40 seats, they were the first regional airline to offer pressurized flights. The Convair proved to be better than the DC-3 in most every way, with better speed, range, economics and passenger appeal. Mohawk quickly moved to acquire more Convairs, expanding their service to more distant cities with 26 Convair 240's. Later they added six more seats to bring the passenger load to 46. The Convair 240 served Mohawk well from 1955 to 1967, when it was replaced by the Fairchild FH-227. HAG has 260 Mohawk Convair 240 flights, operating on routes throughout the Mid-Atlantic region that they served so well.
 
Early 707s: Fun yet Unforgiving

Recently I installed the HJG Early 707-321B with PanAm livery for some cross country flying. I picked a route from JFK to Anchorage, then on to Tokyo. I had not flown the 707 in a while and I was quickly swamped with the procedures necessary to bring this bird to flight. I finally got things started and down to the end of the runway. I adhered to the given V-speeds carefully and was rewarded with a smooth departure. But don't take your eyes off the beast for a minute! At the speeds this airplane flies at, things happen fast and bad things happen faster. Very careful attention must be given to pitch, speed and climb rates while handling fuel flows and navigation duties. The reward for careless handling is a quick stall and you'd better know what you're doing to recover if you don't want to end up as a smoking hole in the ground in upstate NY. Level at FL350 she runs like a thoroughbred horse, hitting Mach .83 for a quick cruise. Here at HAG we aren't limited to a specific type. The fun here is in being able to fly all different types, and facing the challenges each type of aircraft demands. The reward is not another hour or two in the logbook, its the successful outcome of a well planned and well executed flight. At HAG, we're Old School!

The Journey

Here's an idea to add variety to your weekend. Select a remote or distant departure point and then route yourself to the airport closest to your hometown. I picked Resolute Bay Canada. Took an Air North Electra to Iqualuit, then a Canadian North flight to Montreal. Next day I caught a Trans Canada DC-8 to Chicago and finally an American MD80 to St Louis. If you were in some remote location and ready to come home, how would you get there? If you were in Hong Kong, how would you get home to Cologne Germany? Its fun and allows you to accomplish a goal with a variety of airlines and routes. Rack up those Frequent Flyer miles!