Posted by David Reed on 07/15/2018
ANSETT DC-6B ROUTES ADDED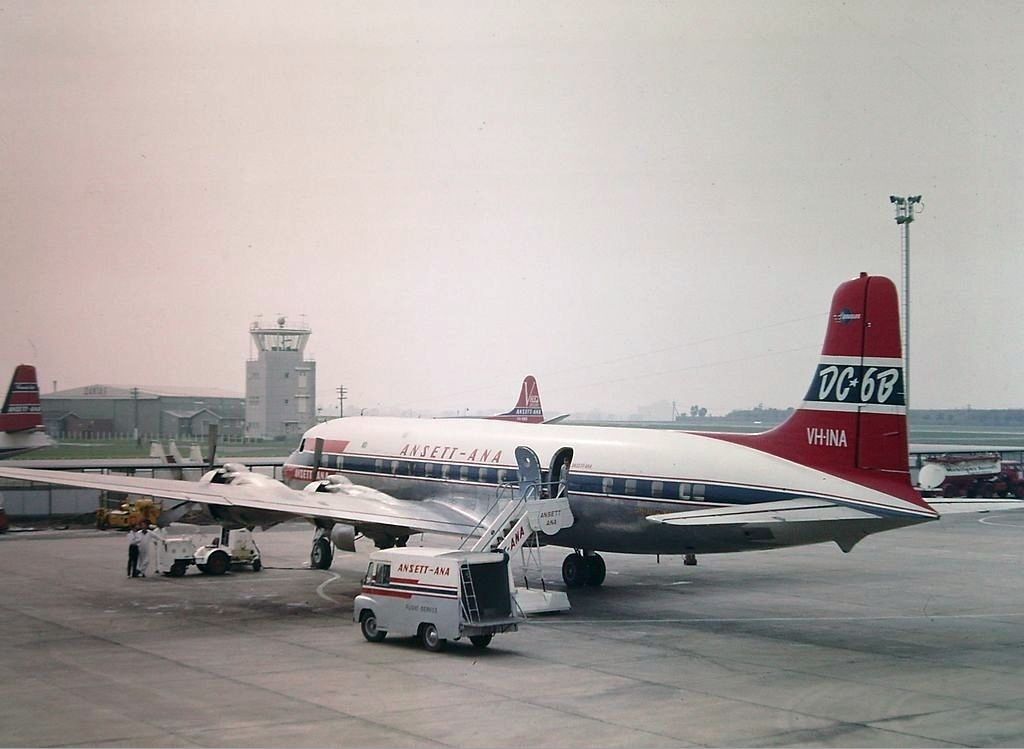 We just reviewed Ansett's DC-6B flights and added new destinations, including Adelaide, Perth, Canberra, Launceston and Melbourne. In Australia after the war, the airlines were strictly controlled by the government. As a result, ANA's initial order of four DC-6's in 1946 was vetoed by the government. In 1953 TAA ordered new Viscount aircraft, so ANA was allowed to add new equipment too. Instead of ordering Viscounts, ANA ordered four new DC-6B's and two used DC-6's. The DC-6B's were a winner, configured to carry 58 passengers and four tons of freight, compared to the Viscount's 44 passengers and two tons of freight. The DC-6 had longer range than the Viscount, too. Whereas the Viscount needed to reduce the passenger load on its longer range flights, the DC-6 had no such restrictions. However the loans required to purchase the DC-6's were a debt ANA could not afford in the long run. In 1957 they merged with Ansett to become ANA-Ansett. In 1959 Ansett took delivery of it's new Lockheed Electra II's, and the DC-6's were moved to more regional routes. The trustworthy DC-6 served Ansett until 1966 when the last one was retired.

FLORIDA FREIGHTERS: AGRO C97G IN MIAMI

AGRO Air Associates is a Miami-based company that was created for leasing aircraft. AGRO operated a fleet of 11 DC-8's as cargo freighters, but they were unique in that for a short time they operated two converted C97G freighters. Powered by four Wasp-Major R4360 engines, the ex-USAF C97G could carry 37,500 lbs of freight.  The type proved to be very maintenance intense though, and parts were often non-existent, so AGRO went with the DC8. We are using the AGRO as though it had been more successful, with six destinations including Kingston, San Juan, Belize City, San Jose, San Pedro Sula and Santo Domingo. Look for textures soon on FlightSim.

FLORIDA FREIGHTERS: TRANS AIR LINK IN OPA LOCKA

We have just expanded Trans Air Link's operations in South Florida. In addition to the flights out of Miami, we have added six flights each for the DC-6F and DC-7F out of Opa Locka Airport. These flights deliver freight to various destinations in the Caribbean. One flight goes to South Caicos and North Caicos in the Bahamas. These airports will be a challenge for the average Douglas pilot. Normally TAL will depart North Caicos for Miami with an empty airplane, which will certainly help your takeoff performance. Textures for the TAL DC6F are available on FlightSim now, and textures for the TAL DC7F will be available soon.

ALLEGHENY AIRLINES!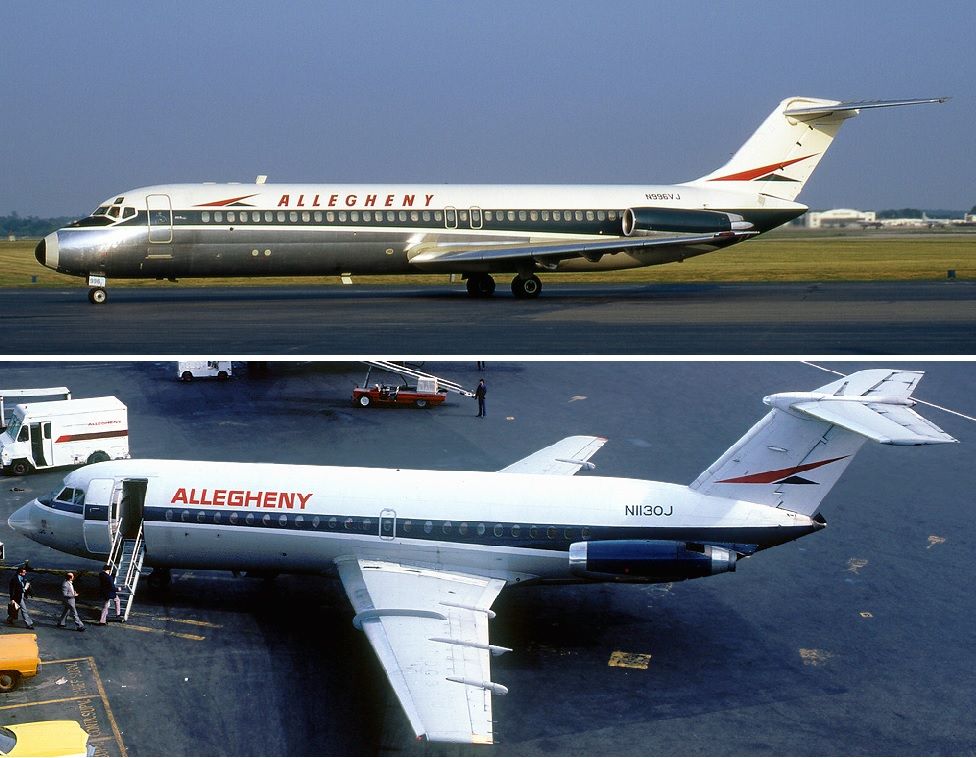 Several years ago we considered adding Allegheny Airlines (ALO), but decided against it because all of the routes were already being flown by several other airlines. This week though I was looking to expand our operations at Baltimore-Washington Airport (KBWI). We don't have that many flights, mostly United and American. Baltimore has a long and colorful history in the eastern US, and I felt they needed to be better represented. Allegheny Airlines was always profitable, with a firm presence and reputation in the very lucrative eastern US market. While other airlines often dropped smaller cities as they grew, Allegheny always remained true to their customers and the cities that made them successful. We are representing Allegheny in the early 1970's. The DC-9 30-Series came on the scene in 1966, bringing greater revenue. At their peak they operated 89 DC9-30's. In 1972 Allegheny bought Mohawk Airlines, acquiring 31 BAC 1-11 jets in the process. In 1979 they changed their name to USAir, and in 2015 they were bought by American Airlines. However for many years they were the dominant airline at Baltimore/Washington International Airport. We have added six round trips for each aircraft. The BAC 1-11 flies to Boston, Charleston WV, Cincinnati, Indianapolis, Pittsburgh and Syracuse. The DC9 flies to Clarksburg WV, Toledo, Erie PA, Buffalo, Burlington VT and Chicago/O'Hare.


UNITED AIRLINES 727 ROUTES ADDED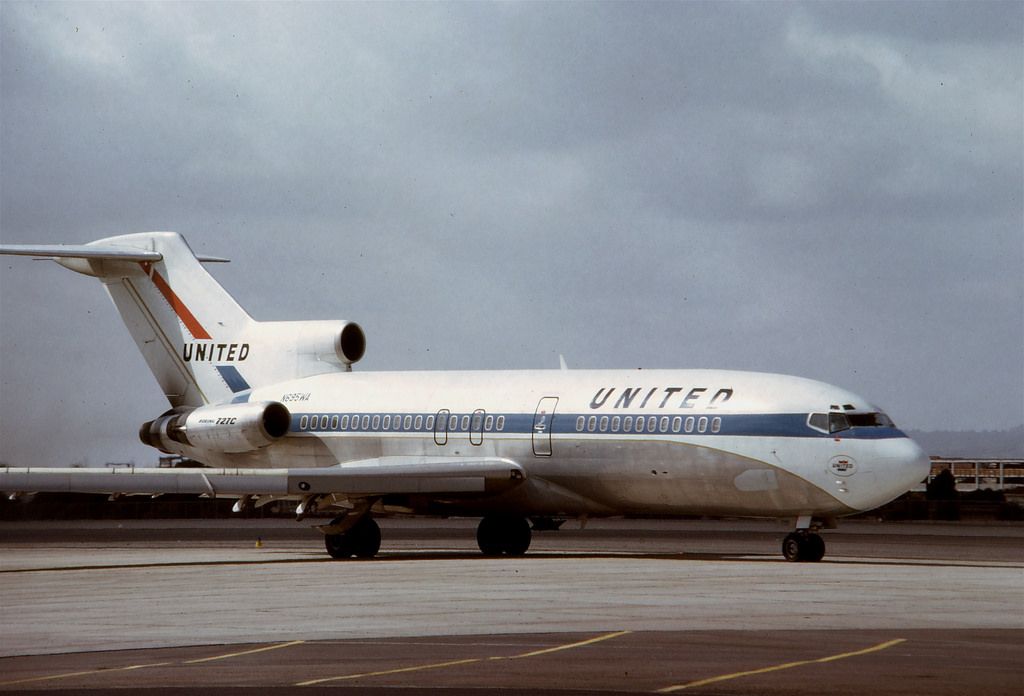 We have just finished reviewing the United Airlines 727 flight schedule and have added 12 new round trip flights, including Baltimore to Omaha; Buffalo to Chicago and Washington; Chicago to Denver, Minneapolis, Philadelphia & Richmond; Denver to Milwaukee, Salt Lake City & San Francisco; and Detroit to New York. The first 727 ever built was delivered to United in 1963. The last United 727 revenue flight occurred in March 2003. For forty years the iconic Boeing 727 was the flagship of the United fleet!

ALASKA AIRLINE L-1649A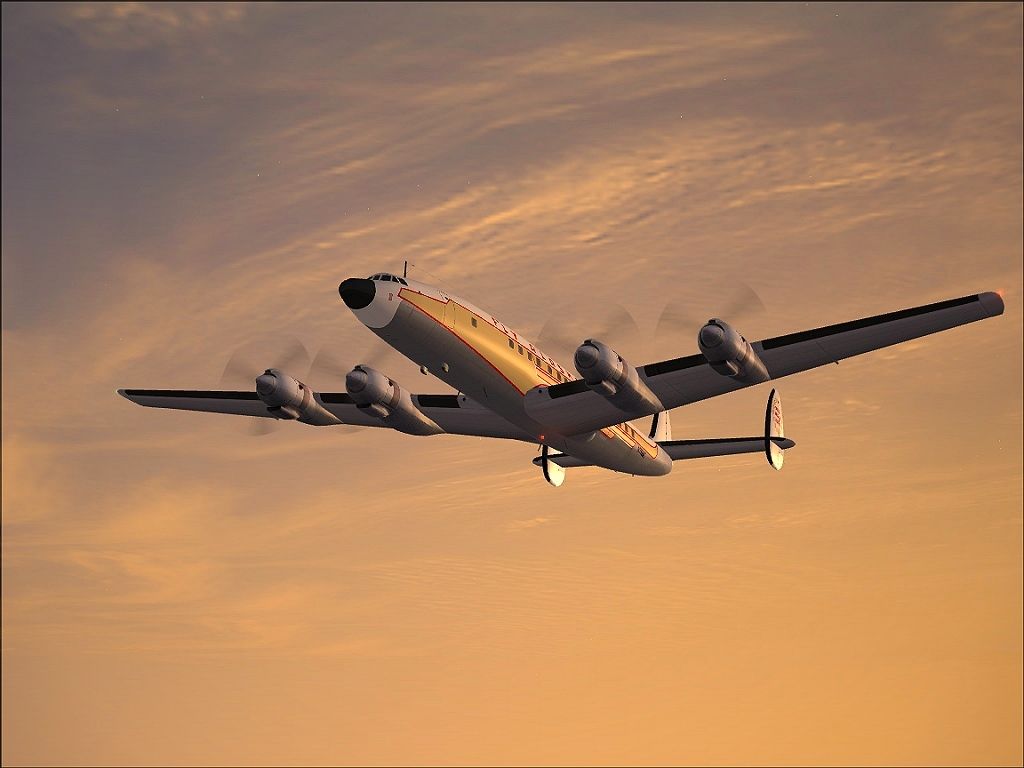 We just added several flights for the Alaska Airlines Lockheed 1649A. N7316C was delivered to TWA in June 1957 but only flew passengers for three years. In November 1960 it was converted to a freighter and on New Years Eve 1962 it went to Alaska Airlines. Today it is being restored for Lufthansa as the only flying example of the L1649 Starliner, or should I say it was being restored. Last March Lufthansa put the whole project on hold and the future is still being decided. N7316C's duties at Alaska Airlines are pretty much unknown. One source says it was used for MATS charters, yet I have seen photos of it on the passenger ramp at Anchorage. Though configured as a freighter, there is a chance that Alaska used it as a combi. Here at HAG we have several flights for it as a 99 passenger aircraft, from Anchorage to Fairbanks and Seattle; Anchorage to Juneau to Seattle; and Anchorage non-stop to Seattle. Only two ever flew for Alaska. Afterward it bounced from one cargo operator to another until it finally ended up in the Lufthansa restoration project. You'll find the aircraft a challenge to fly, especially in the mountains and poor weather of Alaska. Challenge your skills in our Alaskan L1649A!

NEW COCKPIT CHRONICAL STORIES ADDED

I recently had an interesting day of flying, and wrote about it in our own Cockpit Chronicals blog. Just click on the tab on the right to to the blog and read about real life flying experiences.
C-130 TO ANTARTICA

Initially, the US Navy was tasked with supporting Operation Deep Freeze and the scientific outpost at McMurdo Sound, beginning in 1956. Over the years the high cost of maintaining aircraft for this operation with limited funding caused the Navy to approach the Air National Guard to help with SAR duties. The 109th Airlift Wing had been supporting northern DEW line facilities, but with these being shut down in the 1980's to 1990's, the 109th was finding itself out of a job, so they agreed to the Navy's offer. As time went by the Navy slowly began shifting more and more responsibility to the 109th. Eventually in 1996 the ANG began assuming control of the operation, and by 1998-1999 the USAF/ANG had assumed the duty of supporting Operation Deep Freeze. With their ski-equipped C-130s, the 109th can also move equipment to more remote sites in Antartica. The Historic Airline Group has added one round trip flight from Christchurch NZ to McMurdo Station/Williams Field. Captain Sim has a C-130 model with skis. While not absolutely necessary, the skis allow for heavier weights during landing and take off from the snow.


TOLEDO EXPRESS EXPANSION
Toledo Express is located in northwestern Ohio, where it serves the local communities. However, Toledo Express was also a major freight hub. Burlington Northern Railroad started an air freight business called Burlington Northern Air Freight, later changed to Burlington Air Express. Their aircraft were operated by Air Transport International. A very large freight ramp was constructed and nightly arrivals and departures of numerous freight aircraft became the norm. Deutsche Bahn, bought BAX in 2006 in an attempt to expand their DHL name into the US overnight delivery market (they also bought Airborne Express in Wilmington OH). FedEx and UPS had a firm hold on that market though and eventually DB decided to get out of the air freight business altogether. Toledo Express is also fairly close to Detroit and the auto industry, so a fair amount of the auto business used to fly into Toledo. Today Seven Seas Cargo is expanding our DC9/727 operations out of KTOL. We have added new destinations with the DC9F and connect to our hubs in Long Beach, Seattle and Miami with the DC8F.

CANADIAN PACIFIC DC8-43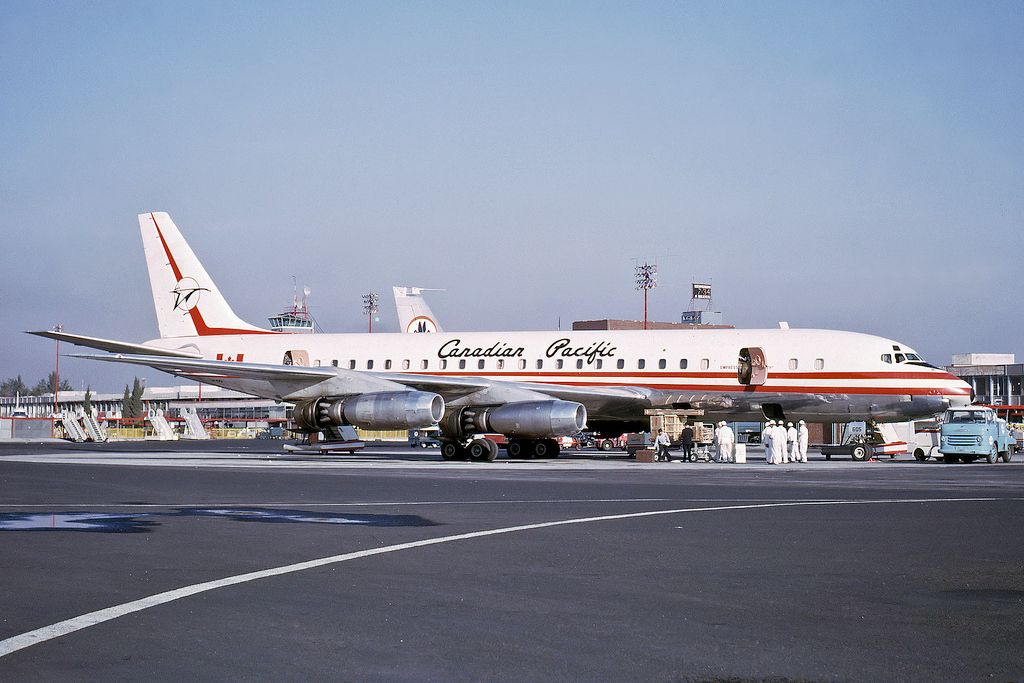 Canadian Pacific DC-8-43, CF-CPG (LN130) was the first DC-8 operated by Canadian Pacific, being delivered November 15, 1961. She flew everywhere, including Polar routes to Europe. Based in Vancouver, she could go non-stop to Amsterdam from Edmonton, or non-stop to Rome from Montreal. Typical of the times, she operated with First Class and Business Class passengers only. Powered by Rolls Royce/Conway engines, she had a MTOW of 310,000 lbs, highest of all the early DC-8's. We have added routes across Canada from Vancouver to Edmonton, Winnepeg, Toronto and Montreal. From Montreal she flies to Rome. From Edmonton she flies to Amsterdam. From Vancouver she flies non-stops to Mexico City, San Francisco and Los Angeles. Enjoy Canadian Pacific's first jet. CF-CPG can be found at Historic Jetliner Group.
STATISTICS

Looking back over the last 30 days, we get a snapshot of our VA. In the past month we flew 181 flights, an average of 6 per day. A year ago we were averaging 3 a day, so traffic is definitely up. For the first time that I can remember, the DC3 no longer holds first place in the Most Popular Aircraft category. That honor goes to the B727, followed by the Constellation series in second place. Third place is the B737, fourth place the DC6/C118, with the DC3 falling to fifth place. Most Popular Airline awards we equally surprising. First Place was Seven Seas Cargo, followed closely by USAF. Alaska was in third place while KLM, the previous leader, fell to fourth place. Charter flights had a very strong showing too.

BOEING 737-300F FLIGHTS ADDED

More and more of these older 737-300's are being retired and so more and more are becoming freighters. Here is ours at Lisbon after arriving from Naples. It's an HJG model. I Photo shopped the cargo door. N401PX is a newer model, being built in 1998 and flying for GB Airways and Garuda Indonesia. In 2010 it was converted to a freighter and went to TNT Airways, a European cargo carrier. In 2016 it went to ASL Airlines Belgium. In 2018 it was destined for Longhao Airlines but the deal fell through and Seven Seas acquired the aircraft with a lease from GECAS. She is based in Naples and flies primarily in the Mediterranean market.
NEW DC-8-61F TEXTURE AVAILABLE

N611PX was built in Nov 1967, fleet number 863 for Air Canada (CF-TJW). In 1986 it was sold to United Aviation Services and then leased to Air Algerie for one year, Nationair for one year, then Trans International Airline converted it to a freighter. Flying Tigers flew it for one year, then it went to Kalitta for ten years. Finally, in 2000, it went to Seven Seas as their first stretched DC-8 Sixty Series, N611PX. It has always been in the basic white color scheme, a remnant of the early days before Seven Seas starting adding definitive paint schemes. Textures are available at Flightsim.com (search David Reed)

DC8 TRIVIA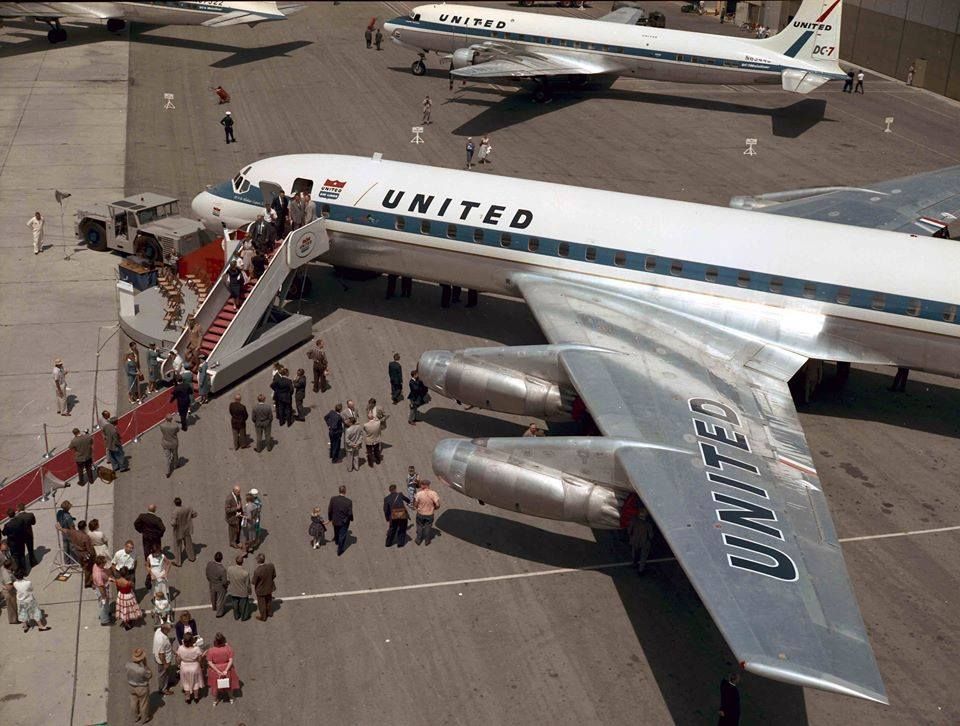 In the late 1950's, Boeing had announced it's new 707. Douglas was reluctant to jump in for several reasons. First, they had an order backlog of 275 of the DC6/DC7 aircraft, which were very profitable. The airlines were asking for a turboprop airliner, which seemed like the next logical step. Donald Douglas Sr didn't feel the airlines were ready yet for the jet airliner, and considered the 707 just a derivative of the military tanker program. Nobody, not customers or Douglas staff, could agree on which direction to go. Finally, in 1952, Donald Douglas Jr set up a design group led by Chief Project Engineer Ivor Shogrun to study the parameters of a 707 competitor, named the DC8. They foresaw two designs, one domesitc and one overwater. The landing gear would be eight wheels on two bogies to distribute the weight, while the fuselage was a "double bubble" design to meet customer requirements for a wide passenger cabin, with a cargo area that did not require baggage handlers to crawl on their backs, as they were in the DC6/7. Boeing had the KC-135 tanker program to fund development costs of the civilian 707, whereas Douglas did not, so the risk was high. But a decision had to be made- turboprop or jet. On June 7, 1955, Donald Douglas Sr decided on the DC-8 jet. Engineers went with a NACA wing design that would give a high cruise speed yet offer slow speed handling similar to the DC-7. The fuselage was fixed on a constant cross section to allow for future stretched models. Boeing was a military company, while Douglas had always been the aircraft builder for the airlines, so when the DC-8 was announced orders started coming in. By the end of the year, Douglas had firm orders for 120 aircraft. The factory in Long Beach would be brand new. R&D costs were huge, and by the time the first airplane flew in April 1958, Douglas already had over $200 million invested in it. After a year and a half of flight testing, Douglas announced five models- the DC8-10 domestic (JT3/J57 engines), DC8-20 domestic (JT4/J75), DC8-30 overwater (JT4/J75), DC8-40 (Conway engines), and the future DC8-50 (JT3D turbofans). In August 1959 the FAA issued Douglas the official type certificate, and one month later Delta and United began revenue service with the first aircraft (picture shows the first United DC-8). High development costs, numerous models and custom designs for each airline eventually ate up any profit in the program. The lesson has been learned by all. Today, manufacturers know that standardization in design and continuing technology improvements are the keys to success.