Posted by David Reed on 11/22/2015
VA at a glance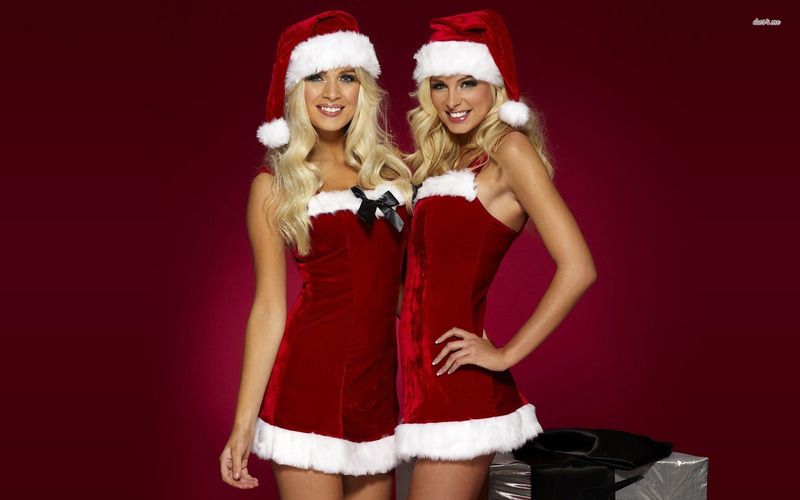 The last thirty days are just a snapshot of our airline but can say a lot about who we are. We have 137 total pilots, though typically only less than half are actually active. We have 10,430 flights to choose from. On average we fly 4.3 trips daily, and that isn't bad! Our top ten favorite airlines to fly are Lufthansa, KLM, BOAC, PanAm, TWA, American, United, USAF, Eastern and Braniff. Very close behind them are Alaska and Chester Charter. This is truly an international VA, with pilots from all over the world. The largest percentage are from the US and Canada (54%), with the rest distributed among 21 other countries, including many in Europe and our friends in Australia.

Air Canada DC-9s!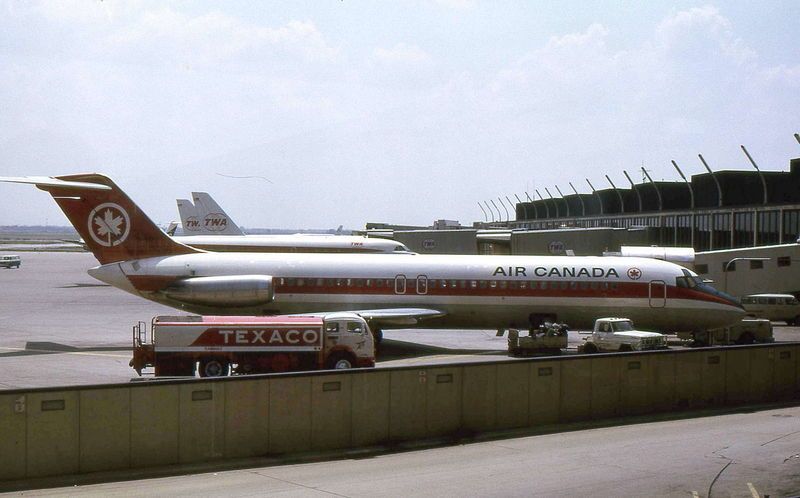 The Historic Airline Group just added twenty six Air Canada DC-9 flights out of Toronto and Montreal. The succesor to our classic TCA, Air Canada DC-9s were able to bring economical jet travel to Canadian citizens. Best of all, ACA DC-9s are not level IV, but for now are level III aircraft during the holiday season! These flights will test your abilities with the DC-9 to the maximum. Some flights are very short, requiring a closer watch on your landing weight. Other flights stretch the range of these medium sized jets to the maximum. You might even find you have to restrict your load to carry enough fuel! Short or long, and many in between, these ACA DC9 flights are sure to bring you the fun of medium jets to your favorite Canadian skies. Enjoy!
New Airline Added!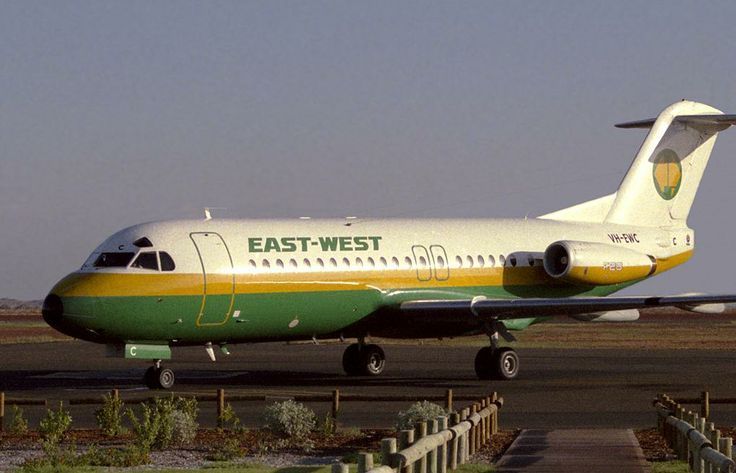 In 1947 East-West Airlines began as a regional carrier designed to offer an alternative to the larger airlines then operating in Australia. The owners already had a network of maintenance facilities, making this part of their operation relatively inexpensive while bringing great reliability to the fleet. What followed was 35 years of happy growth, including a long partnership with Fokker when they bought their first F-27 aircraft. But in 1982 they ventured into the Northern Territories which was a financial disaster. This resulted in a completely new management team. Australia was still operating under the "two airline" policy, which prevented East-West from operating between major capital cities. To get around this, East-West operated between these cities with a stop in between, at a smaller regional airport. It was in these new communities that EWA found enough customers to make them the third largest airline in Australia. Soon they had moved into jets using the Fokker F28, and as business grew they purchased a couple of 727s for increased capacity. It was East-West's strong marketing force, which was proving very successful, that caused the government to eventually drop the two-airline policy. HAG has schedules for three aircraft- the Lockheed Hudson L18, the Fokker F27 and Fokker F28.

New Airline Added!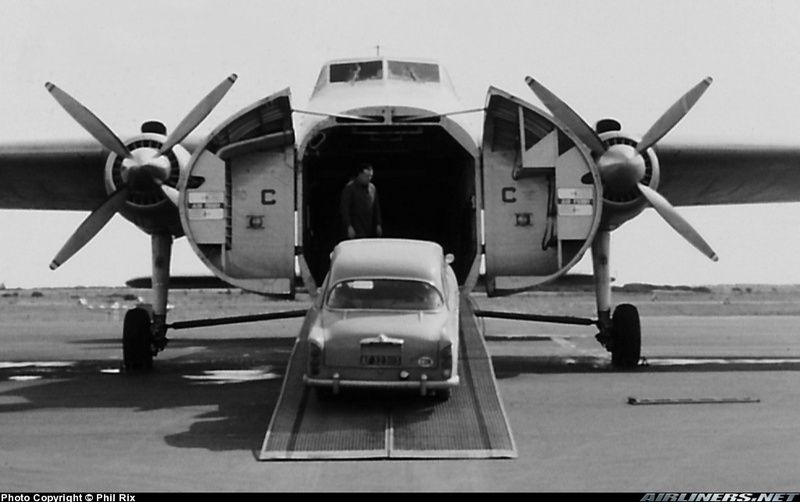 In 1946 Silver City Airways was formed as another long haul operation, one of many post-war ventures. But in 1948 they switched to a new type of flying- cross channel auto ferrying. Using the Bristol 170 Freighter, Silver City began as a charter operation but one year later they switched to a commerical airline operation. They priced their fares to compete with the cross channel ferries and business literally took off. Including a few DC-3's for passenger flights, Silver City Airways flew over 20,000 vehicles across the channel both ways in 1950, reaching one million crossings in 1957. Part of their success was their schedule which included many smaller airports in France and the UK. They also flew survey flights for oil companies in Lybia, and it was one of their DC-3's that first spotted the infamous "Lady Be Good", the WW2 B-24 that dissappeared on it's first mission in 1943.
Flight Sim Scenery!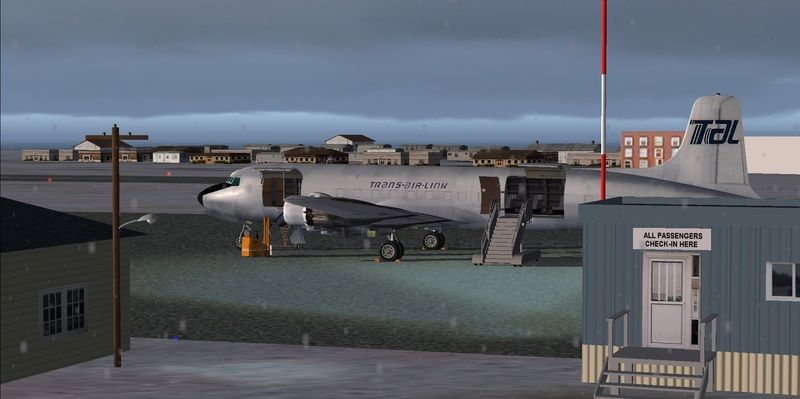 Scenery! It's what makes your airports come alive! Using simple, easy to use programs like Abacus and ADE, you can turn your favorite airport into a better airport. Design it yourself or go with googlemap accuracy, the sky's the limit in Flight Sim scenery! Here we have taken a rather bland, stock Ponds Inlet Airport in northern Canada and, using Googlemaps, we have placed buildings in realistic locations to better simulate the real thing. Using free objects downloaded from Flightsim.com, we will further add people, vehicles, dumpsters, empty barrels, all those little details that make your airport come alive. Check the forum for more info on how to work these easy programs.

Pacific Western Cargo Flights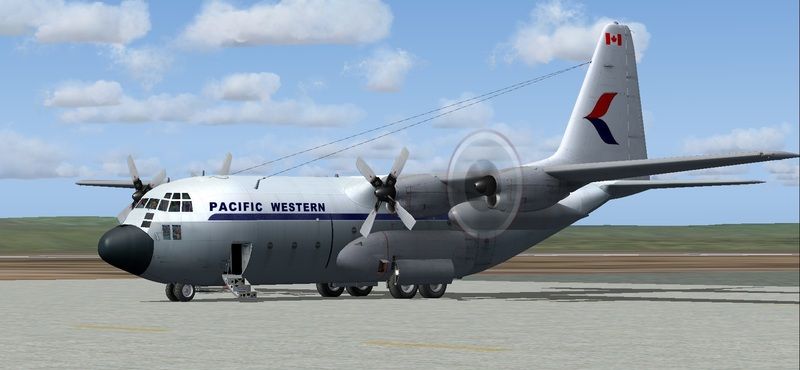 HAG has numerous flights for the Lockheed L100 Hercules with Pacific Western Airlines. PWA served numerous communities throughout Canada with reliable cargo flights in the Hercules. HAG will be adding even more PWA L100 flights soon. Enjoy some serious bush flying with the civil version of the C-130! Shown here is the Capt Sim C-130 repainted by myself in PWA colors.

New BOAC Holiday Flights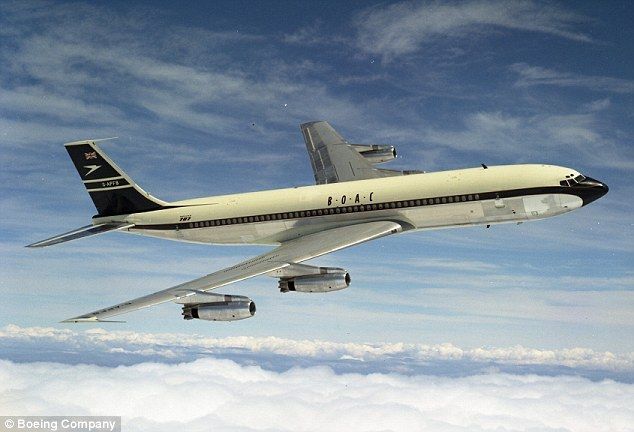 Winter travel season is upon us and we have added six new holiday flights for BOAC between London and the Canary Islands. Known as Las Palmas, Gran Canaria Airport is the largest airport in the Canary Islands. British tourists may travel there on one of three classic airliners- the DC-7C, DH-106 Comet or the Boeing 707. Enjoy a holiday flight, and don't forget the tea!

First Air HS748/B727 Cargo Flights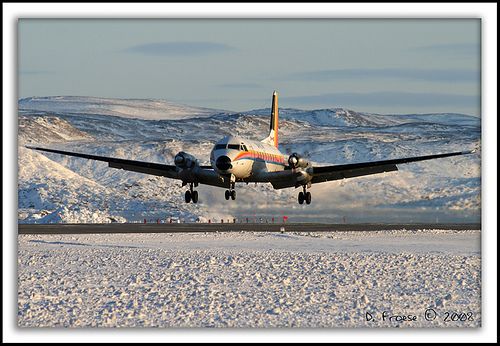 We have added four new cargo flights for First Air. First Air operated cargo flights between Ottawa and Dayton OH for many years. We have added a daily daytime flight using the HS748, and an evening overnight flight using the Boeing 727. It's getting cold up North, so they can use all the gear we can bring!

Cologne International Airport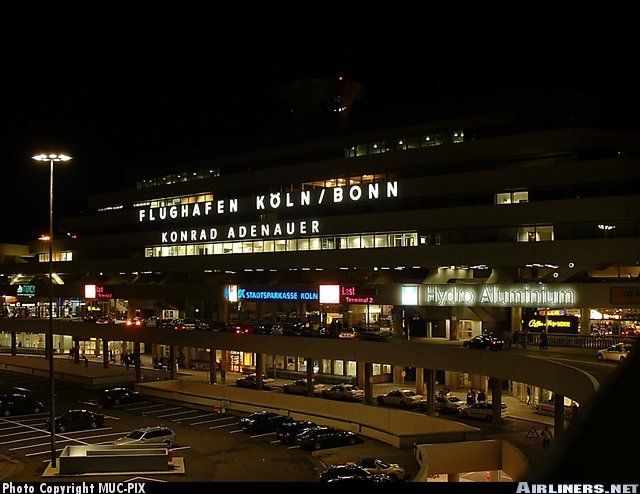 Cologne-Bonn International Airport (EDDK) is the seventh largest airport in Germany, serving both the city of Cologne and Bonn. It is also became the second largest freight hub in 1986 when UPS selected Cologne as it's main European hub. The first flight was in 1913 when an Army observation plane took off for artillary spotting. The original airport was known as Cologne Butzweiler Airfield, and was used for training pilots in WWI, including Manfred Von Richthofen. After the war the airport was operated by the British until 1925 when it was turned over to the city of Cologne. In the 1930's it was used as a fighter base by the Luftwaffe. After the second world war the British used it as an RAF base until the 1950's. During this time a new 6100' runway was built and the airport was subject to entirely new construction. The airport again came under civil control when it was christened Cologne-Bonn, also known as Flughafen Köln-Wahn. Today, HAG has over forty flight from Cologne, with more to come. 
Alaska Airlines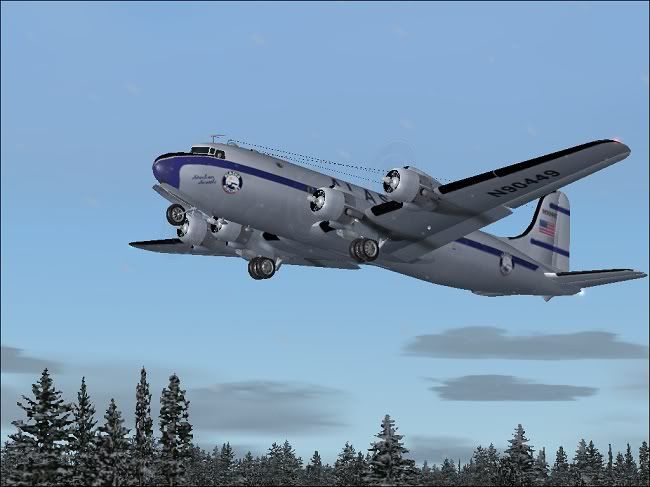 In the 1920's, Alaska found itself with a keen interest in aviation but a vast collection of small "airlines". When the Great Depression hit in 1929, many airlines folded, but several others merged and formed Star Air Lines. Star struggled along and managed to stay in business by hauling food and liquor to distant communities. When the war came in 1941, Star had no contract with the US Army because all their planes were wooden, single engine types. So the mergers continued, and in 1943 they bought their first multi-engine airplane, a Lockheed Lodestar. But trouble continued to haunt Alaska Airlines (the name began in 1944). The CAB hit them with many large fines and shut them down several times for safety violations, a product of the many mergers. In 1951 the CAB appointed Nelson David as CEO with the order to make Alaska right or lose their certificate permanently. Mr David made sweeping changes, putting Alaska Airlines on the road to being a professional airline, selling most of their ancient aircraft and replacing them with DC-3s and DC-4s. In 1957 Charles Willis took over the now profitable airline and began a period of substantial growth. He introduced the DC-6 and the Golden Nugget flights. In 1961 they leased a Convair 880 for no money down to compete with other airlines. In 1966 they got rid of the CV880 and began taking deliveries of their first 727s, the airplane that would become the standard for the next 25 years. But the new jets cost the airline dearly. Willis was removed in 1971, new management took over. The charter and cargo operations were closed. Alaska focused on the higher density routes and in the 1980's began trading in the aging 727s for new MD80s. Today Alaska is the seventh largest US airline, operating MD80s and B737s, and is rated number one in customer satisfaction. HAG has many Alaska Airline flights, using DC3s, DC4s, DC6s and B727s.

Provincetown-Boston Airlines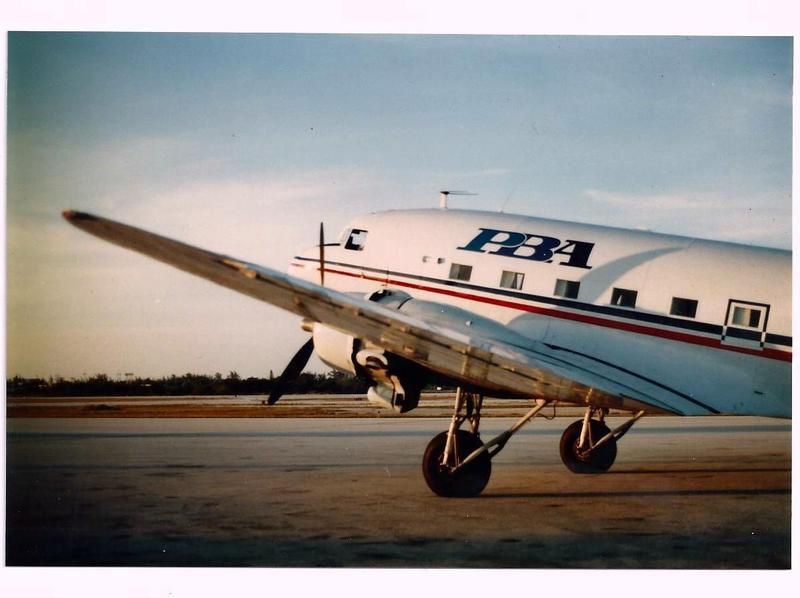 In 1949, John Van Arsdale was the airport manager at Provincetown, MA, a small town at the very tip of Cape Cod. Using a Cessna Bobcat, he began scheduled service between Provincetown and Boston, thus the name. PBA grew, adding more aircraft and pilots. During winter months the demand dropped significantly in New England, so in 1957 an agreement was made with Naples Airlines in Florida to move most of PBA's fleet south in the winter where the extra seats were needed. PBA merged with Naples Airlines one year later and began buying DC-3's and Martin 404s. PBA turned a profit every year it was in business. In the 1980's, when other carriers were heading into bankruptcy, PBA was thriving. Destinations and aircraft were being added, passenger boardings doubled in one year. As a 402 pilot at PBA in 1986, I was always on standby, ready to go where needed. My day started at 0700 and ended when dispatch said they were done. When one 402 wasn't enough, I would bring the extra seats needed. When the DC-3 was overbooked, I carried the extras. PBA was the largest regional airline in the world at the time, with a fleet of Cessna 402C's, DC-3s, EMB-110s, Martin 404s and YS-11s. But what goes up must come down. Two fatal accidents in Florida caused revenues to plummet. Grounded by the FAA twice, PBA struggled to get back in the air, but to no avail. In 1989, 40 years after they started, PBA was merged Bar Harbor Airlines and the certificate was retired. You can still keep up with the history at Provincetown Boston Airline on Facebook today. At HAG we have many PBA routes to fly, and just because it lists a DC-3 doesn't mean you can't substitute a 402, M404 or YS11 :)

Helsinki International Airport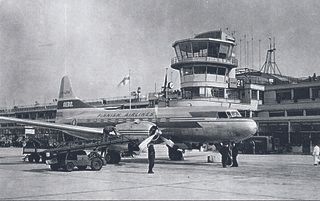 Helsinki International Airport is the main airport for Finland and the home of Finnair. Read about this northern European airport, voted best by European passengers. Look for it in the About Us tab.
Eastern Airline Flight 663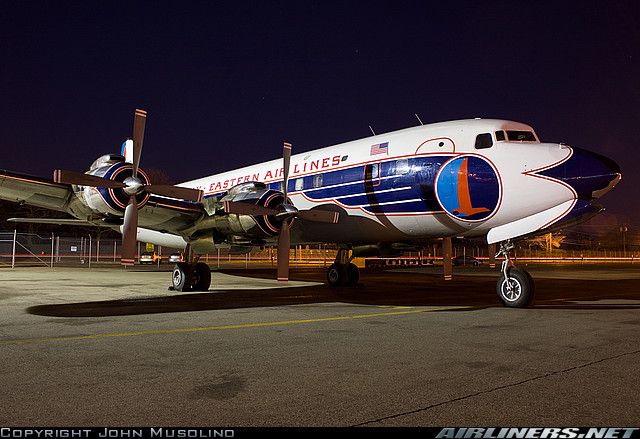 Check out our story on the tragic flight of Eastern 663. On a cold, clear night in February 1967, flight 663 crashed in to the ocean off of New York. Review with us the details of the flight on our About Us tab.  
RAF/USAF  C-130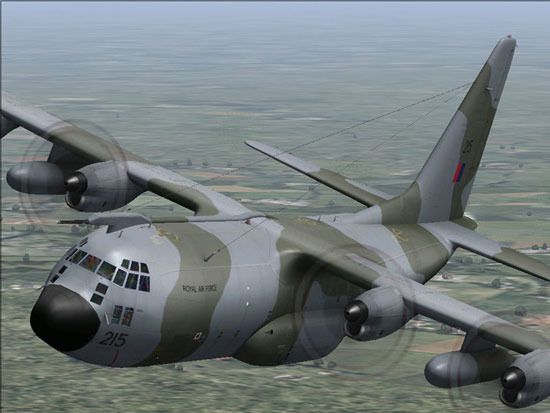 Sometimes it's nice to get away from the airline biz for a while and try some military flights. Here at HAG we have C-130 flights in many regions, including the USA, Great Britian, Australia and even the Middle East. We also have the civilian version (L-100) available in Canada with Pacific Western Airlines, who used to fly cargo to remote locations supporting oil field work, etc. There are some excllent models of the C130 available for both FS2004 and FSX, so try your hand at some remote landing strips in this four engine beast!
Braniff Airlines DC-6
In 1947, the "breakthrough" airliner, The DC-6, was delivered to Braniff. The DC-6 was the first pressurized airplane able to obtain altitudes greater than 18,000 feet, and at a speed of over 300 MPH. Braniff used these on their new South American routes in sleeper configurations. These planes also had lounges for passengers to meet. Braniff flew the DC-6 via Havana, Cuba to Brazil, and then in 1949, Braniff initiated "El Conquistador" service to La Paz, Bolivia, and the next year, Buenos Aires, Argentina was added. This gave Braniff 20,000 miles of International Routes from Houston to Buenos Aires. Additionally, DC-6's were used domestically on Braniff's high density routes. At the Historic Airline Group, we have over 50 flights for the Braniff DC-6. 
Heathrow Airport

London's Heathrow Airport has a long and colorful history. The busiest airport in the world today, Heathrow started life as a small grass strip for Fairley Aircraft in 1930. Read about the history of this popular, historical destination in the About Us tab above.

Reno Air

Reno Air was founded in June 1990 by Frontier Airlines alumnus Joseph Lorenzo and Midway Airlines executive Jeff Erickson. The airline's first flight was on July 1, 1992 with nonstop jet service from Reno to Seattle, Washington. By April 1993, Reno Air was serving the following destinations from its Reno hub with nonstop jet flights: Los Angeles, Kansas City, Minneapolis/St. Paul, Ontario, CA, Portland, OR, San Diego, San Francisco and Seattle. Following the development of its Reno hub, the airline established a second hub at San Jose International Airport in late 1993 by leasing gate space from American Airlines. Reno Air was operating nonstop flights from San Jose to Burbank, CA, Las Vegas, Los Angeles, Ontario, CA, Phoenix, Portland, OR, Reno and Seattle. Meantime, American Airlines had earlier expanded its presence in the San Jose market but was experiencing stiff competition from Southwest Airlines concerning air fares and desired to outsource the SJC operation to a lower cost operator. Thus started a long cooperative relationship between American and Reno Air. Reno Air subsequently posted its first annual profit in 1995. While the airline flew most of its routes on the U.S. West Coast from their three hubs, Reno Air also operated a separate stand alone route system based in Gulfport, Mississippi. The Mississippi airport, which serves the local gambling casino industry, was linked with nonstop flights to St. Petersburg  and Orlando via Sanford International Airport in Florida, and also to Atlanta, Georgia. None of these four airports were linked to the rest of the Reno Air route system. In 1996, Reno Air adopted a new strategy to focus on the Los Angeles, Las Vegas, and Seattle markets. In February 1999, Reno Air was purchased by American Airlines, and flew its last flight on August 30 of that year. At the time, the purchase was seen as a way to feed American's east-west route network with Reno Air's north-south flights, primarily through San Jose. American initially retained the former Reno Air aircraft and repainted them into a modified version of the American Airlines color scheme (with a white fuselage instead of an unpainted one), but disposed of the entire Reno Air fleet in 2001 as part of capacity reduction efforts following 9/11.
Beechcraft Model 18

After the success of the Beechcraft Staggerwing, Walter Beech decided that the corporate world was ready for a modern, multiengine transport. His team came up with a design that was conventional for the time, including twin radial engines, all-metal semimonocoque construction with fabric-covered control surfaces and tailwheel undercarriage. Less conventional was the twin-tailfin configuration. The only competition when the Model 18 went on sale in 1937 was Lockheed's Model 12, but the Twin Beech outsold it 2-1, so Lockheed stopped production in favor of military contracts on their larger types. Walter Beech saw opportunity in the military too, and obtained contracts for hundreds of trainer variants. After the war, corporate sales flourished. Improved models raised takeoff weight from 6700 lbs to 9900 lbs, though the P&W R985 engine (450 hp) was standard for most of the life of the aircraft. When production finally ended in 1970, Beechcraft had set a record for longest production run of a piston aircraft (33 years) with over 8000 having been built. HAG has many flights for the Beech 18, including passenger flights in England, cargo flights in Canada and the Caribbean, and charter flights with Chester Charter, where you can select any route you desire. There are great examples of the D18S available for free for MSFS, so start enjoying the airplane that so many pilots flew!