Posted by David Reed on 06/21/2018
CANADIAN PACIFIC DC8-43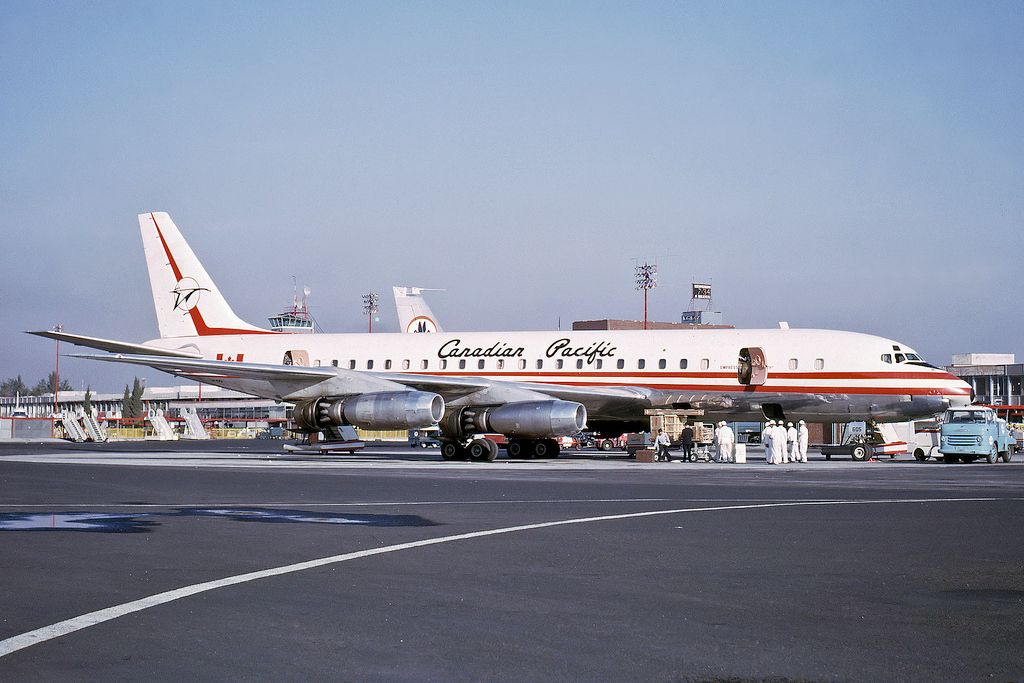 Canadian Pacific DC-8-43, CF-CPG (LN130) was the first DC-8 operated by Canadian Pacific, being delivered November 15, 1961. She flew everywhere, including Polar routes to Europe. Based in Vancouver, she could go non-stop to Amsterdam from Edmonton, or non-stop to Rome from Montreal. Typical of the times, she operated with First Class and Business Class passengers only. Powered by Rolls Royce/Conway engines, she had a MTOW of 310,000 lbs, highest of all the early DC-8's. We have added routes across Canada from Vancouver to Edmonton, Winnepeg, Toronto and Montreal. From Montreal she flies to Rome. From Edmonton she flies to Amsterdam. From Vancouver she flies non-stops to Mexico City, San Francisco and Los Angeles. Enjoy Canadian Pacific's first jet. CF-CPG can be found at Historic Jetliner Group.
STATISTICS

Looking back over the last 30 days, we get a snapshot of our VA. In the past month we flew 181 flights, an average of 6 per day. A year ago we were averaging 3 a day, so traffic is definitely up. For the first time that I can remember, the DC3 no longer holds first place in the Most Popular Aircraft category. That honor goes to the B727, followed by the Constellation series in second place. Third place is the B737, fourth place the DC6/C118, with the DC3 falling to fifth place. Most Popular Airline awards we equally surprising. First Place was Seven Seas Cargo, followed closely by USAF. Alaska was in third place while KLM, the previous leader, fell to fourth place. Charter flights had a very strong showing too.

BOEING 737-300F FLIGHTS ADDED

More and more of these older 737-300's are being retired and so more and more are becoming freighters. Here is ours at Lisbon after arriving from Naples. It's an HJG model. I Photo shopped the cargo door. N401PX is a newer model, being built in 1998 and flying for GB Airways and Garuda Indonesia. In 2010 it was converted to a freighter and went to TNT Airways, a European cargo carrier. In 2016 it went to ASL Airlines Belgium. In 2018 it was destined for Longhao Airlines but the deal fell through and Seven Seas acquired the aircraft with a lease from GECAS. She is based in Naples and flies primarily in the Mediterranean market.
NEW DC-8-61F TEXTURE AVAILABLE

N611PX was built in Nov 1967, fleet number 863 for Air Canada (CF-TJW). In 1986 it was sold to United Aviation Services and then leased to Air Algerie for one year, Nationair for one year, then Trans International Airline converted it to a freighter. Flying Tigers flew it for one year, then it went to Kalitta for ten years. Finally, in 2000, it went to Seven Seas as their first stretched DC-8 Sixty Series, N611PX. It has always been in the basic white color scheme, a remnant of the early days before Seven Seas starting adding definitive paint schemes. Textures are available at Flightsim.com (search David Reed)

DC8 TRIVIA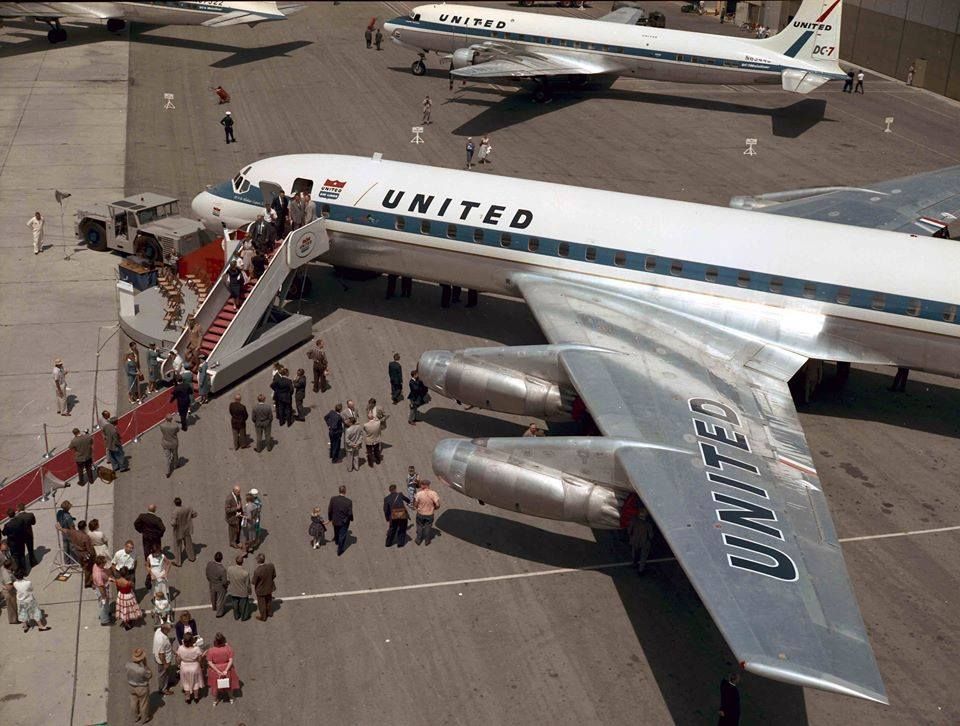 In the late 1950's, Boeing had announced it's new 707. Douglas was reluctant to jump in for several reasons. First, they had an order backlog of 275 of the DC6/DC7 aircraft, which were very profitable. The airlines were asking for a turboprop airliner, which seemed like the next logical step. Donald Douglas Sr didn't feel the airlines were ready yet for the jet airliner, and considered the 707 just a derivative of the military tanker program. Nobody, not customers or Douglas staff, could agree on which direction to go. Finally, in 1952, Donald Douglas Jr set up a design group led by Chief Project Engineer Ivor Shogrun to study the parameters of a 707 competitor, named the DC8. They foresaw two designs, one domesitc and one overwater. The landing gear would be eight wheels on two bogies to distribute the weight, while the fuselage was a "double bubble" design to meet customer requirements for a wide passenger cabin, with a cargo area that did not require baggage handlers to crawl on their backs, as they were in the DC6/7. Boeing had the KC-135 tanker program to fund development costs of the civilian 707, whereas Douglas did not, so the risk was high. But a decision had to be made- turboprop or jet. On June 7, 1955, Donald Douglas Sr decided on the DC-8 jet. Engineers went with a NACA wing design that would give a high cruise speed yet offer slow speed handling similar to the DC-7. The fuselage was fixed on a constant cross section to allow for future stretched models. Boeing was a military company, while Douglas had always been the aircraft builder for the airlines, so when the DC-8 was announced orders started coming in. By the end of the year, Douglas had firm orders for 120 aircraft. The factory in Long Beach would be brand new. R&D costs were huge, and by the time the first airplane flew in April 1958, Douglas already had over $200 million invested in it. After a year and a half of flight testing, Douglas announced five models- the DC8-10 domestic (JT3/J57 engines), DC8-20 domestic (JT4/J75), DC8-30 overwater (JT4/J75), DC8-40 (Conway engines), and the future DC8-50 (JT3D turbofans). In August 1959 the FAA issued Douglas the official type certificate, and one month later Delta and United began revenue service with the first aircraft (picture shows the first United DC-8). High development costs, numerous models and custom designs for each airline eventually ate up any profit in the program. The lesson has been learned by all. Today, manufacturers know that standardization in design and continuing technology improvements are the keys to success.

LOCKHEED ELECTRA BASED IN ALASKA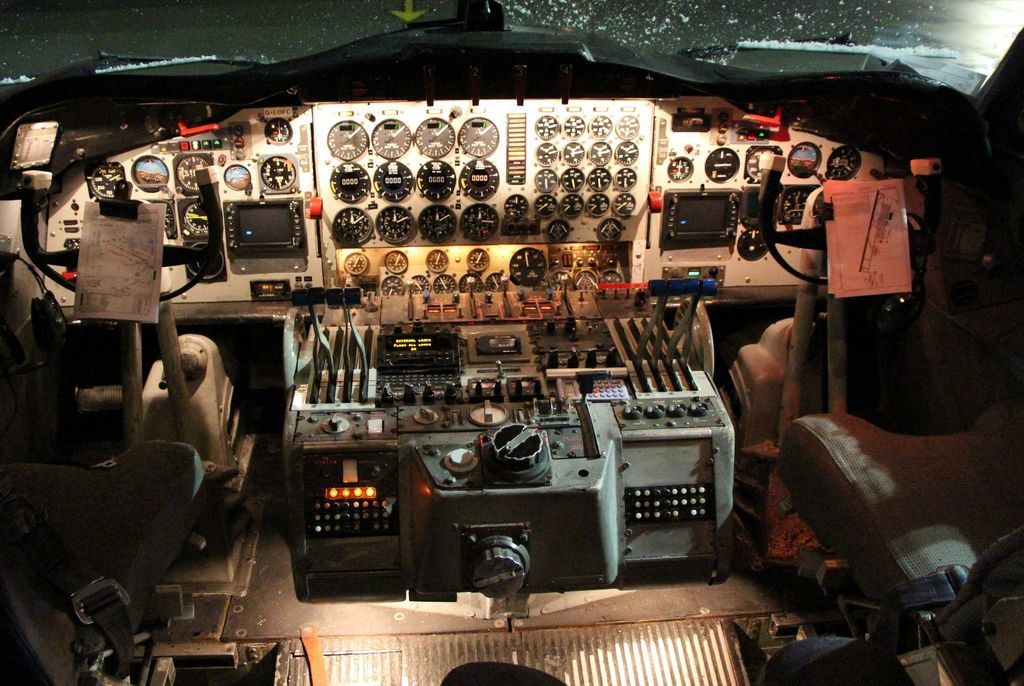 Seven Seas has based an Electra II L188F in Anchorage. We now have 19 flights around the state for those pilots that love the sound of four Allisons beating the air into submission. These Alaskan routes are shared with Seven Seas DC-6BF. The Douglas was getting a bit maintenance intense, so the Lockheed should help keep the revenue flowing. Enjoy!

LOCKHEED ELECTRA BASED IN NAPLES ITALY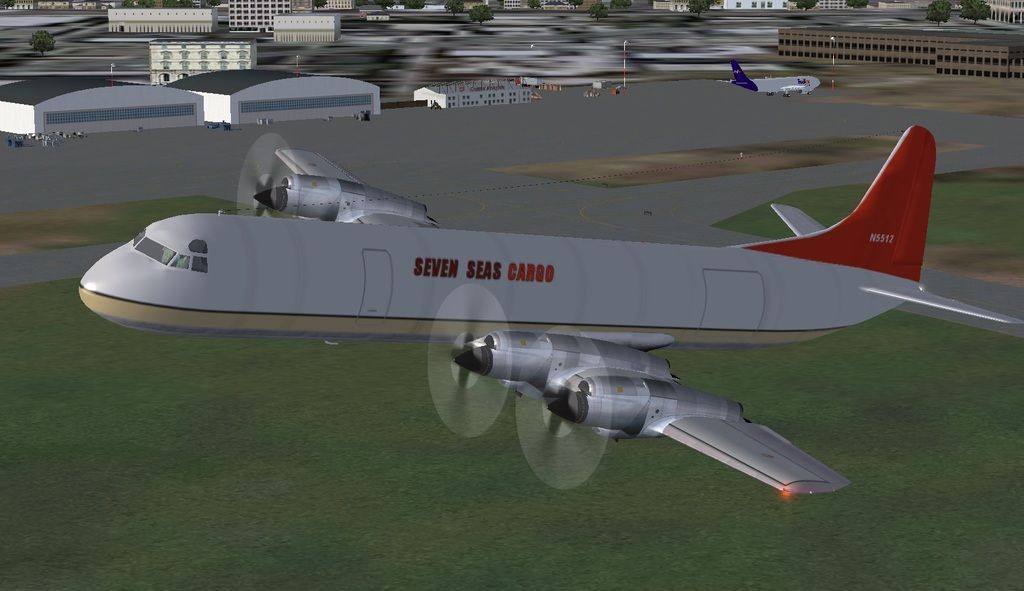 Seven Seas Cargo has based a L188F Electra II in Naples Italy. N5512 will be serving routes throughout the Mediterranean and Southeastern Europe including Corsica, Belgrade, Bucharest, Budapest, Sardinia, Genoa, Malta, Milan, Sarajevo, Sigonella, Albania, Toulon, Tripoli, Tunisia, Venice and Croatia. Look for the textures on flightsim.com (SSAL188.zip). N5512 started with Eastern Airlines in 1958, went to Zantop in 1977 and Seven Seas in 2007.

LOCKHEED L188 ELECTRA II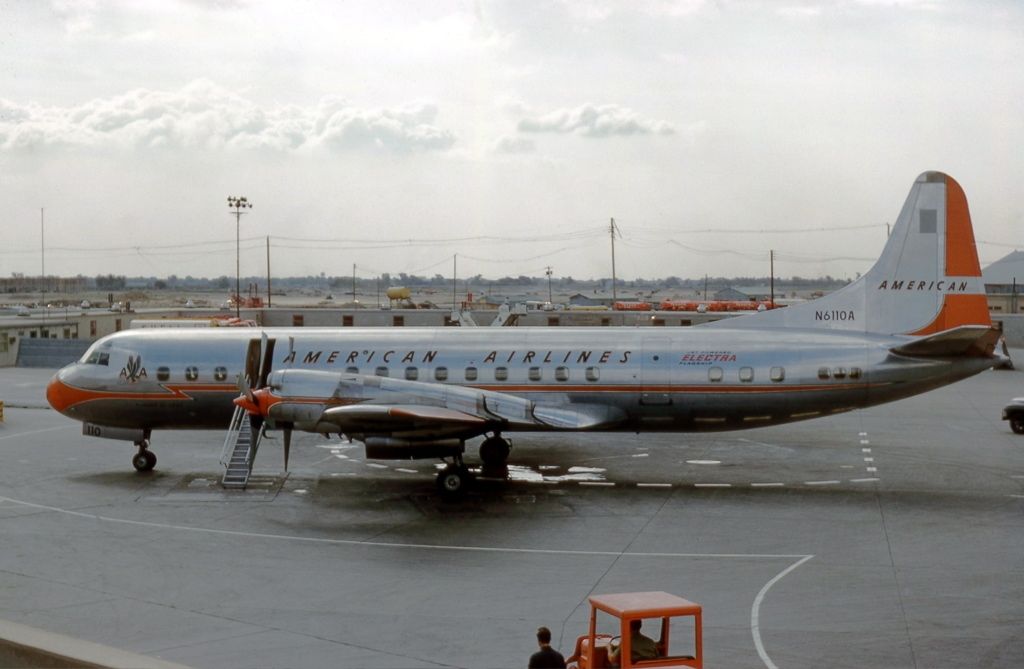 Lockheed was doing quite well with their Constellation airliners. In 1952 American Airlines asked Lockheed to design a turboprop airliner for their shorter routes. American wanted 75 passengers, but Eastern joined in and they wanted 80-90 passengers and 350 mph speed. Lockheed developed the CL-310, powered by the then-new Allison T56 turboprop, the same engine they were installing on their new C-130 Hercules. With its unique high power-to-weight ratio, huge propellers and very short wings (resulting in the majority of the wingspan being enveloped in propwash), large Fowler flaps which significantly increased effective wing area when extended, and four-engine design, the airplane had airfield performance capabilities unmatched by many jet transport aircraft even today. Plus, the turboprop was significantly more fuel efficient than the jets of the day. In June 1955 American Airlines ordered 35 of the model L-188, followed by an order for 40 from Eastern Airlines. Thirteen more airlines ordered the Electra II soon after. The Electra II could carry 80 passengers in a mixed class arrangement at 357 mph. Problems came early though. In the first year of service there were three fatal accidents. The last two involved complete inflight breakups, and the FAA limited the airplane's top speed until the problem could be found. Tests found that a weak engine mount could break, causing the propeller to quickly occillate up and down until the wing eventually failed. An expensive fix was carried out, but the damage to its reputation had been done and orders quickly dried up. The last plane was delivered in 1961 after a production run of only 170 aircraft. Converted into a military ASW platform, the P-3C saw many years of service throughout the world. HAG has 200 L188 Electra II flights to choose from with ten different airlines. Coming soon are new Seven Seas Cargo flights using the Electra II in it's popular freighter version.

L749 IN JUNEAU AK

Seven Seas has just based a Lockheed L749 Constellation in Juneau Alaska to serve the Alaskan Panhandle region. A daily flight connects Juneau with Anchorage, but there also ten new towns receiving passenger and freight service since the major airlines pulled out years ago including Yakutat, Sitka, Kake, Petersburg, Klawock, Wrangell and Gustavus. We also fly from Juneau to three British Columbia towns- Watson Lake, Whitehorse and Burwash. N325PX is an ex-Qantas airplane. Look for textures on flightsim.com next week. Like the mailman, neither snow nor rain nor heat nor gloom of night stays these couriers from the swift completion of their appointed rounds!
DC4/C54 TO ALASKA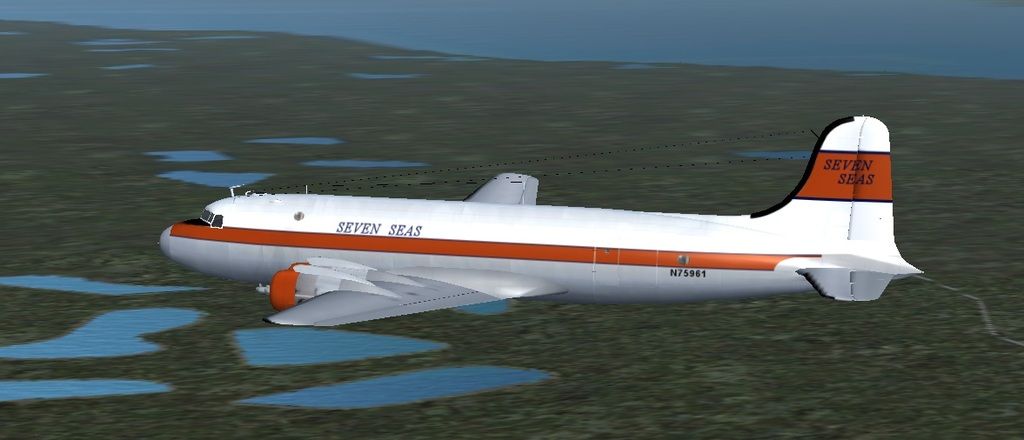 We have just added twenty C54 flights (C54 SSA) to the Seven Seas operations in Alaska. The DC4 can carry a larger load (28,000 lbs vs 7,000 lbs) over a greater range than the DC3. Our C54 routes duplicate the routes flown by both the DC3 and DC6. The orange stripe paint scheme is unique to the Alaska operations. Textures can be found at flightsim.com. Search for DC4SSA.zip or David Reed.

NEW COCKPIT CHRONICAL STORIES ADDED

I recently had an interesting day of flying, and wrote about it in our own Cockpit Chronicals blog. Just click on the tab on the right to to the blog and read about real life flying experiences.
NEW USAF/USN ROUTES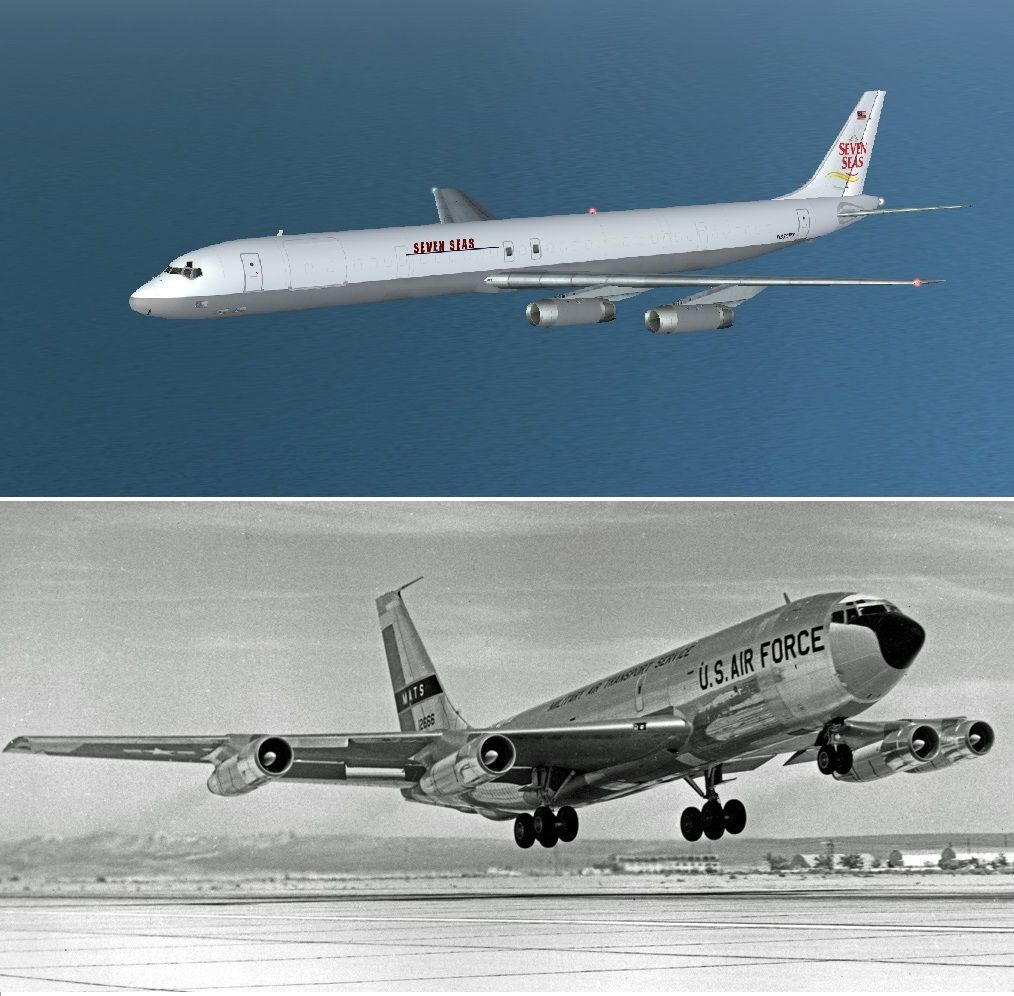 We've added six new flights to our military and Seven Seas flying, flying round trip runs from Djibouti to Stuttgart GR and NAS Sigonella. Djibouti Int'l Airport is the home of the US Navy's Camp Lemonnier, the only US base in Africa and from which all Special Operations (SEALS) are conducted. The US Africa Command is based in Stuttgart GR and the USAF operates a flight to Djibouti from there, though a Seven Seas DC8CF is used when assets are scarce. The Navy supports Camp Lemmonier from NAS Sigonella in Sicily using a Seven Seas DC-8CF. These flights are all either freight, passenger or a combi-mix of the two. They provide logistical support to the base, including support for the extensive drone operations that operate out of Djibouti.
CATHAY PACIFIC JETS!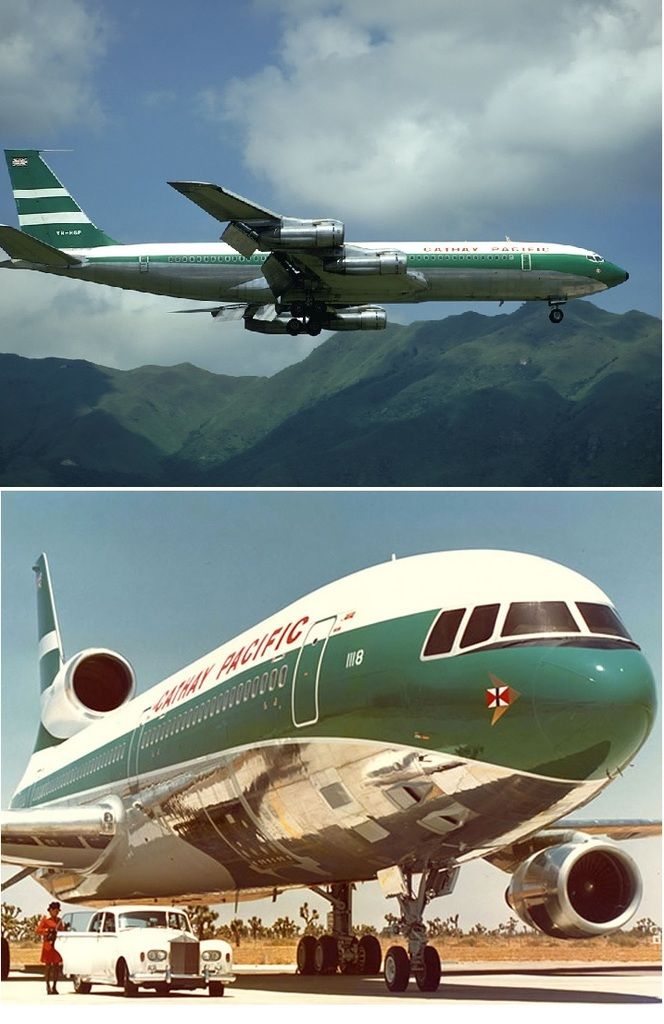 Cathay Pacific has always been represented by their earliest aircraft- the DC3, DC4 and DC6. Today we have added their earliest jets. Their first jet was a Convair 880, but they eventually purchased more 707-320C's than CV880's. Introduced in 1971, the 707 Intercontinental could cruise farther with more passengers than the Convair. In their distinctive green and white colors, they served until 1983. The L1011 was their first wide body jet, and they served Cathay Pacific well. With 19 in the fleet, they were the largest L1011 operator outside the USA. She could carry twice as many passengers as the 707, and more economically too. So trustworthy was the aircraft that they operated them for over twenty years. We have added 48 flights from their base in Hong Kong to places like Kuala Lumpur, Bangkok, Tokyo, Jakara, Singapore, Taipei, Osaka, Perth, Melbourne and Sydney. Fly the exotic airline of the western Pacific today!

PIPER CHIEFTAINS ON CHARTER
If you are looking for something different someday, you should check out our very own Chester Charter. Chester Charter operates everything from the Piper Chieftain to the DC9-10. From three bases in the US and one in England, Chester allows you to fly challenging charters from a home base to anywhere you can reach. The beauty of flying the Chieftian or the Twin Beech is that you can land almost anywhere- grass, dirt, paved, whatever. Visit those small towns you never get to see on the airlines. In the business world, charter aircraft play a significant role in giving a business an advantage over their competition, while making their people more productive. A charter can visit many towns and customers, while the competition is still sitting at the airline gate. The Piper Chieftain in its day was a great corporate and charter aircraft. It could carry up to six passengers with one or two pilots up front. Sometimes they even looked as good as this one! The Chieftain was a growth variation of the Navajo, with two Lycoming TIO-540's driving counter-rotating propellers that could churn out 190-205 knots in cruise. As the young lady is showing us, she has a beautiful pair of wing lockers. The ultimate Chieftain had the Panther conversion. Equipped with wingtips, four blade props and an improved ignition system. They usually had extra soundproofing installed, upgraded avionics, you name it. Next time you are looking for a change in pace, try a Cheiftain on a Chester flight. And don't forget, we also have a few flying scheduled runs in Alaska with Bering Air (BRA), Northern Air Cargo in Canada, as well as for Seven Seas Air Cargo in the Caribbean!

 last Brit