Posted by David Reed on 08/10/2017
727'S TO FLORIDA!

  Wintertime is here and the economy is booming, so people are looking to travel to the sunshine state, Florida! We have twelve new daily round trip flights to three destinations- Orlando, Tampa and Miami. Fly on Eastern from New York/LaGuardia; TWA from St Louis; United from Chicago/O'Hare; or Northwest from Detroit. These are the destinations each airline thrived on, and the 727 was the perfect jet for the job.   
EASTERN DC-6B/DC-7B ROUTES ADDED

   In the late 1950's the airlines were going through some big changes. At Eastern Airlines, senior management did not believe the upcoming jets would be profitable or even accepted by the public. While American, Delta and United were placing orders for 707's and DC-8's, Eastern began grabbing up 16 DC-6B's and 40 DC-7B's for their domestic market, replacing some of their older Constellations. These airplanes were proven performers and Eastern believed the future was with them. However, no one anticipated that the public would so strongly embrace the jets, nor so quickly! Suddenly Eastern was almost overnight playing catch up with everyone else. Nobody wanted the DC-6/DC-7 airplanes, and aircraft that cost $2 million new were in a few years selling for $150,000. Eastern managed to weather this economic disaster, but it wasn't until they parked all the props and put all those DC-9's into service that Eastern Airlines began seeing serious profit again. Here at HAG we have added 30+ routes for the DC-6B and DC-7B at Eastern. 
EASTERN DC-8'S

   Douglas Aircraft's DC-8 started life as a competitor in the USAF Air Tanker program. Having lost to Boeing's KC-135, Douglas went ahead with the DC-8 so as not to be left behind in the emerging jet airliner market, despite not having a single order. Prouction was given the go ahead in June 1955, and the first order was from PanAm in October, followed closely by United, National, KLM and Eastern. Everything about the DC8 was unique. The landing gear design and development cost more than the entire DC3 program. The design grew before production by five feet in width and twelve feet in length. The -10 series would have first generation JT3 engines, the domestic -20 series and international -30 series would have JT4 engines. First in service was a United DC8-11 and a Delta DC8-11 in September 1959. Eastern took delivery of its first DC8, a -21 series, in January 1960 (shown above). The Ten, Twenty, Thirty, Forty and Fifty Series were identical except in engines, fuel capacity and weight. Eastern Airlines eventually operated 44 DC8's, including 16 -20's, 5 -50's and 23 -60's.

    THE HISTORY OF US AIR CARGO
   Air freight started out as basically air mail. Some items were carried besides mail, but in the pre-1940 period almost all freight was postal air mail. A few tried starting all freight airlines, but these failed quickly. After WW2 the air freight business began to grow. It was dominated by major airlines who would carry freight in their baggage holds to suppliment passenger revenue. Four companies wanted to become all-freight carriers, Slick Airways, Flying Tigers, US Airlines and AirNews, but they met stiff resistence from the major airlines. Finally in 1949 the CAB allowed these four to operate as all-frieght carriers. US Airlines and AirNews quickly went under, but Slick and Flying Tigers managed to earn decent revenue. Flying Tigers was more diverse though, working contracts with railroads and the military for air freight. Slick eventually closed shop in 1965, while Flying Tigers continued to grow despite the major airlines having dedicated freight aircraft by now. Flying Tigers, in the mid-1960's, only had one competitor, Airlift International. Though profitable, air freight continued to be a small part of the aviation world, that is until Fred Smith introduced Federal Express in 1973. Overnight delivery was something the major airlines couldn't handle, and FedEx took off. In 1989 FedEx bought Flying Tigers and became a truly international heavy lift carrier. In 1988 UPS got their air carrier certificate and the two major freight carriers were created. There are other, smaller carriers, serving smalller nitch markets, but most of these carriers carry for either FedEx or UPS. For example, Ameriflight is the largest small aircraft carrier in the world (Beech 99's, Metroliners and Brazilias) and 99% of their business is associated with FedEx and UPS. Air Freight is a difficult market. The profit margins are small so cargo airlines often operate older aircraft. But these older types need greater maintenance, off-setting the savings over new aircraft. Buying newer aircraft is expensive ($300M for a new 747-8F), and financing is often far more extended than industry average. Demand for air cargo services can wildly fluctuate. In one quarter the demand may be high, then in the next you have way more airplanes than you need. It is this fluctuating marketplace, along with high financing costs and low profit margins that causes many smaller carriers to go under. Luckily here at HAG our cargo demand is always healthy! 

SEVEN SEAS EUROPEAN ROUTES ADDED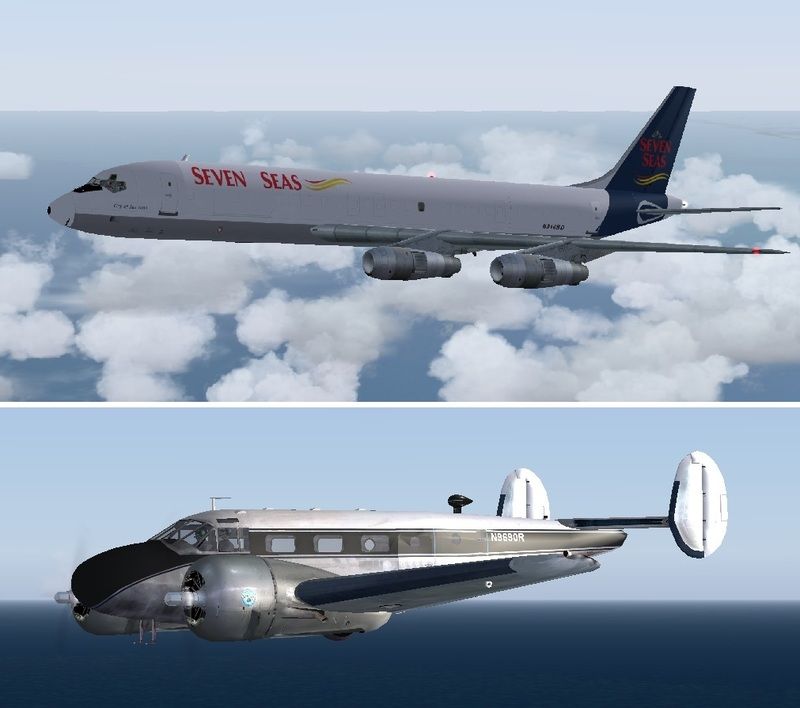 HAG has added some new routes in Europe from our new Lisbon hub. First we have two DC-8 routes: Lisbon to Frankfurt and Amsterdam/Schiphol. Overnight in Amsterdam, then back to Frankfurt and Lisbon in the morning. Also, Lisbon to Cologne and East Midlands. Overnight in the UK, then back to Cologne and Lisbon in the morning. Next we have two evening regional routes for the Beech 18. One is Lisbon to Madrid, on to Zaragoza and Toulouse, followed by a long empty leg back to Lisbon. The second Twin Beech leaves Lisbon for Salamanca, then to Bilbao and Bordeaux, then a long flight empty back to lisbon. Both planes leave around 5pm, returning at 0135. Like most small aircraft freight runs it involves multiple stops with hand unloading at each stop. Bring along your large thermos of coffee!

TRANS AUSTRALIAN JETS

 It may be getting cold up north, but down under it's just getting warm! Trans Australian Airlines introduced the 727 on it's main routes in the 1960's and 70's. HAG has added these routes from Melbourne to Brisbane, Port Moresby, Lae, Sydney, Adelaide, Perth, Launceston, Hobart, Mt Isa and of course Darwin. HAG has also created textures for the TDS 727-200 and the -100 series. You can find them on Flightsim.com. Enjoy the beauty of flying in Australia soon! 
TWA's CONSTELLATIONS

  In 1939 Howard Hughes gained a controlling interest in TWA. He went to the Lockheed Aircraft Company and expressed his desire for a new airliner that could cross the United States in eight hours, non-stop with 44 passengers, funded by Hughes himself. This was revolutionary, considering the DC-3 was still a new design in aviation. Lockheed had never before built anything this large, so this was new ground for them. Lockheed agreed to design the aircraft, and Hughes stated that the project must be top secret. He did not want his airline competitors finding out beforehand, and with an exclusive contract for the first 35 aircraft TWA would own the non-stop transcontental market for some time. Lockheed had just developed the P-38 fighter and borrowed technology from that design. The wing of the Constellation was actually a sized up verson of the P-38 wing. Hydraulically powered flight controls was another new design. When the first Constellation flew in 1941 the Army grabbed up the design and took it for their own war transport. The first Constellation, an L049/C69 model, flew a record transcontinental flight in TWA colors but then went into Army olive drab. It never did fly for TWA again. Once the war ended, Hughes bought up every C-69 he could and refurbished them all for airline service with TWA. Initially they went to transatlantic service to London, then later they went to transcontinental service. Making the trip in under eight hours was difficult at best with a full load of passengers, and flight time limits for pilots often required a crew change on westbound flights. In 1947 Lockheed rolled out the L749 with increased fuel capacity and higher takeoff weight, allowing nonstop flights across the United States and nonstop flights to London from New York. In 1954 the CAB relaxed it's eight hour flight time limitation for pilots and the need to carry two sets of crews went away, leaving more room for passengers. The other airlines pressed Douglas for a newer airplane to compete with the Constellations, leading to the DC-6 and DC-7. But until the jets arrived, the Constellation family was the ultimate airliner. HAG has 92 Constellation flights for TWA.

ATLANTIC AIR CARGO

  Atlantic Air Cargo serves many destinations in the Caribbean, and with the hurricane season in full swing, their services are needed more than ever. San Salvador, Freeport, Marsh Harbor, Crooked Island, Andros Island and Rum Cay all need our vital cargo of food, clothing, medicine, you name it. So fire up the old Gooney Bird and see if you can get two flights in one day without exceeding your 14 hrs of duty time!
SEPTEMBER CHALLENGE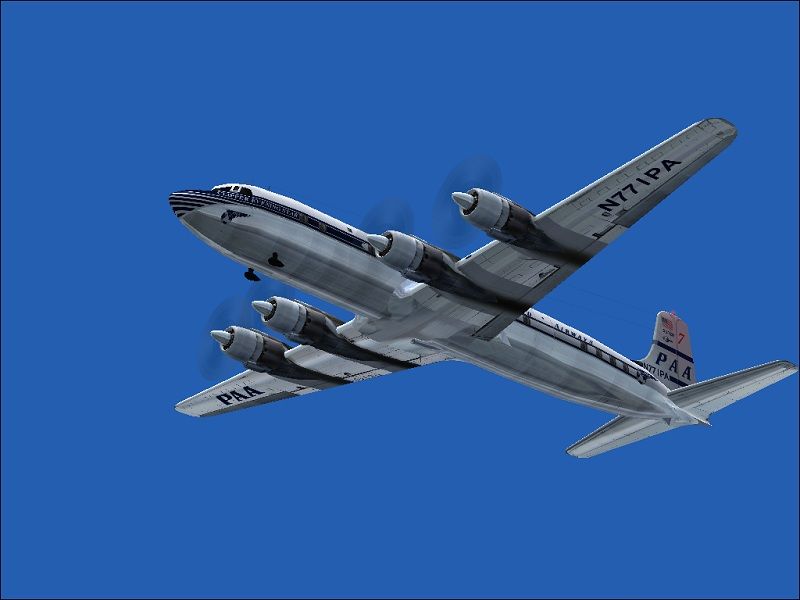 OK all you expert classic pilots, time for a challenge! It's September, the leaves are changing, the cold winds are just around the corner, so time to hunker down with the computer and a hot cup of joe and try something new. The challenge is this: Fly across the Atlantic Ocean, either way, using any airplane you like, but you can't use GPS. That means no map view either! Strike out on a heading, using whatever navaids you can, and arrive close enough so that you can find the destination. You can go non-stop or make stops enroute, but you have to do it OLD SCHOOL! Each flight must be a flight listed with HAG. The reward? You get to brag about it on the forums!

CP AIR AIRLINES DC10'S ADDED

   We are finishing up DC-10 week by adding CP Air DC-10 routes in Canada, both domestic and international. One of the best things about the DC10 was that is was initially designed for domestic profitability, but with some of the McDonnel-Douglas magic it became a great international workhorse too. To follow the line of CP Air you need a VIN diagram! Canadian Airlines International was the main subsidary of Canadian Airlines Corporation. CAC was formed when Pacific Western Airlines purchased Canadian Pacific Air Lines, which operated as CP Air for many years, eventually becoming Canadian Airlines. They then purchased WardAir, giving them access to Europe. CP Air's DC10's came from various sources in the mid-1980's. Four came from Pakistan Airlines, the three -10 series from United, while eight -30's were delivered new from the factory. American had always been involved with both Air Canada and Canadian Airlines, and in 2001 tried to takeover both. But instead Air Canada merged with Canadian Airlines. By this time the DC10's had all moved to other owners in the ever-changing world of airline fleets. Look for flights under Canadian Pacific (CPC). Look to Historic Jetliner Group for the best classic DC-10's!
JAPAN AIRLINES DC10'S ADDED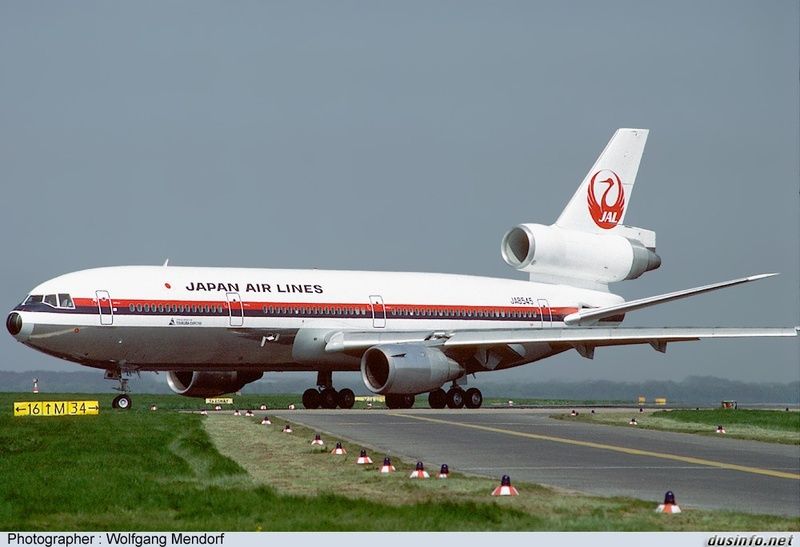 We just finished adding new DC-10 routes to Japan Airlines. You can now fly from Tokyo to Manila, Hawaii, Hong Kong, Hokkaido, Osaka, Kyushu and Anchorage. JAL operated 15 of the DC10-40 series on both domestic and international routes from 1976 through the 1990's. They were to replace the DC-8 fleet as passenger demand increased. Only NWA operated the 40 series besides JAL, using P&W engines for commonality with their 747 fleets. Domestic versions (40D) operated with 300 seats, while international (40I) used 250-270 seats and higher gross weights for longer range.


EUROPEAN DC10'S ADDED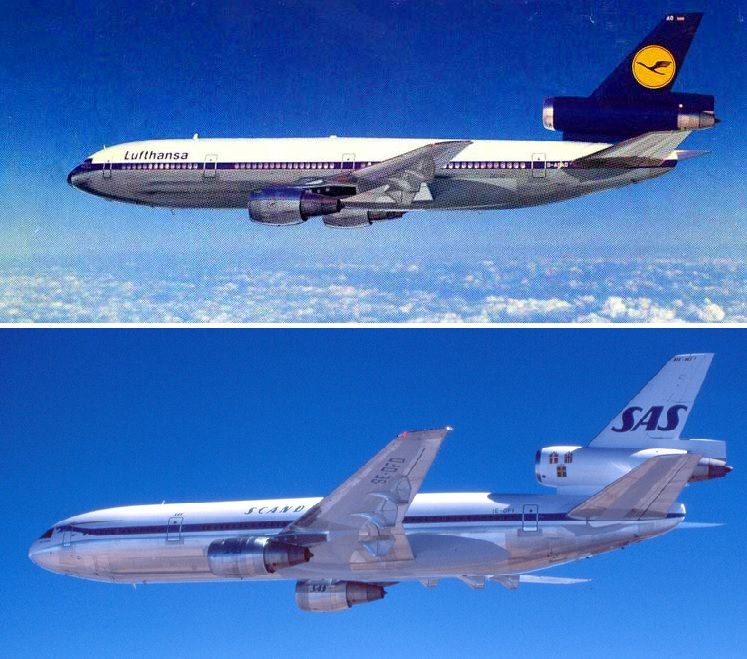 Recently the last passenger DC-10 flight flew from Europe, bringing to an end a long history of the Douglas widebody in European skies. To mark this milestone we have added 104 new DC-10 routes for Lufthansa and SAS. Lufthansa added the DC-10 to their fleet in November 1973, eventually operating 11 aircraft. The last was retired 23 years later in February 1996. SAS operated a dozen DC-10s from October 1974 to February 1991. Neither airline ever had a single fatal accident or incident with the DC-10.

FORD TRIMOTOR ROUTES ADDED
 Before today we only had trimotor routes for TWA. Now we have routes for PanAm-PANAGRA, Pan American and Northwest. The Ford Trimotor was first built in 1925, with 199 units being built by 1933. Most aircraft were the 5-AT version, using P&W engines and capable of carrying 13-17 passengers. The design and construction was a giant leap forward in aircraft development at the time. Inexpensive and reliable, the Trimotor helped bring safety to air travel. Our new routes include 12 flights in Peru, from Lima north along the Peruvian coast and back using PAA-PANAGRA (PAN). Pan American (PAA) has 18 new flights, from Miami to Key West and Cuba, as well as flights north from Boston along the atlantic coast to Halifax and back with numerous stops in between. Finally, we have added 30 flights for Northwest (NWA) in the central United Sates region. Most flights are under an hour in length, so enjoy the scenery with a true classic!

MAJOR EXPANSION FOR SEVEN SEAS AIR CARGO

   Seven Seas Air Cargo has just opened up three new cargo hubs in the Mediterranian and Africa. Freight from SSA's home base at Miami arrives at our new facility in Lisbon, Portugal via SSA's own DC8-63F or DC10-30CF. You may also subcontract your flight to a Cargolux 747-4F. From Lisbon the heavies continue to either Lagos, Nigeria or Naples, Italy. Lagos is the traditional hub for air freight in western Africa. From Lagos we fly to eleven destinations in western Africa, from the Atlantic coast to the Sahara desert, we bring high priority , food, medicine and other goods to these remote regions. The old US Navy ramp at Naples gives us the perfect sorting facility for flights around the Mediterranean, incuding southeast Europe's Balkan region. We also bring air cargo to such places as Sardinia, Corsica, Malta, two north Africa cities as well as airports in Italy and France. The DC-7BF is based in Lagos and Naples for these regional flights, but considering the nature of old classic freighters, maintenance substitutions are always allowed with a DC-6A, C-97 or even a DC-3 if the need arises. With this we are looking to introduce a new method of scheduling freight soon. We expect to have a Freight Board page available soon where loads are posted and pilots can help carry the goods to their final destinations. This of course is under development, for we want to be sure the finished product is right for us. Enjoy!

SCHEDULES UPDATED AT ATLANTIC; AMERICAN 707/727/BAC1-11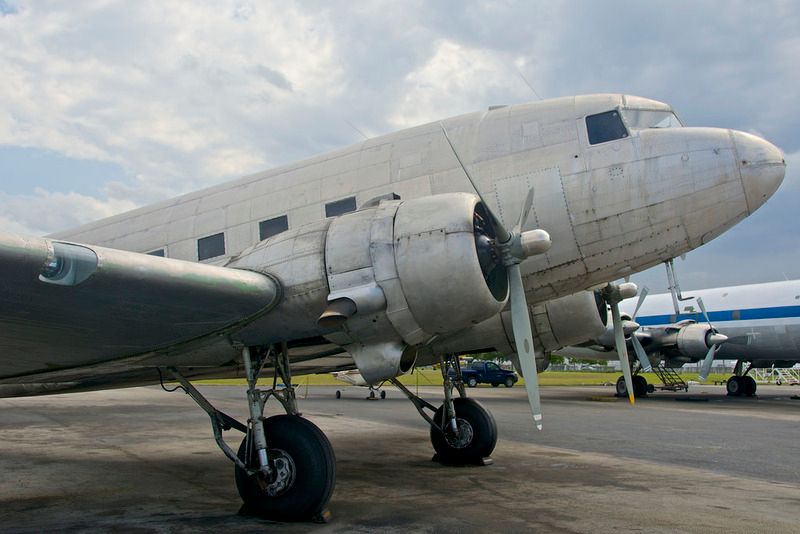 We have just updated the schedules for Atlantic Air Cargo DC3/CV580 flights. Also we have redone the American 707/727/BAC1-11 schedules too. Mostly this involves deleting duplicates, ensuring trips are round trips and not just one way, and placing them in alphabetical order by city name. 

SEVEN SEAS HEADS NORTH TO ALASKA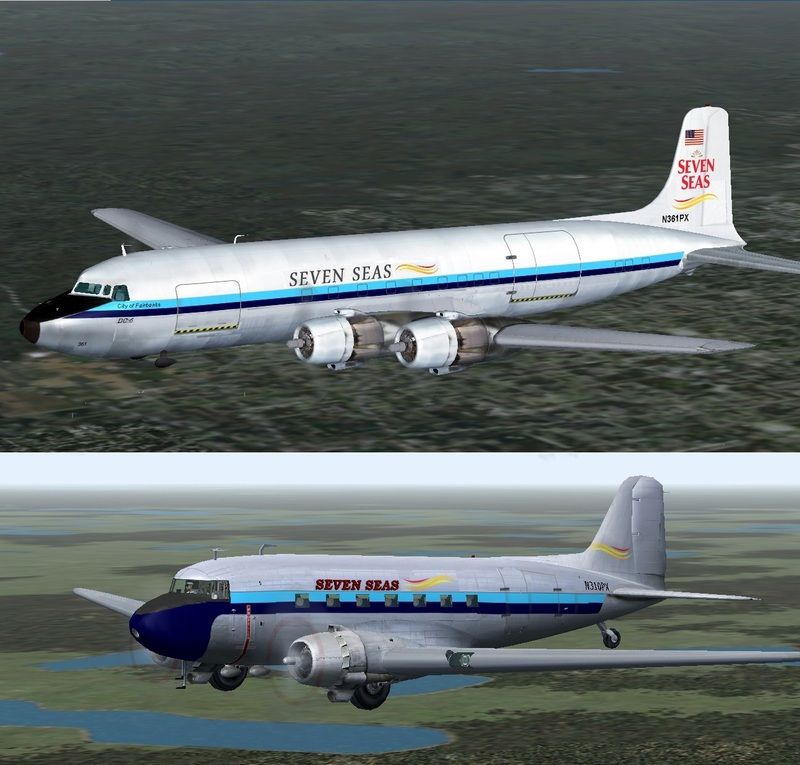 We have just expanded our Seven Seas operation to the ever-popular Alaska region. We have a single DC-8F flight from Seattle to Anchorage. From there you may fly either the DC-3 or DC-6A to twelve different destinations throughout Alaska.  These are current destinations served by Everts Air Cargo using DC-6 and C-46 aircraft. The DC-3 will get in and out of these new destinations, but watch your takeoff weight with the DC-6 when leaving some of these shorter strips.

PAN AM DC-7 CARGO ROUTES ADDED

   In the early 1960's Pan Am was jumping all in for the jet age with orders for 707's and DC8's. The recently purchased DC-7's were still fresh and in this they saw an opportunity to seriously expand their fledgling cargo operation. Dedicated cargo planes were rare at Pan Am, but now they had the DC-6B's and the DC-7's available and these were put into cargo service within five years of being delivered new. Most of these aircraft we sold after about four years in the freight business, replaced by the new jet freighters. For a brief period in time though, these pristine Douglas's enabled Pan Am to generate serious income to help purchase the new jets that would be Pan Am's future. We added routes from Miami to El Salvador, Nicaragua, Cost Rica, Panama, Haiti and Venezuela. From London we fly to Lebanon, Italy and France. Listed as the DC-7BF, you can use your DC-7CF or DC-6BF on these routes, for substitutions were not uncommon. Look for textures for the DC-7BF on Flightsim.com this week!
SEVEN SEAS IN THE SOUTH PACIFIC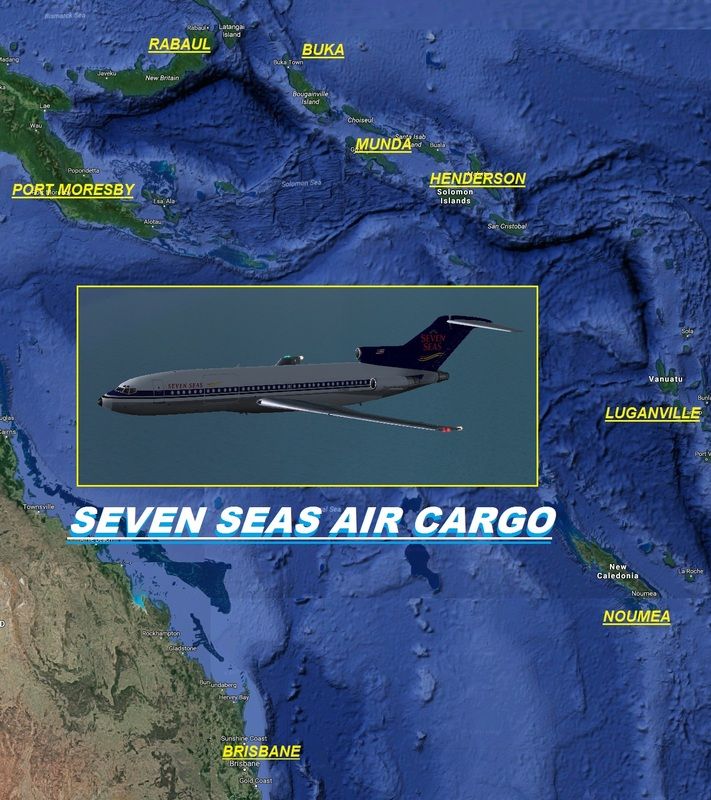 Our very own cargo airline, Seven Seas Air Cargo, has just added a new area of operations. Seven Seas (SSA) is now operating a 727 from Brisbane, Australia to points in the south pacific region. We acquired a 727-77QC from Australian Cargo and took over several routes recently abandoned by the majors. Our flights will carry passengers for the first time, up to 40 people and 40,000 lbs of cargo. Flights leave from our hub in Brisbane and go to Port Moresby. From here we fly to Rabaul and Buka, then back to Port Moresby. Or, we fly to Henderson and Munoa and back to Port Moresby. Another flight leaves Brisbane and flies east to Noumea, then up to Luganville and back to Brisbane. Some of these airports will be a challenge with the 727, so bring your skills and your bathing suit to the sunny South Pacific!

  NORTHWEST DC-7C ROUTES UPDATED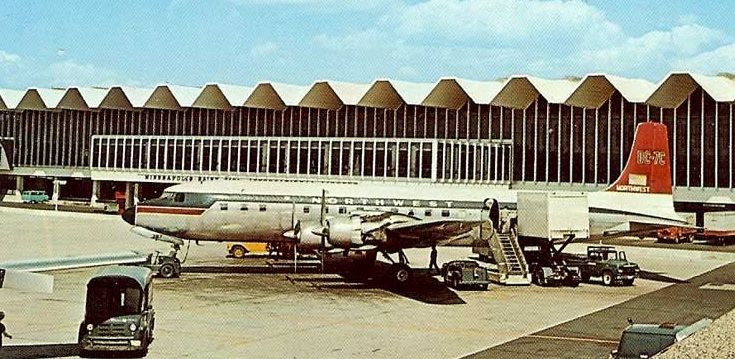 We just updated the schedules for the Northwest DC-7C. These flights are from 1961, a time when Northwest was starting to take deliveries of the DC-8 but still considered the Douglas DC-7 the gold standard. Imperial Service was the First Class ticket to the world, and many flights were still booked as First Class passengers only. A First Class ticket from New York to Tokyo cost $753 in 1961, which when adjusted for inflation is $6158 today. It took 23 hrs to get there with one stop in Anchorage. Today the same trip would run on an A319/B777, take 16 hrs to get there with a single stop, and cost $5540. Our adjusted schedule include nonstop flights from New York to Detroit, Chicago, Seattle and Anchorage. Other new flights fly to Milwaukee, Minneapolis, Spokane, Portland, Washington DC and of course Tokyo. Climb aboard a Northwest DC-7C and enjoy the luxury of Imperial Service today! No TSA checkpoints!