Posted by David Reed on 10/22/2018
WORLD & KALITTA JOIN CARGO RANKS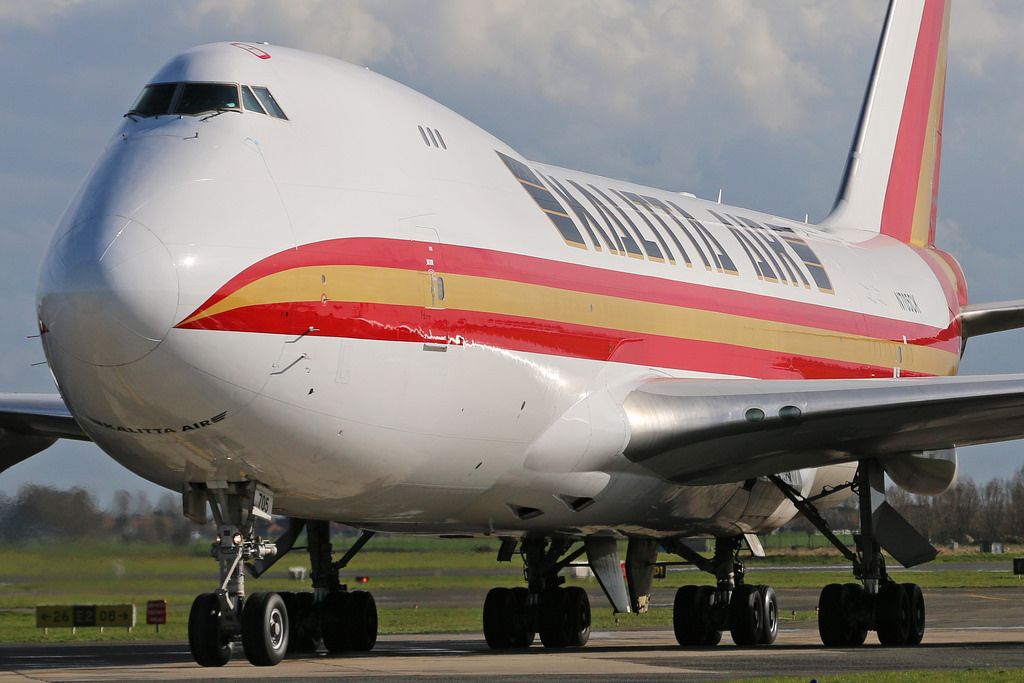 Two classic cargo carriers have joined the ranks of our early cargo operators. World Airways (WRL) began operations in 1950 with a DC-4. They got a government contract and have been carrying freight and soldiers ever since. They are also a well known contract carrier worldwide, operating 747s and MD-11's. Kalitta Air (CKS) started in 1967 with a Cessna 310, operating as American International Airways. In 1984 they moved into jets, doing ad hoc charters around the world. In 1997 AIA merged with Kityhawk and became Kalitta Air. We have numerous 747 routes for Kalitta Air. Both carriers fly under contract with Seven Seas, using their own callsign. World flies 747F and MD11F routes, while Kalitta flies 747F routes. With the addition of these routes, HAG now has over 13,000 routes to choose from.
UNITED DC-6B FLIGHTS COMPLETELY REDONE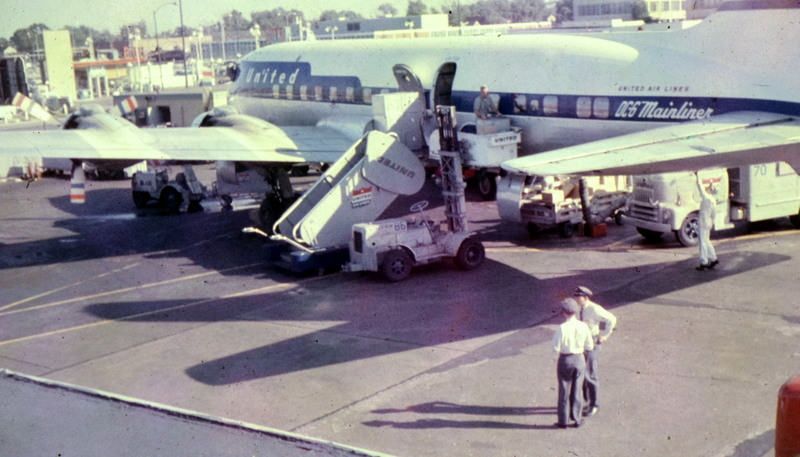 We just finished doing a complete update on the United DC-6B flight schedule. We increased the number of flights by almost 50%, and no longer will you fly somewhere with no flight coming back. Towards the end of World War II, the airlines approached Douglas Aircraft with a request for an improved DC-4. At the time the DC-4 was state of the art, but the airlines wanted more seats, more speed and more range. Most importantly, they wanted pressurization so they could fly over bad weather instead of through it. First delivery went to American and United on 24 November 1946. Douglas later lengthened the aircraft slightly, added cargo doors and a stronger floor to create the DC-6A freighter. The DC-6B was a DC-6A without cargo doors and a lighter floor. Airlines loved them. Economical, rugged and dependable, the DC-6B created large profits for the airlines that flew them, and many did. When production ended in 1958, 704 had been built.
QANTAS 747 ROUTES ADDED

One of our members asked if we could add 37 new flights for the Qantas 747. It took a while, but I finally found the time to make the new routes. These are classic Qantas long haul flights. New routes added include: Sydney - Singapore - Bahrain - London (and return); Melbourne - Singapore - Bangkok - Rome - Belgrade (and return); Bangkok - Athens - Rome (and return); Bombay - Frankfurt - Amsterdam (and return); Frankfurt - Manchester (and return); Melbourne - Fiji - Honolulu - Los Angeles (and return); Sydney - Tahiti - Los Angeles (and return); Sydney - Hong Kong (and return); and Melbourne - Hong Kong (and return). It's a long flight, but Qantas had great movies, plenty of booze and fine cuisine, so kick back and enjoy the First Class service. Unless you're flying coach, wedged between two Fiji wrestlers on an eight hour flight to LAX. Live and learn.
AMERICAN AIRLINES L188 ELECTRA II

In 1955, American Airlines announced a need for a four-engine turboprop airliner that could carry 75 passengers up to 2000 miles. Eastern jumped on board, but wanted greater range, 350 mph and seating for up to 90 passengers. Lockheed responded with the model CL-310, later changed to the L-188. American quickly ordered 35 and Eastern ordered 40, and in two years the first flight took place with orders for 129. The aircraft performance was spectacular, with terrific climb rates and impressive short field capabilities. The aircraft came with up to 98 seats, 390 mph top speed and a 2770 mi range. American Airlines flew the first revenue flight with an Electra II in January 1959, but one month later on February 3rd, a crew flew a brand new Electra into the East River while flying a back course approach to runway 22 in marginal weather. Coincidently, this was the same evening that Richie Valens, Buddy Holly and "The Big Bopper" died in a plane crash in Iowa. The photo shows the accident aircraft, N6101A, in Chicago, nine hours before it crashed. A year later, two more fatal accidents were caused by improperly designed engine mounts. An expensive fix, covered entirely by Lockheed, could not fix the reputation of the airplane, and orders quickly switched to the new 727's and DC9's. The Navy however bought hundreds of the Electra's, known as the P-3 Orion, and still operates a few today. Anyone who ever flew an Electra considered it a real hot rod, a delight to fly and highly reliable. HAG just added 78 American L188 Electra II flights.

NORTHWEST 727 FLIGHTS UPDATED

We have just finished reviewing the Northwest 727 schedules. We had several flights out of New York's JFK but few returning. We have added nine return flights from Detroit, Chicago, Milwaukee, Minneapolis and Seattle. These flights also serve New York's LaGuardia and Newark airports, as well as JFK. The picture shows N280US pushing back at LaGuardia Airport in 1980, back when 727's reigned supreme across the nation.
PIEDMONT 727 FLIGHTS ADDED

When Piedmont got their first 727-200's in 1981, they opened up routes far outside their regional norm. Denver, Dallas, Houston were their first expansion west. In 1984 Piedmont began non-stop flights from Charlotte to Los Angeles and San Francisco. These flights were long, usually 4-5 hrs in length. Set it up for cruise at .76-.78 Mach and you should make it with good fuel reserves. Westbound flights have a great breakfast service, while eastbound flights have lunch.
VARIG CARGO ROUTES ADDED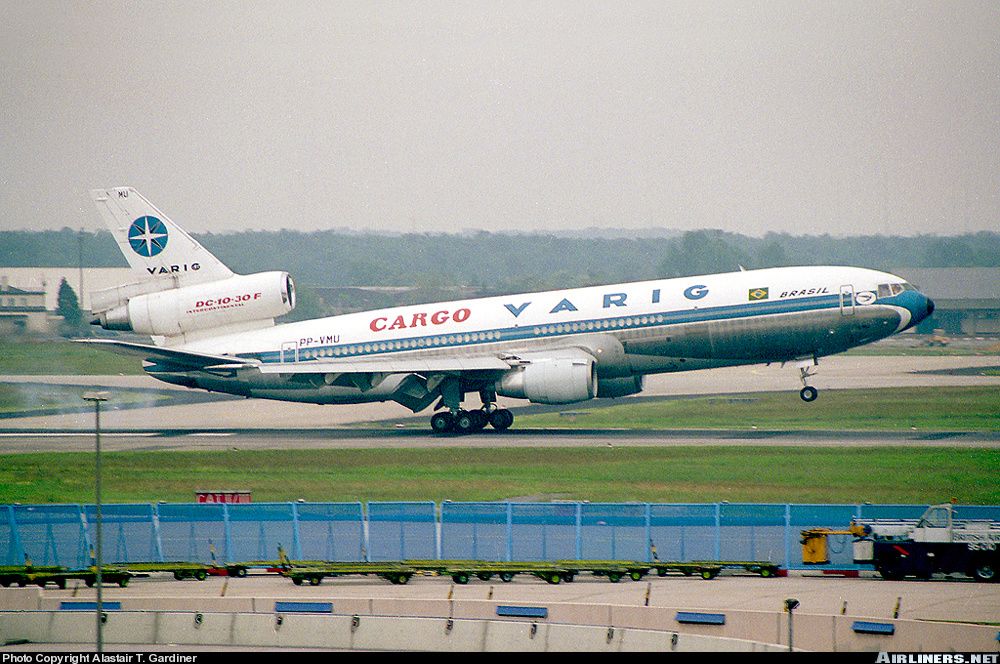 VARIG Airlines had a cargo division that flew primarily long haul, international routes. Their largest cargo aircraft was the DC-10-30F. This aircraft flew to many destinations. From their hub is Rio De Janeiro, we now have VARIG-CARGO DC10 flights to Miami, New York, Paris, Lisbon, Cape Town and Lagos.

EASTERN DC9/727 ROUTES ADDED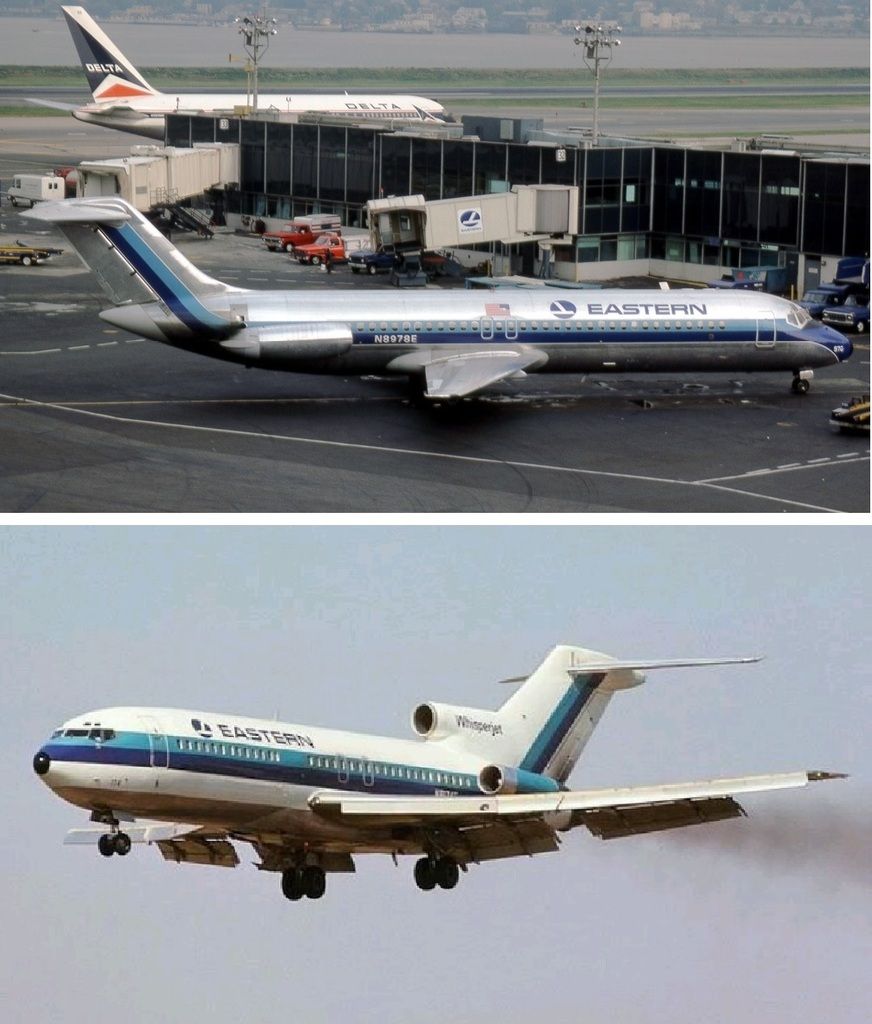 We have just added several new Eastern Airlines routes for the DC9 & B727. From New York we can fly to Pittsburgh-Cleveland-Detroit; New York-Baltimore-Atlanta-Birmingham; New York-Daytona Beach-Palm Beach-Atlanta; Miami-Birmingham-Chicago; Miami-Cincinnati. These new routes expand our coverage of this historic airline with our two most popular aircraft. Eastern Airlines played a significant role in the development of both aircraft. Their short leg, multi-stop flights required built-in airstairs and an APU for power in order to be self-sufficient at these smaller locations. New hire pilots usually started in the 727 FE position, then quickly moved to the right seat of the 727 or DC9. Most Captains got their first type rating in the "Diesel Nine" or "Three holer". Whatever you flew, you loved it. Flying for Eastern was indeed the dream job of a lifetime.

FLIGHT OF THE WEEK


Every weekend I update the Trip Of The Week. Each week we have two to choose from. These trips are selected randomly, usually involving more than one leg. One week it may be a Northwest DC-9 from New York to Minneapolis via Detroit and Milwaukee. The next week you may find an Alaska Airlines Constellation flight from Anchorage to Juneau and Seattle. If you're finding yourself flying the same routes with the same airplane all the time, try out the Trip Of The Week and add some variety to your flying! You can find them on the About Us tab at the top of the page.

DOUGLAS DC-7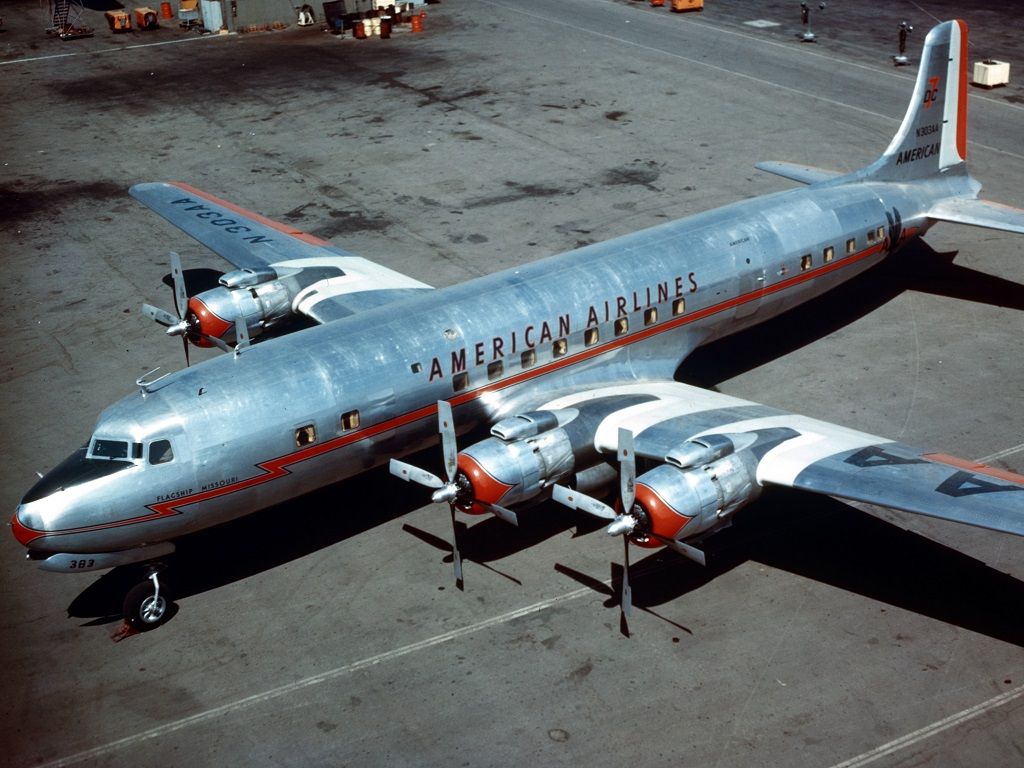 In 1947 the DC-6 entered airline service with American and United, and was an immediate success story. One thing it lacked though was the ability to cross the United States from east to west non-stop in under eight hours. Federal regulations limited pilots to eight hours flying time, so a fuel stop and crew change was normally required. The L-1049G Constellation could just make the crossing, so with the urging of American Airlines, Douglas quickly developed the DC-7. A turboprop design was considered, but the powerplant was untried, so they opted for the Wright R-3350's. This would haunt the DC-7 for years, as the Wright's were never as reliable as the P&W R2800 on the DC-6. The DC-7 though was unique in other ways. It was the first airliner to use titanium. Trim tabs moved with the flight controls, so no hydraulic boost system was required. The original DC-7 was stretched 40" behind the wing, providing six more seats in the cabin. The tail section was a standard DC-6B section. Despite having a nearly identical wing as the DC-6B, the DC-7 could carry 50% more fuel. The DC-7B broght an increase in gross weight, propeller spinners, improved flaps and engines and fuel tanks in the nacelles was an option. The DC-7C had more substantial changes, including a 40" stretch ahead of the wing. The wings obtained a 10' addition in the inboard section, providing an additional 1000 gals of fuel. A newer version of the R3350 was installed, and aerodynamic changes resulted in the lowest drag of any airliner of the time. While the DC-7B was a domestic favorite, the DC-7C was used primarily on overwater, long distance flights. With the introduction of the jets, most DC-7's were traded in. For cargo carriers the DC-6 was more economical, so the market for used DC-7's was quite small. Most DC-7's were scrapped soon after retirement. AT HAG, we have 454 DC-7 flights with 16 airlines.


PAN AM 707/747 SCHEDULES REDONE

We have just reviewed and made corrections & changes to the PanAm 707 & 747 routes. Pan American was instrumental in the development of the Boeing 707. First revenue flight of the 707 was a Pan Am flight to Paris on October 26, 1958. PanAm also flew the first 747 revenue flight, from New York to London on January 22, 1970. PanAm went on to operate 128 707's and 65 747's (including the long range 747SP).

EASTERN AIRLINE'S DC-9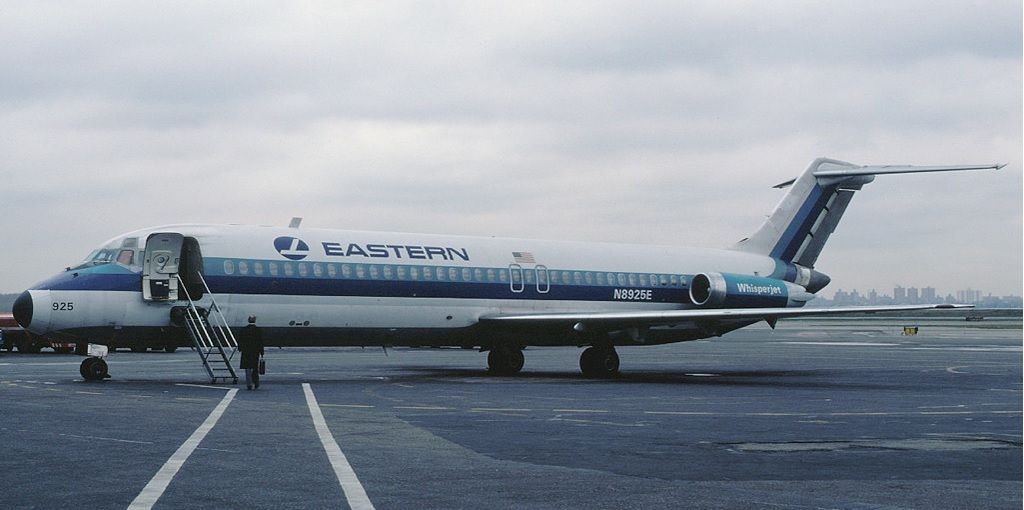 In 1960 Eastern Airlines bought it's first jet, a Douglas DC-8. One year later, in recognition of their shorter routes, Eastern bought 15 Boeing 720's. What they really wanted was a self-sufficient airliner for small airports, so they became the launch customer for the 727 in 1964, eventually purchasing 174 of them. But at the same time, they hedged their bets and bought 123 DC-9's. Accounting loved the DC-9. Lower purchase cost. One less engine to maintain. Fuel burn was cut by a third. Crew costs were for only two pilots instead of three. It could carry more passengers than the first 727's too. Anywhere Eastern flew, a DC-9 eventually flew there.


TWA STARLINER DOMESTIC FLIGHTS ADDED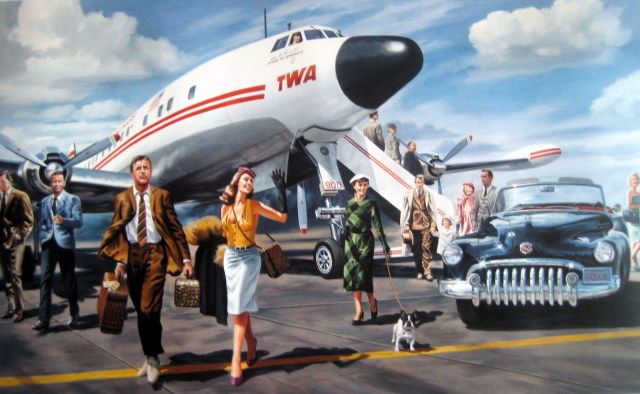 In 1959, Trans World Airlines was flying Lockheed 1649A Starliners on their international and domestic long haul markets. Today we have added what is probably the last non-stop transcontinental piston engine airline flights. West coast cities to east coast cities and back, and one to Kansas City from New York. This schedule is from January 1959, two months after other airlines began flying the new 707's. It would be almost two more years before TWA finally got their first jet, so to keep customers the inflight service became the finest ever. These L-1649A Starliner flights truly represent the pinnacle of the piston airliner era.


TRANS-ATLANTIC BATTLE IS ON!

It's been gone for a while, but the transatlantic battle is back on! Using the 1959 scheduled timetables, we have reintroduced the mightiest piston airliners in head to head competition across the wide Atlantic Ocean. Pan American has introduced the DC-7C with "Rainbow Service" to Paris and London from New York's Idlewild Airport. This includes 20 First Class seats and 85 coach. Trans World Airlines counters with the Lockheed Starliner L1649's "Ambassador Service", serving Paris, Zurich, Rome and London. TWA carries 20 in First Class and 79 in coach. Last of their kind, for the jets would soon enough be taking over. These flights may be long, but they sure were luxurious!


BEECH 18 IN LUTON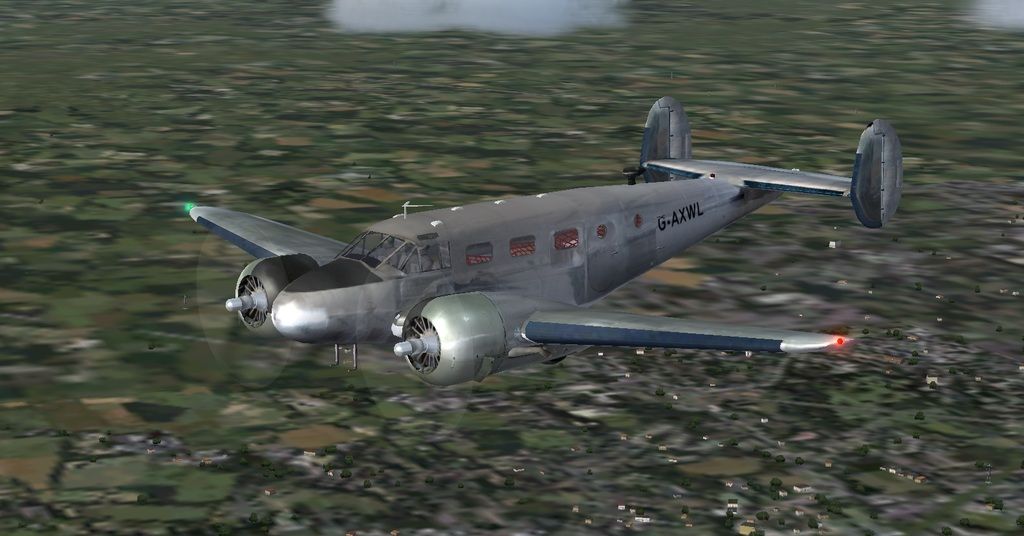 The Beechcraft Model 18, or Twin Beech, had a long and varied history. In the 1950's it was the premier corporate aircraft. In the 1960's and 1970's it was the airplane to have if you wanted to get into the air freight business. There were many mods, including larger fuselage and turbine engines, but in the 1980's there were issues arising. The wing spar had issues when mods were made, so an expensive spar cap had to be installed and the spar inspected frequently. They weren't getting any cheaper to maintain, so the Twin Beech was retired. Today they are just starting to rise in value as a classic collector piece. At HAG we use them for passenger and cargo flights. Here we see G-AXWL enroute from Luton to Swansea, an hour and a half flight with an assortment of time-sensitive cargo.