Posted by David Reed on 10/22/2016
 Douglas DC-8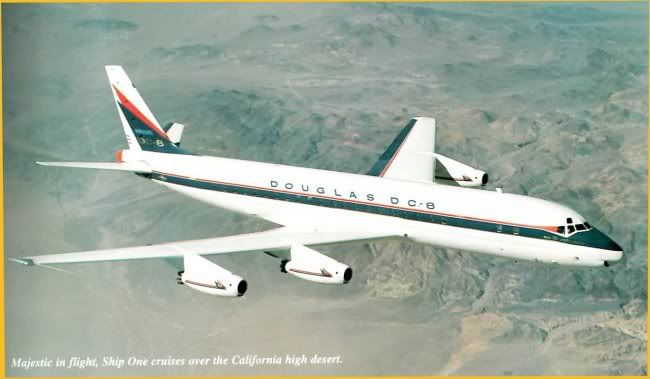 In 1952 the Douglas Aircraft Company established a design team to look into developing a jet aircraft. The company did not want to rush into the jet market and drain its assets. At the time it dominated the commercial airliner market with the DC-6. American Airlines wanted a faster DC-6 and so Douglas developed the DC-7, investing substantial sums with a promise from American for a large order. Also, Donald Douglas and his VP of Engineering Arthur Raymond did not feel the commercial market was ready yet for a jet aircraft. Working on a shoe string budget, the design team looked for direction. They briefly considered a turboprop cargo aircraft for the Air Force (C-132). Commerical customers were asked what they wanted and their feedback wasn't helpful. Some wanted a smaller aircraft, others wanted a large aircraft with six or more engines. American and United favored a turboprop version as a natural follow on to the DC-7. Douglas knew about the Boeing 367 design, but it wasn't until the USAF announced a request for a jet tanker did they realize what it was for. Far behind in the design process, Douglas submitted a bid for the tanker but Boeing won the contest easily. Customers were enthusiastic about the jet and Boeing was already moving forward with a commerical version, the 707. Douglas raced to catch up. The final design was announced on June 7, 1955 with a first flight in December 1957. With an investment of $450 million, Douglas needed orders fast. In the first six months since the initial announcement, 99 orders were received and the DC-8 was on it's way into the history books.

 Cockpit Chronicles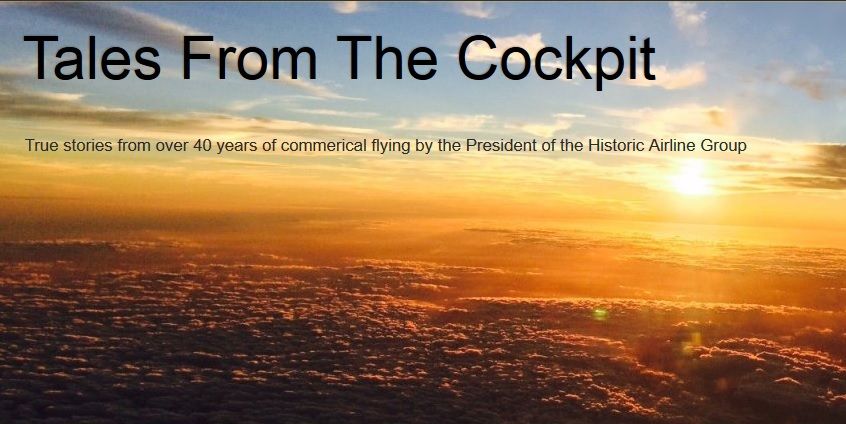 New stories from Cockpit Chronicles! Check it out by clicking on the orange link on the right.
Boeing Stratocruisers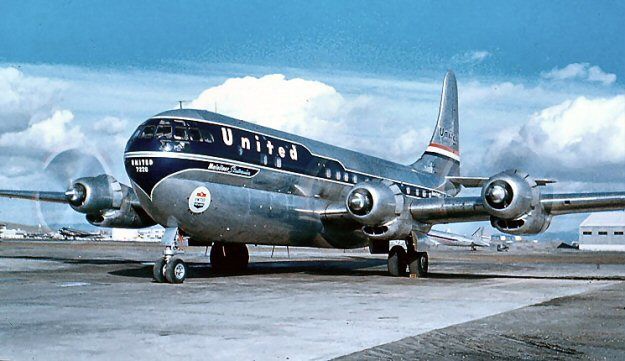 Near the end of World War II, Boeing wanted to move into the commerical aviation marketplace, as military orders were winding down. They had just finished development of a new cargo plane, the C-97, for the Air Force. This seemed like a perfect aircraft for creating long range travel across the oceans of the world. Boeing began building 50 without even a single airline order, betting the future of the company on the sales team's abilities. PanAm, the leader in international travel before the war, became interested almost immediately. PanAm used to count on seaplanes for access to landing sites around the globe, but the war had brought thousands of new paved runway airports. First flight was in 1947, with orders for 20 from PanAm. By 1950, PanAm, Northwest Orient and United were operating the Stratocruiser. However, the plane was a financial nightmare. The P&W R4360 engines were very tempermental and prone to failure if not operated precisely, and used fuel at an alarming rate. Each engine had to be overhauled after only 600 hrs, or about once every two months. Coupled with a high purchase cost, the aircraft was very expensive to operate. It only had seating for 63-80 passengers, comparable to a DC-6B that was far more economical. Though passengers loved the roominess of the plane, airlines found they were lucky to break even on most flights. Within ten years the Stratocruiser was phased out and replaced by jets, but during those ten years they brought nonstop international travel to a new world. HAG has several flights for the Boeing Model 377 Stratocruiser. United has flights between Los Angeles, San Francisco, Seattle and Hawaii. PanAm B337s fly across the Atlantic and Pacific Oceans. Northwest flies their Stratocruisers on domestic flights as does BOAC.

Veterans Airlift Command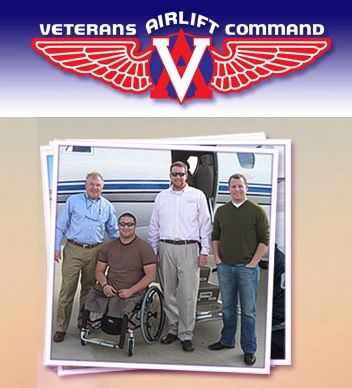 The VAC provides free air transportation to post 9/11 combat wounded and their families for medical and other compassionate purposes through a national network of volunteer aircraft owners and pilots. Here at HAG we fully support the Veterans Airlift Command. If you would like to fly an airlift flight, simply go to one of our US charter bases (Chester CT, St Louis MO or Hayward CA) and select an aircraft to use. Major treatment centers for wounded warriors can be found at http://www.research.va.gov/topics/prosthetics.cfm. Once you've selected an aircraft, pick a place to go to, i.e., Springfield MO to Cleveland. Once the trip is done, deadhead home to your base and file the pirep for the total amount of flight time for all legs, and note in the comments it was a Veterans Airlift Command flight.

Canadian Jets