Posted by David Reed on 05/01/2019
BOEING 707

Boeing has always taken their military designs and made civilian aircraft from them. Their early B307 shared wings and tail from the B-17. The Stratocruiser was the civilian version of the C-97/KC-97 tanker. While the Stratocruiser was a commercial disaster financially, Boeing did first use their "double-bubble" cross-section on it. When Boeing built the B-47 and was designing the B-52, the USAF needed a refueling aircraft that was better suited for the task at hand. Enter the Boeing 367-80. As development testing progressed, it had it's share of incidents. In May 1954, the left main gear failed due to a metal production failure. In August the hydraulic system failed to work properly and the airplane rolled into the grass, hit a cement block and the nose gear was demolished. Another incident involved overheated brakes that set the tires on fire after retraction. On another flight a wrench was left inside the rudder. The rudder experienced severe flutter (a separate issue), but the wrench jammed the rudder in the center position, saving the day, so to say. Did test pilot Tex Johnston roll the 707? Yes, in fact he did it twice during two fly-by's over a prestigious event in Seattle. It came to light later that production aircraft test flights for years always included an undocumented 360 roll, until a Lufthansa crew got it wrong and lost the airplane. On the day the DC-8 was being readied for it's maiden flight in Long Beach (30 May 1958), N707PA was doing a test flight nearby. Knowing what Douglas was doing, the crew asked for permission to do a fly-by over the airport. Approved, they flew a low approach, then blasted away on a smokey go-around, making several reporters assume the DC-8 was already flying. Later that day they were up again near Edwards AFB and, forgoing the scheduled tests, looked for and found the DC-8 on it's test flight. They flew up alongside for a few minutes, though their presence was never acknowledged. Finally, the first trans-Atlantic flights by PanAm in the 707 were not non-stop. Eastbound made a fuel stop in Gander, Newfoundland, and westbound flights stopped for fuel in Shannon, Ireland. It wasn't until the 707-320 series appeared in 1959 that non-stop flights to Europe could begin.

SCHEDULES UPDATED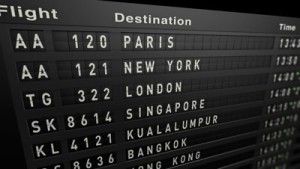 We just updated the schedules for Finnar (FIN), Austrian (AUA) and Olympic (OAL). Corrections to exsisting routes were done, correcting errors and ensuring routes did not dead end anywhere. Also, new aircraft and routes were added as needed to better represent the airline over a wider spectrum of time. Look for more updates in the future. Special thank you and Well Done to Capt Henry Douglas for his hard work.

SINGAPORE AIRLINES JOINS HAG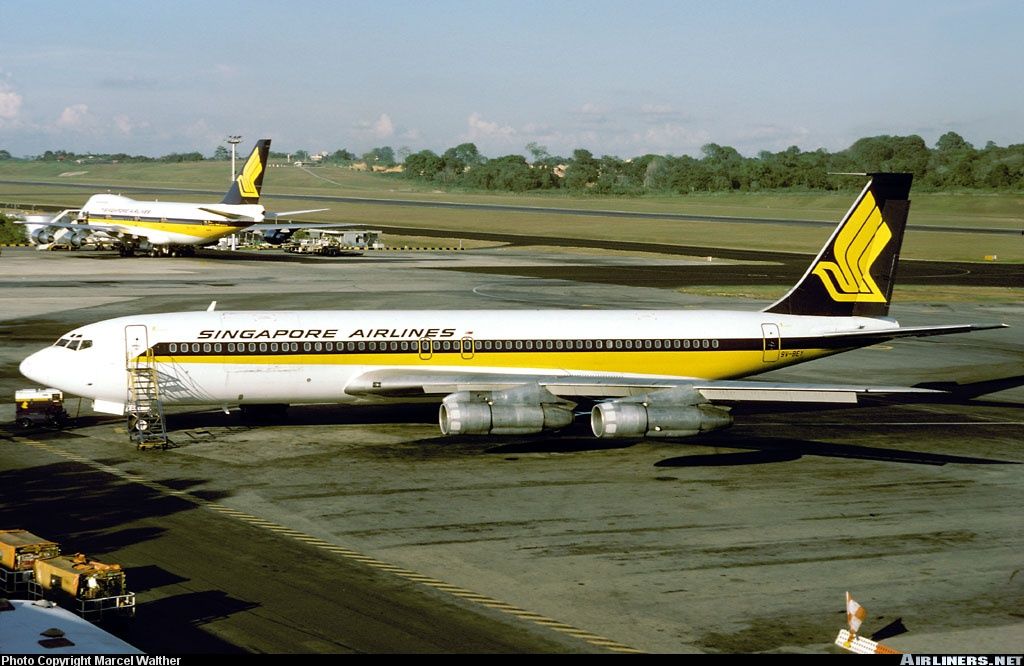 We wanted to expand our coverage of the Asian markets, so we added Singapore Airlines (SIA). Singapore Airlines began in 1947 as Malayan Airways, later Malaysian Airways. In 1966 the name was changed to Malaysia-Singapore Airlines. The following year the first 707's arrived. In 1972 Singapore and Malaysia split and Singapore Airlines came into being. Almost overnight the airline expanded to include 727's, 747's and DC-10's. We have routes to Europe and throughout Asia with Singapore Airline's first jet. Look for us to add 747 routes in the future!


LUXAIR JOINS HAG

Today we welcome Luxair into the HAG group of airlines. Using the 1971 timetable, we have included Caravelle 6R flights from Luxembourg to Paris, London, Amsterdam, Rome, Athens, Dubrovnik, Ibiza, Rimini, Malaga, Monastir and Tunis. Luxair is the official airline of Luxembourg. Founded in 1948 as Luxembourg Airlines, the name changed to Luxair in 1962 when they began operating the Fokker F27. In 1967 they leased one Vickers Viscount, but it was written off less than a year later. It was replaced with their first jet order for the Sud Caravelle 6R. The Connies went away in 1969, and Luxair flew F27's and Caravelles until 1977 when the B737 arrived. Over the following years the Caravelles were gradually replaced with the 737.
AIR CANADA TO ATLANTIC CANADA

We just added increased service to the Atlantic Canada region, using Air Canada as the carrier with DC9, Q400 and SF340 aircraft. Using Halifax as the regional hub, we have added non-stop jet flights to Toronto, Montreal and Quebec City. Through service to Montreal via Air Canada Express goes through St John, Mocton and Frederiction. From St John we also have a route to Boston through Bangor. Enjoy the beauty of eastern Canada today!

PSA JOINS THE RANKS

Pacific Southwest Airlines began life as an intrastate carrier. Their growth was steady, with the key being numerous flights and short turn-around times (the same model that Southwest was created on). Being intrastate avoided many Federal hurdles as well. Founded in 1949 with a single DC3, they progressed through many different types, but the longest lasting was the 727. In 1970 the airline's were experiencing tremendous growth and airport space was at a premium. PSA felt that a larger aircraft could handle what would take two 727s to fly, so they ordered two L1011's. The first went into service in 1974 and was a disaster! It took an hour to turn around an L1011 whereas the 727 needed only 30 min. Business travelers preferred the more numerous flight choices the 727 provided. Seven months after their introduction, the two PSA L1011's were parked in the desert, less than a year old. The 727, which joined the fleet more than ten years earlier, soldiered on for over ten years more.


PEOPLE EXPRESS ADDED

In 1981 Don Burr and some friends from Texas Air left and founded People Express, the first of the truly no-frills airlines. They headquartered in Newark's old North Terminal at a bargin price, as Newark was trying to breathe life back into the old building. They began operations in April 1981 with a single leased 737. The fleet grew to include 22 737's, 50 727's and nine 747's. The 727's were all economy class with 185 seats. The 747's flew to California and Europe, with a First Class section. Fares were paid in flight like the Eastern Shuttle. People Express was the first airline to charge for checked bags. They charged for everything including sodas, nuts, coffee. In 1985 they bought Frontier, Britt and PBA, and began a new hub in Denver. The buying spree came at a price- in 1985 they had their first year with an loss instead of a profit. They added First Class sections to the 737/727's to attract more business flyers, for the majors were cutting their own costs to compete against PE. With the Frontier union issues and the high debt load, People Express began looking for buyers in 1986. Eventually, Don Burr's old airline, Texas Air, bought Frontier and PE separately and folded them into Continental. Our People Express flights include all of their destinations, and aircraft, including 727, 737 and 747.

SEVEN SEAS AIR CARGO ROUTES ADDED

Seven Seas Air Cargo has just added 16 new flights. With the economy booming, the auto industry is having good times. This means more "Just In Time" parts. Our contract is with General Motors to supply car parts from Chihuahua Mexico to assembly plants in St Louis, Detroit, Arlington and Kansas City. All flights will clear customs in Laredo, TX. The Beech 18 will operate to Arlington TX. The Convair 340 will fly to Alington and Kansas City. The B727F will operate to St Louis and Detroit. GM purchases over $15 Billion in parts from Mexico annually. Chihuahua is the second largest parts supply source in Mexico. Flying car parts from Mexico is nothing new, it's been done since the 1960's. So whether it's mufflers for Escalades or dash panels for Chevy Colorado's, chances are the parts came from Chihuahua.

DOUGLAS'S DC-8

Many of us consider the DC-8 to be Douglas's last minute attempt to play catch up with Boeing and their 707. Actually, this is only partly true. In 1952, there were only two jet airliners in the world, the British Comet and the Canadian Avro C102. Boeing had the B-47 and refueling them from a KC97 was difficult at best. The B-52 was on the drawing board, and the US Air Force wanted a better refueling platform, so the Boeing KC135 was born. Douglas considered this a military product, and any civilian version would just be an adapted military aircraft. In June 1952 Douglas set up an office to study a jetliner concept. Donald Douglas never gave it much weight though. At the time, Douglas was the world's premier commercial airplane manufacturer, and the order books with full of DC6 and DC7 orders. Business was good, so why risk it? Talks with the airlines showed they were more interested in a turboprop version of existing designs. Most airlines considered a pure jet too risky a venture, and were not willing to put a lot of hard earned profits into buying an unproven design concept. Jet engines were underpowered and burned fuel like the proverbial fire hose. What nobody knew was that advances in metallurgy and manufacturing processes would make the next group of jets more reliable, more powerful and more fuel efficient. When Boeing announced the 707 and the orders for it, Douglas Aircraft simply sped up the final design process of their DC8 concept. Airlines knew that Boeing's previous airliner, the Stratocruiser, was a economic failure- expensive to operate, lacking in reliability. Some were wary of a repeat performance. Douglas however was the proven manufacturer. So when the DC8 was announced, and first flight was only 17 months after the 707, most airlines hedged their bets by ordering a mix of 707's and DC8's. Despite the fact that both airplanes had similar operating economics, over twice as many civilian 707's were built compared to the DC8 family. Douglas never lost money on the DC8, but it wasn't the profit-maker they had hoped for. It did however keep them in the running as we entered the jet age.

BOAC VC10 ROUTES ADDED

Our BOAC VC10 routes have been fairly limited. All trips were European destinations, simple out and backs from London. Today that has changed. The European routes are still there, but now we have Transatlantic routes to New York, Boston, Philadelphia and Montreal. Using the BOAC 1971 timetable, we also added routes to the South Pacific by way of New York, Los Angeles, Honolulu and Fiji to Sydney & Melbourne. Or you can fly eastbound to the Far East by way of Rome, Karachi, Calcutta, Kuala Lumpur, Bangkok and Singapore to Tokyo. You can also fly to Johannesburg, South Africa by way of Entebbe and Nairobi. With a flight from Sydney to Hong Kong, it's possible to completely circle the globe on BOAC's beautiful VC10, sixty new routes in all having been added. Routes to South America through the Caribbean are now on the schedule too. Designed in 1962, the Vickers VC10 (Vickers Commerical 10th design) holds the record for fastest time crossing the Atlantic (subsoniic) of 5 hrs, 1 min. BOAC wasn't interested in the VC10 though, claiming it's delivery date was too far off. Instead they opted for the 707. But the British government intervened and BOAC eventually ordered twelve standard VC10's and seventeen 'Super' VC10's (a stretched version). Once in service in 1964, BOAC discovered that cews, and more importantly, passengers loved the VC10. It was fast and yet very quiet. Load factors on the VC10 always exceeded that of the 707. However, operational costs were high for the VC10 compared to other jets, and with the oil crisis and the introduction of the 747, BOAC sold off their VC10 fleet after only ten years in service. Altogether, only 54 aircraft were ever built, compared to 1000+ for the 707. Think of the VC10 as a Rolls Royce. Expensive to buy, expensive to operate, but luxurious and quiet like no other.
TWA FORD TRIMOTOR FLIGHTS ADDED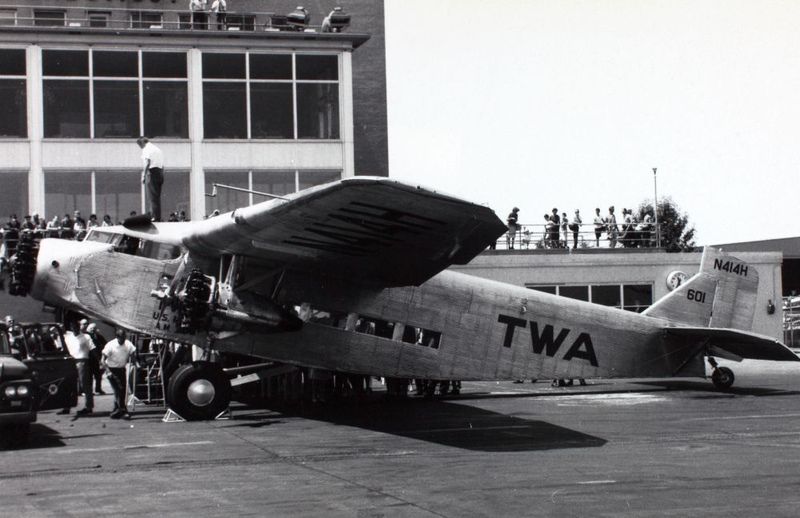 During the late 1920's and early 1930's, TWA inaugurated the first cross-country flights in America. Orignally, these were flights that connected with trains, but as airports and routes developed, flight 3 became an all-airplane route. If the weather was bad or mechinal trouble occurred, TWA could still put you on a train for the next stop. Flight 3 originated in Newark, flew to Philadelphia, Harrisburg, Pittsburgh, Columbus, Indianapolis, St Louis, Kansas City, Wichita, Amarillo, Albuquerque, Winslow and Los Angeles. There was an overnight stop in Wichita. The return flight was simply Flight 4. The "Tin Goose" was the idea of William Stout. With $20,000 start-up iinvestments, he started the Stout Airplane Factory. His design was a single engine type, borrowing heavily from Junkers all-metal design. As design continued, Henry Ford bought the Stout Aircraft Company in 1925. The first aircraft had three engines, using Curtis-Wright air cooled engines. Performance was disappointing though, leading to the 4-AT and 5-AT designs. The 4-AT had more powerful Wright engines (220-300 hp), and the 5-AT had even more powerful Pratt & Whitney engines (420 hp). With a crew of three and 12-19 passengers, they were advertised as the "safest airplane in the world" due to their all-metal construction. The Ford's airline life was short though, as the Boeing 247 and Douglas DC2 & DC3 were soon on the market.


DELTA AIRLINES DC9/B737 FLIGHTS ADDED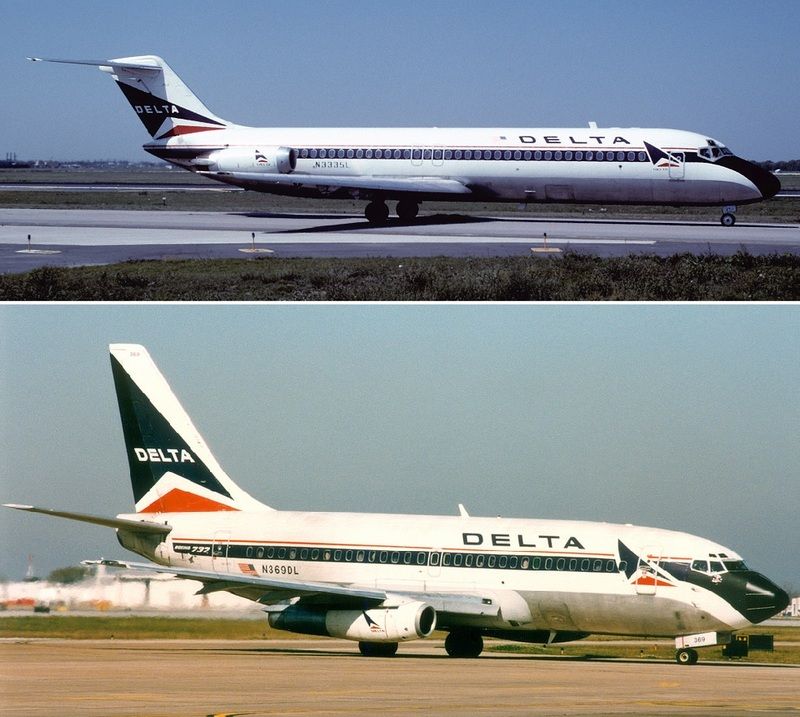 It's been a long time coming, but we've finally added Delta DC9-32 and 737-201 flights to our Delta Airlines schedule. These aren't your usual out and back flights. Most are four to six leg round trips, with flight times running from eighteen minutes to an hour and a half. Delta was the first airline to put a DC9 into service with a DC9-10. The DC9-30 series represented about 60% of the total DC9's built. Delta operated 162 DC9's over the years, some purchased new and others coming through mergers. They also flew 106 737-200's. It was only recently that Delta finally retired it's last DC9.

WESTERN AIRLINES 737/727 UPDATED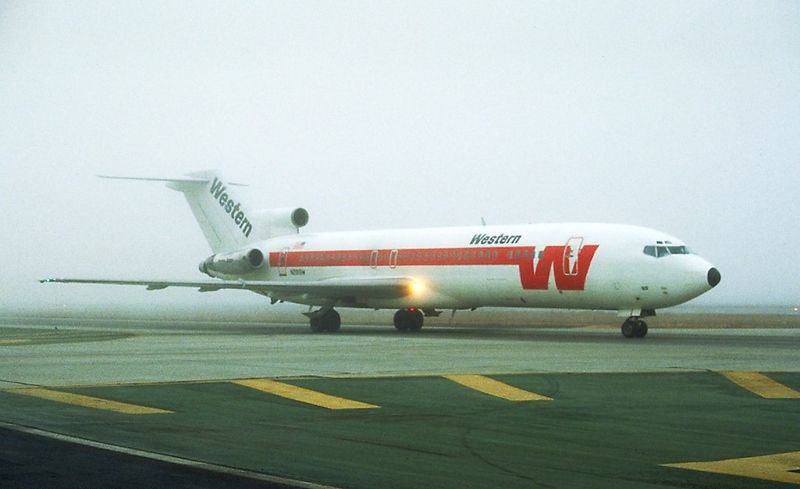 We've just updated the Western Airlines schedules. There were some flights that were missing a return trip, so these were corrected. Some destinations were added as well. Western operated 46 727-200's, so we added that aircraft to the fleet. Western's CEO Terry Drinkwater was often at odds with the CAB, hampering their plans at expansion. In the late 1960's, Western began shifting to an all-jet fleet. Their leased 707's were returned (WAL already owned several B720B's), and orders were placed for the 727 and 737 to replace the L188 Electra II. With the Airline Deregulation Act of 1978, Western really began expanding, competing on the west coast with their rivals United and American. They reduced their hubs to two, Los Angeles and Salt Lake City, and began service to London. In the 1980's Delta was looking to expand it's presence in the Western market, and in 1987 they acquired Western Airlines as a wholly owned subsidiary. The planes were repainted, the DC-10's sold (Delta had a large fleet of L1011's already). Delta continues to use Salt Lake City and Los Angeles as major hubs for their operations.


MIDWAY DC9 FLIGHTS ADDED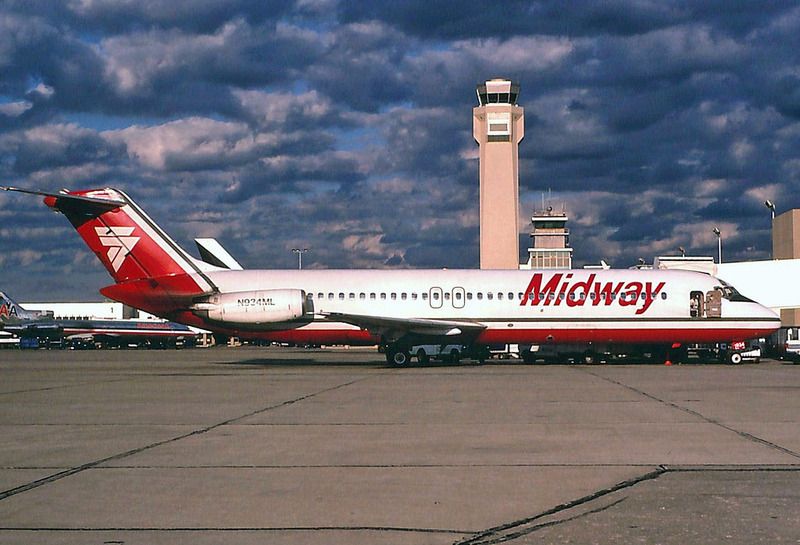 For Midway Airlines we had numerous flights with their 737, but Midway was also a DC9 operator, so we just added DC9 flights to their schedule. Midway started operations in October 1979 with three ex-TWA DC9's and was considered the first start-up carrier after deregulation in 1978. In 1984 Midway purchased Air Florida and began service to the Caribbean, providing a good and profitable mix of business and vacation travel revenue. In 1989, after ten years of service, Midway was riding high on profits. In 1989 they spent $100  million on a hub in Philadelphia, but cometition from US Airways caused them to quit the plan one year later and sold the hub for a $32 million loss. Combined with high fuel prices and the recession in 1990, Midway Airlines filed chapter 11. There was an attempt to have Northwest purchase the airline, but when NWA pulled out of the deal, Midway ceased operations the next day on November 13, 1991.
NATIONAL AIRLINES DC-8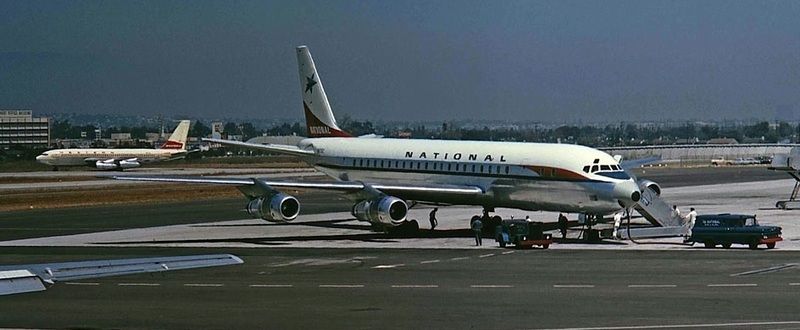 In 1960, National Airlines was operating a wide variety of aircraft, including the B707, DC-6, DC-7, Constellation, Electra II and Convair 340/440. In 1960 that began to change. National decided to standardize the fleet using the DC8 and the B727, phasing out the other types by 1968. National's first DC-8 was N6571C, delivered on February 7, 1960. Two more -21 series were delivered in 1960. In 1963 they bought four -30 series from Northwest Orient (a fifth from Capitol Air in 1969). In 1967/68 National bought two -61 series new from Douglas. In 1969 they purchased six new -51 series from Douglas, and three from other airlines. National DC8's flew throughout the airline system. National was a major player on the east coast, and in 1961 began service to the west coast as well.
BOAC STRATOCRUISER & DC7C UPDATED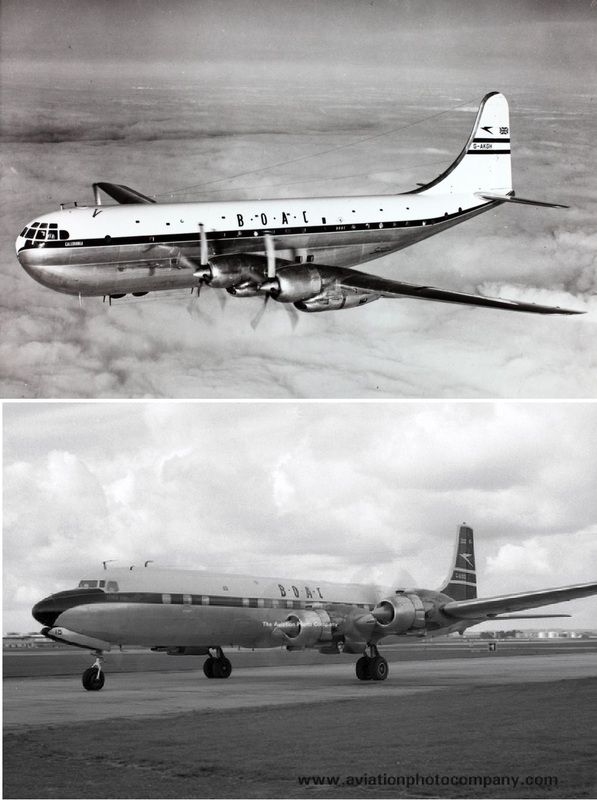 In May 1948, BOAC Chairman Sir Miles Thomas and various members of his staff flew to the USA to see what they had to offer for BOAC's future trans-Atlantic service. They flew to Wichita KS and the Boeing plant. Boeing had a brand new Stratocruiser there, ready for them to inspect and fly. After visiting Douglas, Lockheed and Convair, BOAC ordered the B377. What really impressed their engineers was the vast electrical system on the airplane. Non-flammable hydraulics wasn't a reality yet in the UK, so the extensive use of electrics vs hydraulics really impressed them. Pilots trained with PanAm using their flight simulators. The Stratocruiser was used primarily on Atlantic routes, and primarily for First Class-only service.
In 1955, the BOAC Board approved a purchase of ten DC7C aircraft, on condition that when the upcoming 707's arrived they would be traded in. Most of the DC7's were converted to freighters around 1960 when the 707 arrived. Like the Stratocruiser, the DC7C served primarily the North Atlantic routes. At HAG, we have added several new routes for each aircraft, using the 1955 and 1957 timetable.


;
FLYING TIGERS RETURNS!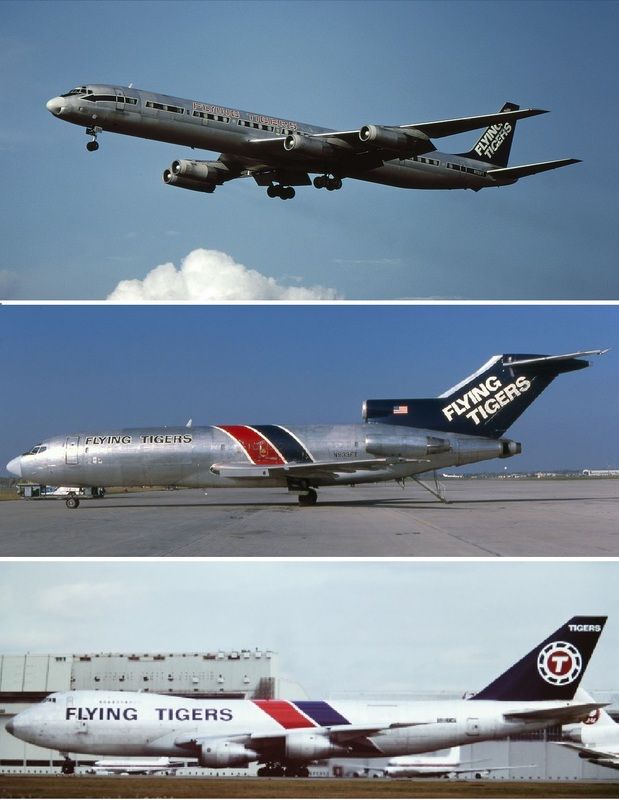 Earlier at HAG we had routes for the Flying Tiger Line, but we dropped it for various reasons. With the popularity of cargo flying rising, we've brought back Flying Tiger (FTL). Using a schedule from 1970, we have flights from New York and Boston, to Detroit, Chicago, Cleveland and Syracuse. From Chicago and Detroit we fly to Los Angeles, San Francisco, Anchorage and Seattle. From Anchorage we also fly to Tokyo and Hong Kong. We have included three of the most well known types flown by Flying Tiger- The DC8-63F, the B727-100F and the B747-200F. Flying Tiger was founded by twelve men previously involved with the WW2 Flying Tigers fame. Flying Tiger Line did a lot of US military logistics flying, and in doing so established a world-wide network of air cargo. When in the 1980's the USAF closed Rickenbacker AFB in Ohio, Flying Tiger set up shop there and created one of the busiest cargo airports in the country. But in 1988 Flying Tigers was having financial difficulties. Federal Express was looking to expand into international freight, so they merged with Flying Tiger and with one stroke of the pen had themselves an established worldwide air cargo system, including a large hub in Anchorage. At one time Flying Tiger operated the CL44 aircraft and the L1049. These may be added at a later date.

NORTHEAST AIRLINES ADDED


We just added our newest classic airline, Northeast Airlines. Using timetables from 1969, we've added 15 destinations and 60 flights for the DC9-32 and the B727-025. Northeast Airlines started out in 1931 as a feeder for Pan Am and two local railroads. Based in Boston, Northeast later established a hub in Newark as well. Up until the mid-1950's they operated primarily in the Northeast region, but later expanded to Florida. Initially they flew the DC-3, expanded into the DC-6, then leased a single 707 from TWA and bought six CV880's. By the mid-1960's they were standardizing their fleet with the DC9 and B727. Financial difficulties brought them to Delta Airlines in 1971, under the condition that they drop their sole transcontinental route, Miami to Los Angeles. At the time the airline industry was still heavily regulated. The merger allowed Delta to move into the Boston market, and the Northeast 727's were the first 727 aircraft operated by Delta. Later Delta would go on to be the largest 727 operator.