Posted by David Reed on 02/25/2019
WESTERN AIRLINES 737/727 UPDATED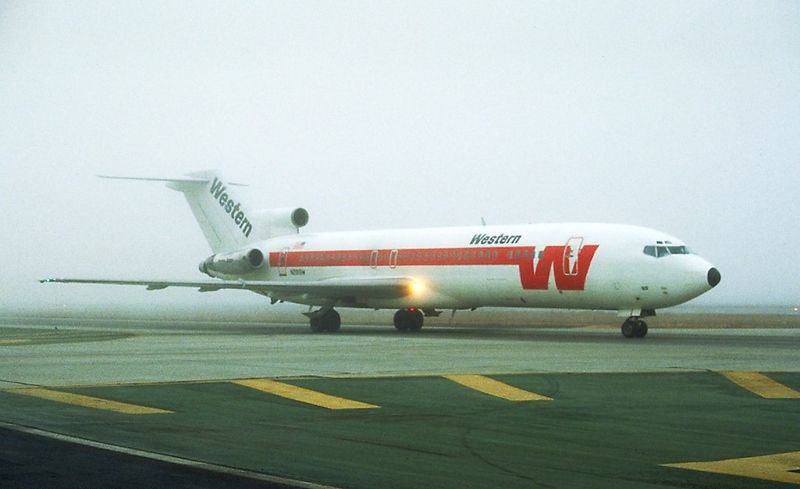 We've just updated the Western Airlines schedules. There were some flights that were missing a return trip, so these were corrected. Some destinations were added as well. Western operated 46 727-200's, so we added that aircraft to the fleet. Western's CEO Terry Drinkwater was often at odds with the CAB, hampering their plans at expansion. In the late 1960's, Western began shifting to an all-jet fleet. Their leased 707's were returned (WAL already owned several B720B's), and orders were placed for the 727 and 737 to replace the L188 Electra II. With the Airline Deregulation Act of 1978, Western really began expanding, competing on the west coast with their rivals United and American. They reduced their hubs to two, Los Angeles and Salt Lake City, and began service to London. In the 1980's Delta was looking to expand it's presence in the Western market, and in 1987 they acquired Western Airlines as a wholly owned subsidiary. The planes were repainted, the DC-10's sold (Delta had a large fleet of L1011's already). Delta continues to use Salt Lake City and Los Angeles as major hubs for their operations.


MIDWAY DC9 FLIGHTS ADDED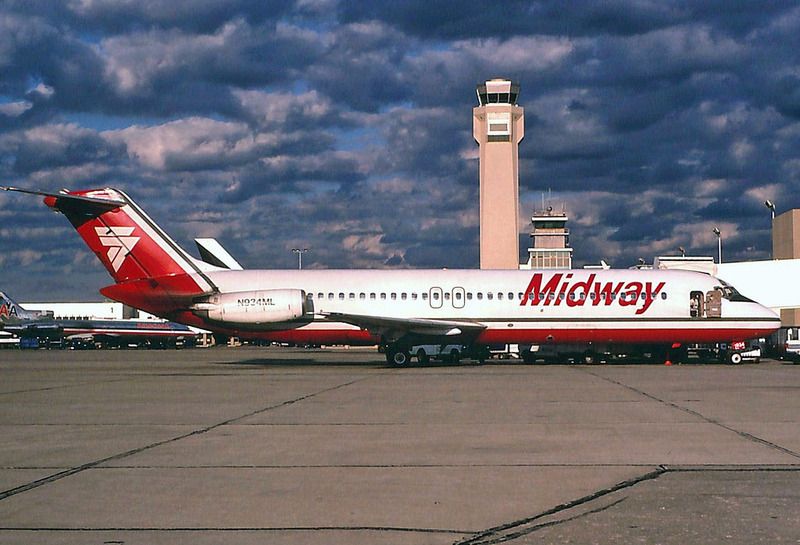 For Midway Airlines we had numerous flights with their 737, but Midway was also a DC9 operator, so we just added DC9 flights to their schedule. Midway started operations in October 1979 with three ex-TWA DC9's and was considered the first start-up carrier after deregulation in 1978. In 1984 Midway purchased Air Florida and began service to the Caribbean, providing a good and profitable mix of business and vacation travel revenue. In 1989, after ten years of service, Midway was riding high on profits. In 1989 they spent $100  million on a hub in Philadelphia, but cometition from US Airways caused them to quit the plan one year later and sold the hub for a $32 million loss. Combined with high fuel prices and the recession in 1990, Midway Airlines filed chapter 11. There was an attempt to have Northwest purchase the airline, but when NWA pulled out of the deal, Midway ceased operations the next day on November 13, 1991.
NATIONAL AIRLINES DC-8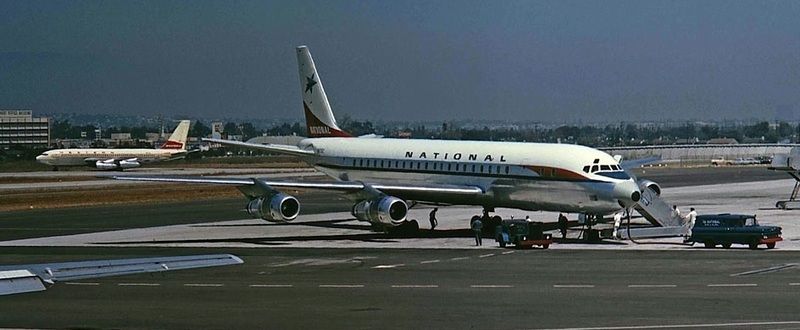 In 1960, National Airlines was operating a wide variety of aircraft, including the B707, DC-6, DC-7, Constellation, Electra II and Convair 340/440. In 1960 that began to change. National decided to standardize the fleet using the DC8 and the B727, phasing out the other types by 1968. National's first DC-8 was N6571C, delivered on February 7, 1960. Two more -21 series were delivered in 1960. In 1963 they bought four -30 series from Northwest Orient (a fifth from Capitol Air in 1969). In 1967/68 National bought two -61 series new from Douglas. In 1969 they purchased six new -51 series from Douglas, and three from other airlines. National DC8's flew throughout the airline system. National was a major player on the east coast, and in 1961 began service to the west coast as well.
BOAC STRATOCRUISER & DC7C UPDATED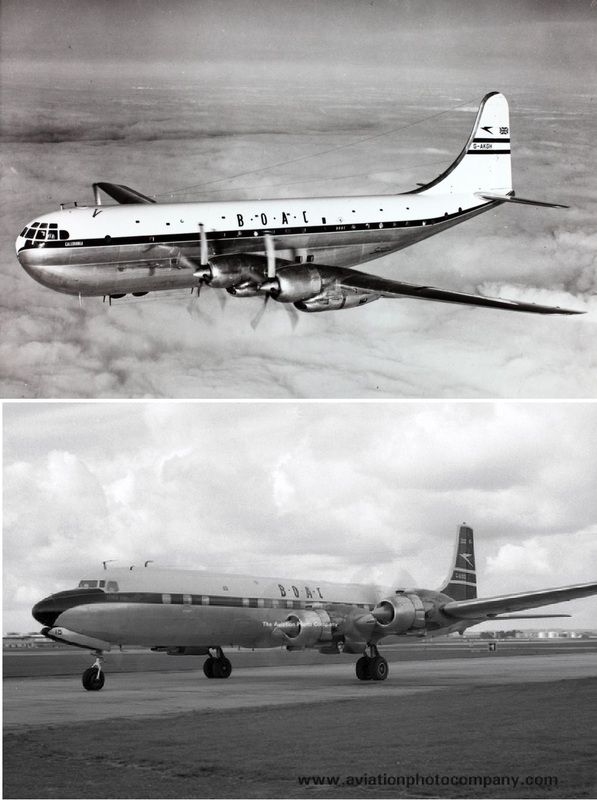 In May 1948, BOAC Chairman Sir Miles Thomas and various members of his staff flew to the USA to see what they had to offer for BOAC's future trans-Atlantic service. They flew to Wichita KS and the Boeing plant. Boeing had a brand new Stratocruiser there, ready for them to inspect and fly. After visiting Douglas, Lockheed and Convair, BOAC ordered the B377. What really impressed their engineers was the vast electrical system on the airplane. Non-flammable hydraulics wasn't a reality yet in the UK, so the extensive use of electrics vs hydraulics really impressed them.  Pilots trained with PanAm using their flight simulators. The Stratocruiser was used primarily on Atlantic routes, and primarily for First Class-only service.
In 1955, the BOAC Board approved a purchase of ten DC7C aircraft, on condition that when the upcoming 707's arrived they would be traded in. Most of the DC7's were converted to freighters around 1960 when the 707 arrived. Like the Stratocruiser, the DC7C served primarily the North Atlantic routes. At HAG, we have added several new routes for each aircraft, using the 1955 and 1957 timetable.

FLYING TIGERS RETURNS!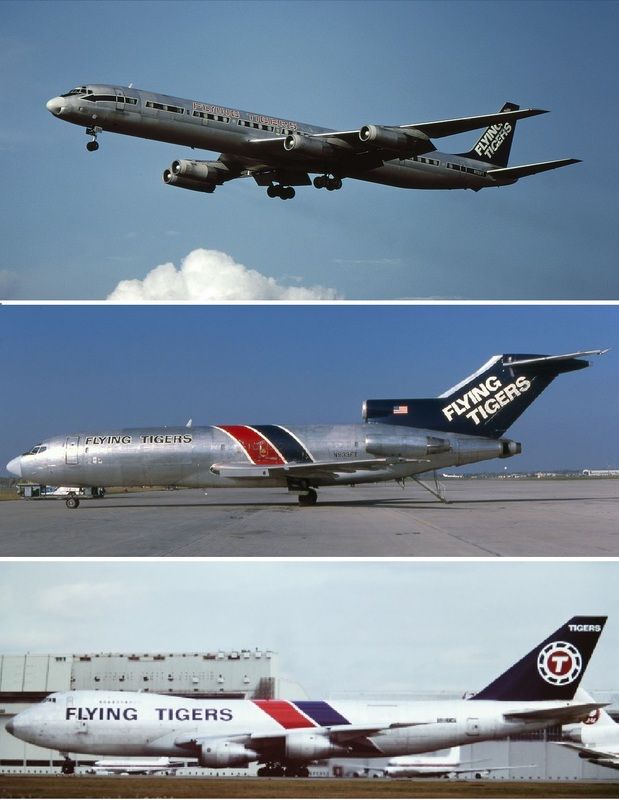 Earlier at HAG we had routes for the Flying Tiger Line, but we dropped it for various reasons. With the popularity of cargo flying rising, we've brought back Flying Tiger (FTL). Using a schedule from 1970, we have flights from New York and Boston, to Detroit, Chicago, Cleveland and Syracuse. From Chicago and Detroit we fly to Los Angeles, San Francisco, Anchorage and Seattle. From Anchorage we also fly to Tokyo and Hong Kong. We have included three of the most well known types flown by Flying Tiger- The DC8-63F, the B727-100F and the B747-200F. Flying Tiger was founded by twelve men previously involved with the WW2 Flying Tigers fame. Flying Tiger Line did a lot of US military logistics flying, and in doing so established a world-wide network of air cargo. When in the 1980's the USAF closed Rickenbacker AFB in Ohio, Flying Tiger set up shop there and created one of the busiest cargo airports in the country. But in 1988 Flying Tigers was having financial difficulties. Federal Express was looking to expand into international freight, so they merged with Flying Tiger and with one stroke of the pen had themselves an established worldwide air cargo system, including a large hub in Anchorage. At one time Flying Tiger operated the CL44 aircraft and the L1049. These may be added at a later date.

NORTHEAST AIRLINES ADDED


We just added our newest classic airline, Northeast Airlines. Using timetables from 1969, we've added 15 destinations and 60 flights for the DC9-32 and the B727-025. Northeast Airlines started out in 1931 as a feeder for Pan Am and two local railroads. Based in Boston, Northeast later established a hub in Newark as well. Up until the mid-1950's they operated primarily in the Northeast region, but later expanded to Florida. Initially they flew the DC-3, expanded into the DC-6, then leased a single 707 from TWA and bought six CV880's. By the mid-1960's they were standardizing their fleet with the DC9 and B727. Financial difficulties brought them to Delta Airlines in 1971, under the condition that they drop their sole transcontinental route, Miami to Los Angeles. At the time the airline industry was still heavily regulated. The merger allowed Delta to move into the Boston market, and the Northeast 727's were the first 727 aircraft operated by Delta. Later Delta would go on to be the largest 727 operator.

PANAM L-049 SCHEDULE UPDATED

Our Pan American Constellation routes have been updated. We have added 23 flights, including service to South & Central America, as well as New York to London. London follows accurate routing with one stop service eastbound (through Shannon), and two stop service westbound (through Shannon and Gander). PanAm had previously flown internationally using flying boats like the Boeing 314 Clippers, but North Atlantic winter flying was difficult, with 44% of the flights being cancelled. PanAm needed speed, range and pressurization to get above the weather. Howard Hughes agreed break with his exclusive TWA contract to sell PanAm 22 long range L-049's . The L-049 was state of the art technology, beating their competitors who were using slower, unpressurized DC-4's. PanAm eventually bought 29 L-049's and four L-749's. PanAm put the Constellation into service in January 1946. The Constellations served PanAm for ten years, before being shifted to South American routes and eventually being phased out by the DC-6B/DC-7C. The Lockheed L-049 brought PanAm into the world of fast international, pressurized airline service before anyone else did, and firmly established their presence in the world market for decades to come.

WESTERN B720 SCHEDULE UPDATED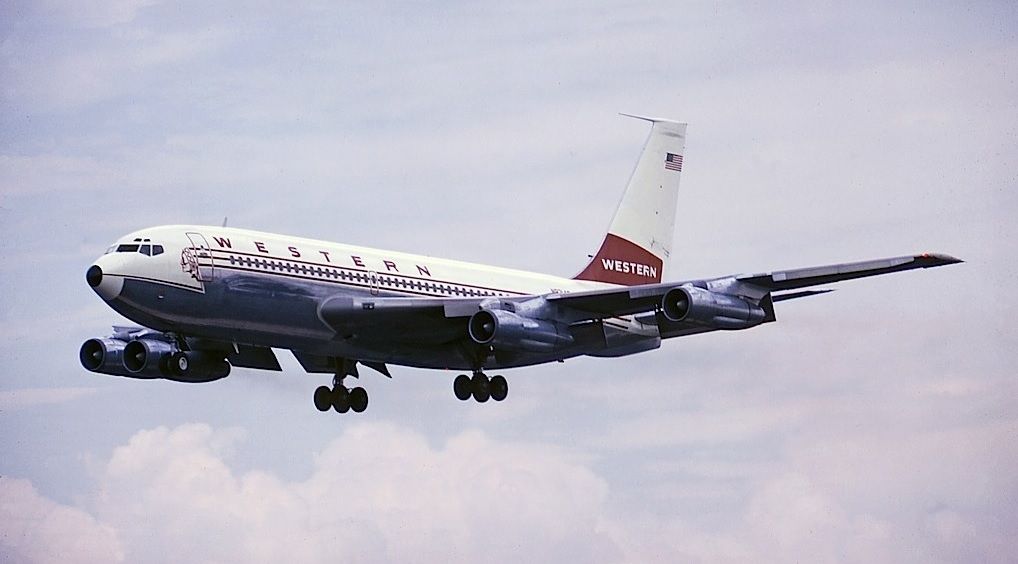 Today we completely redid the Western Airlines Boeing 720B schedule. Using timetables from 1966 & 1968, we've mirrored the actual routes flown by Western's 720B Fanjets. The 720B now operates out of their hub in Los Angeles and their smaller hub in San Francisco. Primarily a western region carrier, in 1966/68 Western was beginning to expand. After purchasing Pacific Northern, Western began B720B service to Alaska from Seattle. From Salt Lake City and Denver the B720B flew east to Minneapolis. The 720B was slightly reengineered version of the original 707-120, designed for short field performance. Though only 154 were built (29 going to Western), the low development costs made it profitable. The 720B had no APU or built-in stairs though, so it required the same ground support equipment as the 707. The 720B was 9' shorter than the 707-120, had a slightly modified inner wing section, but otherwise was identical to the 707. First flight was in November 1959. The last 720B, owned by Pratt & Whitney, last flew in 2010. Western's 720B's were eventually replaced by new 727's.
SWISSAIR ROUTES UPDATED

We just made some dramatic improvements to the Swissair schedules. First, we added DC-6B routes, all over Europe. The DC-6B was a major part of Swissair throughout the 1950's. Though they did fly some international, long distance routes, the DC-6B was primarily used throughout the European region. Next, we removed the DC-7 from the same routes and added DC-7C service across the Atlantic and to the Far East. From New York they normally flew to Lisbon and then Geneva, though there was one that flew non-stop (if the wind cooperated), and another that flew New York to Cologne. Westbound over the Atlantic usually went through Shannon for a fuel stop. For the Far East, Swissair flew from Geneva to Tokyo via Rome, Karachi, Bangkok and Manila. It was the DC-7C that put Swissair firmly into the international overseas markets. Finally, we added for the first time Swissair 747 & DC10 routes. These flights serve North and South America and one flight to Tokyo via Karachi and Bangkok. Altogether, we added 134 Swissair flights!



KALITTA/SEVEN SEAS ROUTES ADDED

South America and Central America are regions we have yet to expand into as a cargo carrier. Today though we have added over thirty flights from our Miami hub to many new southern destinations including Caracas, Venezuela; Bogota, Columbia; Manaus & Brazilia, Brazil; Montevideo, Uruguay; Asuncion, Paraguay; Santiago, Chili; La Paz, Bolivia; San Jose, Costa Rica; Managua, Nicaragua; Guatamala, Guatamala; and Mexico City. All flights are available for the Seven Seas DC8F and B747F aircraft, as well as Kalitta 747F. All Latin America destinations are available to Seven Seas 727F aircraft as well. Look for us to add a freight option in the Flight Of The Week tab!

FLIGHT OF THE WEEK

If you're looking for a new trip and would like to try a trip assignment, look to our Trip Of The Week. Every Friday we provide three new flights- classic jet, classic prop and charter. With the airline flights we follow the typical day of an airline pilot, jumping from one city to the next, using our more popular aircraft. Follow the routes of the classic airlines and learn what it means to keep a schedule! For charters, we have something new every time. One week you fly grandma to Aspen, the next it may be a load of odd freight. We use many different general aviation aircraft, from Learjets to Beech 18's to Piper Navajos. Check out the Trip Of The Week on the About Us tab above!


UNITED'S 737

In February 1965 the DC-9 took flight for the first time. At the same time, Boeing was just getting it's first order for the 737, who's design was yet to be finalized. It would be two more years before the "Baby Boeing" made it's first flight. Boeing borrowed a lot of designs from the 727 to speed up the development process, including the fuselage cross section. The engines were mounted on the wing for ease of maintenance. An improvement to the thrust reversal system was added with target-style thrust reversers that were set 35 degrees away from the vertical to allow the exhaust to be deflected inboard and over the wings and outboard and under the wings. United wanted more room, so the design was stretched 76" and became the 737-200 series. United launched the first 737-200 service in April 1968 with N9002U on a flight from Chicago to Grand Rapids. Despite it's initial success, the recession of the 1970's almost caused Boeing to end production. Airlines though preferred it over the 727 which had higher operating costs. In 1979 Boeing developed the 737-300, with more fuel efficient engines, updated avionics, aerodynamic improvements and another stretch in length. The -300 could carry 20-30 more passengers with efficiency. Eventually United bought 233 of the "classic" 737-200/300's. Later, United began parking the 200-series and replacing them with the A320, but over time they went back to the 737, with orders for over 300 737 Max 9 and Max 10 models. The last flight of a classic 737 for United was flight 737 in October 2009, flying from Dulles to SFO by way of ORD and LAX. The photo shows this airplane landing in SFO. Today, United flies more 737NG's than any other type of aircraft. You just can't keep a good design down.

NORTHWEST DC-9 UPDATE II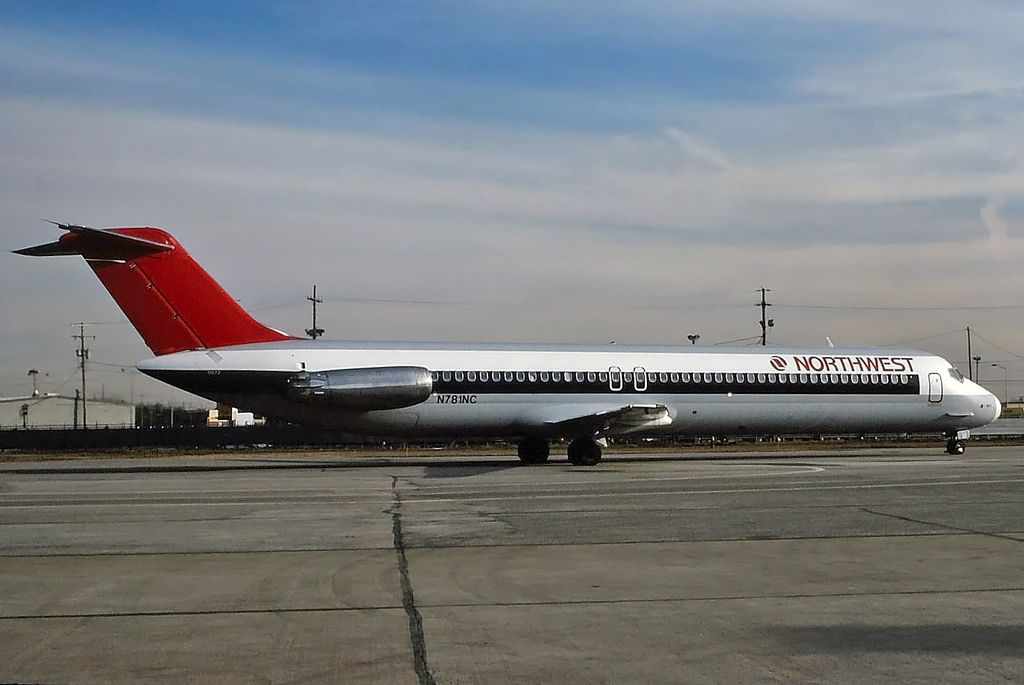 Before the Northwest/Republic merger in 1986, Republic flew to more cities than any other airline. North Central Airlines had hubs in MSP and DTW, Hughes Airwest had the west coast while Southern had a big hub in ATL and MEM. When they merged in 1979 they became the largest domestic carrier, sixth largest airline overall. The hub & spoke idea was still fairly new, and Republic's North Central/Southern/Hughes Airwest merger created a tangled spiderweb of routes. Without an organized system, Republic was burning through profits with partially filled airplanes. In 1986, CEO Stephen Wolf contacted Northwest Airlines about a possible merger. Northwest's CEO Steven Rothmeirer was shopping for a good national airline to feed their international routes, and Republic seemed to be the answer to their dreams. The deal was signed in October of 1986, and within six weeks all signs of Republic were gone. Republic employees had an excellent relationship with management, whereas Northwest employees found Northwest management quite confrontational. When fourteen unions were forced to merge and deal with the adversarial management group at Northwest, things just got worse. Northwest's attempts at managing a domestic hub and spoke system was not as successful as they had hoped. The DC-9 fleet that Northwest got was aging, but in a brilliant move they decided to update and refurbish the fleet for a fraction of the cost of new airplanes. Remember, up to this point Northwest had always been profitable, and even paid cash for Republic. Here at HAG we celebrate the part that the DC-9 played in Northwest's history. We almost doubled the routes for the economical twin jet. If not for the DC-9, Northwest never would have become the mega-carrier it eventually was.

LUFTHANSA 707 UPDATED

We have updated Luthansa's 707 schedules today We have added connecting service between Paris and Rome to such exotic destinations as Athens, Cairo, Calcutta, Karachi and Tehran. Lufthansa was always a leader in new aircraft. They ordered their first 707's in 1958 and began service between Frankfurt and New York in 1960. Lufthansa's beautiful 707's served faithfully for twenty one years. Enjoy First Class service with Europe's largest airline!

NORTHWEST ORIENT 707/720 ROUTES ADDED/UPDATED

Northwest (Orient) Airlines (NWA) purchased it's first B720 in 1961 and it's first 707-320 in 1963, following the DC-8 which came in 1960. Northwest's route structure was primarily national, so the 720 was a good fit for the smaller airports they served, until the B727 came along with lower operating costs. Northwest's DC-8's just couldn't make the Trans-Pacific flights profitably, so in 1963 Northwest signed for the new Boeing 707-320B which had more seats and longer range than the DC8's they were flying. Douglas responded with the "stretch Sixty" series DC8, but now Northwest was firmly commited to Boeing. We have added 45 new flights for the B720 and B707 at Northwest, including flights to Tokyo in the -320B and non-stop transcontinental flights from New York's JFK Airport.
WEST COAST AIRLINE'S DC-9

West Coast Airlines was started as a local service airline to serve the Northwest region of the United States. With headquarters in Seattle, the airline was founded in 1941, just in time to struggle for survival through World War II. After the war they started limited service with a pair of surplus DC3's. In 1952 they bought Empire Airlines (and their operating certificate) and began scheduled service to 32 communities, operating out of Seattle's Boeing Field. They were heavily subsidized by the US government, with half their revenue coming from subsidized income. With a steady route structure of 32-36 cities, West Coast was doing alright. In 1958 they bought several Fairchild F27 turboprops, increasing their passenger capacity by 50%. Eight years later, with a route system that was basically unchanged from the beginning, West Coast bought their first jets, four DC9-14's, factory fresh with 75 seats in all-coach arrangement. West Coast was one of the initial customers for the DC9. Unfortunately, two weeks after delivery, they flew their first DC9, N9101 with only 18 hrs total time, into a hillside while on approach to Portland Airport. This was the first loss of a DC9. At this time, the F-27's were still in service, but the DC-3's were now carrying strictly cargo. In 1968 West Coast, Pacific Airlines and Bonanza Airlines merged to become Air West (later Hughes Airwest). All three airlines operated DC-3's and the F27. Bonanza and West Coast had just purchased DC9's, while Pacific had just acquired three 727's. After the merger the DC-3's were all sold. Airwest/Hughes Airwest continued to fly from Boeing Field for a few years, then moved to Seattle/Tacoma International Airport in the early 1970's. The remaining three DC9's from West Coast were sold to Texas International in 1975. Within the next five years, two were damaged beyond repair in takeoff & landing accidents. By 1979 Hughes Airwest had sold the F27's, DC9-14's and early 727's in order to grow into DC9-30's and B727-200's. In 1979 they merged with Republic Airlines. HAG offers 19 West Coast Airline DC9 flights.


NORTHERN AIR CARGO REVAMPED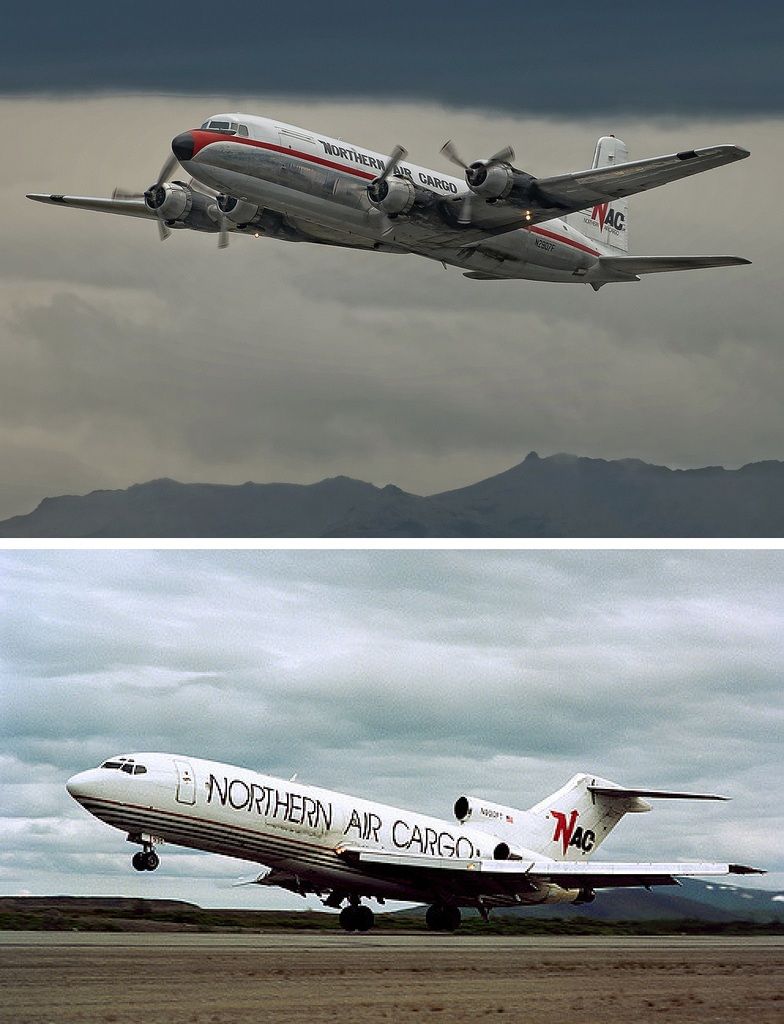 Previously, our Northern Air Cargo represented more fiction than truth. That has been corrected! Northern Air Cargo home base has been moved to the correct location, Anchorage International Airport. No longer will you find an NAC D18S, L188 or PA31. NAC primarily operated a fleet of DC-6BF's and B727-100 series, and these you will now find listed. Their routes are primarily intrastate, meaning they operate only in Alaska. I don't remember why we created NAC as a Canadian cargo carrier, but we strive to be accurate with our airlines and Northern Air Cargo is now that way. NAC was known for their high level of maintenance to ensure flights operated on time, every time. Our DC-6 is N2907F, a former C-118. If you go to www.oldjets.net you can find an article describing a flight in this aircraft in the sub-zero cold of the great white north. In October of 2008 the last DC-6 flight for NAC flew, but at HAG the Douglas flies on! Likewise, the 727's were all retired and replaced with 737's, but we keep the three holer alive at NAC. For a real challenge, try taking the 727 in and out of some of these smaller, snow-packed runways. It will keep you sharp!