Posted by David Reed on 03/25/2015
Mohawk BAC 1-11


Mohawk started life in 1945 serving the mid-Atlantic region of the eastern United States. Based in Ithaca NY, Mohawk progresses from Fairchild F-24s to DC3s, CV240s, and Fairchild F-27s. In 1961 they pioneered the first computer reservation system, in 1965 they were the first airline to use simulators and the first regional to fly jets. Orders from American, Braniff and Mohawk were received even before the twin jet received certification. American and Braniff quickly replaced theirs as the B727 came into service, but Mohawk found what the BAC 1-11 was best at: Short routes with quick turns at a profit. In four years Mohawk was all turbine with the BAC and the F-227. At DM Flight Sim (http://www.dmflightsim.co.uk/bac_1-11.htm) they have excellent, free models of the BAC1-11. Learning proper procedures takes some time, but the reward is flying short routes quickly in an exciting airplane. HAG has numerous flights with Mohawk, as well as American, Aer Lingus, British Calendonian and Birtish Airways. Enjoy!

Good Reads: Fatal Crossing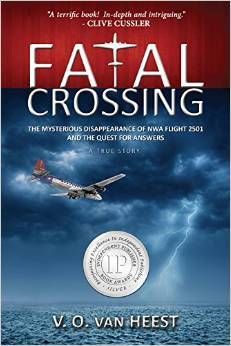 On June 23, 1950, a DC-4 with 58 souls on board flew from New York toward Minnesota. Minutes after midnight Captain Robert Lind requested a lower altitude as he began crossing the lake, but Air Traffic Control could not comply. That was the last communication with Northwest Airlines Flight 2501. Shredded human remains washing up on the beaches of West Michigan served as evidence of the country's worst commercial aviation disaster. The Navy and Coast Guard never located the wreck, rendering it impossible to determine a cause for this tragic accident. Over a half century later, nationally-acclaimed author and explorer Clive Cussler teamed up with V.O. Van Heests Michigan Shipwreck Research Association and set out to do what the government had been unable to do: discover the wreckage and solve the mystery of its loss. Fatal Crossing begins as the team sets out upon its quest, an expedition fraught with disappointments and surprising discoveries as the explorers plow through archives and scout the lake bottom. Van Heests unexpected meeting with a victims son prompts a search of a different kind, one that would be more illuminating than submerged sections of twisted aluminum. Through meticulous research and heart-rending interview, the author paints a captivating portrait of the victims, recreates the last few hours of Flight 2501 in vivid color, and reveals that the answers are not always found where you would expect them. Available on Amazon from $9.51 or at your local library. HAG has ten NWOA DC-4 flights available.

500 FLIGHTS!

Congratulations to Senior Captain Wim Demeyer who today completed his 500th flight with the Historic Airline Group, flying a Pacific Western B737 flight. Captain Demeyer hails from Belgium, and has been a member since June 2011. Recent health issues could not keep Wim from the cockpit, and today we celebrate not only his achievement but his continuing good health. Congratulations to Senior Captain Demeyer!

Pacific Western Airlines

In July 1945 four pilots got together with a prospector to form Central British Columbia Airlines, and one of their wives put up the cash for the legal fees. CBCA served the logging and mining business, providing aerial supply service and survey flights. The airline was reliable and therefore successful. Between 1946 and 1952, CBCA purchased many small flying services, providing the equipment and manpower to continue their growth. In 1953 they changed their name to Pacific Western Airlines.

In 1955 they purchased Queen Charlotte Airlines, giving them their first scheduled service routes. The airline grew rapidly, aquiring its first jets (707's) in 1967. In 1968 they bought the first Lockheed Hercules and began acquiring 737's. In the 1970's they consolidated their various aircraft types, concentrating on the 737. In 1987 they acquired Canadian Pacific Airlines and took a new name, Canadian Airlines International. In 2000 they were acquired by Air Canada, bringing to an end the legacy of Pacific Western. HAG operates 102 Pacific Western flights using the L100, DC3, DC6B, C46 and B737. 

Wisconsin Central

It was February 24, 1948, a bitter cold winter day even by Wisconsin standards. Wisconsin Central Airlines was the result of a small business flight department, the Four Wheel Drive Company of Clintonville, that saw the need for local air service in their home state. They tested the waters with two Cessna Bobcats on a few intrastate routes in 1946. Two years later the CAB awarded them an airline certificate, so they came up with three Lockheed L-10E Electras and on this freezing Tuesday morning the little airline began. It was so cold in fact, that only one flight was able to operate over their new 15-airport route system. But over time they built a loyal following with their safe and reliable airline. Two years later they bought three more Electras and even bought their own ground-based navigation beacons to allow safer operations at night and in bad weather. Back then, if you wanted a VOR, you went out and bought one. In 1951 the demand had grown enough that WCA bought six ex-TWA DC-3s. The next year the added four more, moved their headquarters to Minneapolis and changed the name to North Central Airlines.

Ansett-ANA Updated

Back when airlines were starting in Australia, there emerged two major players- ANA and TAA. On the sidelines, Ansett operated a small operation in southern Australia, flying from Adelaide and Melbourne. During WW2, Ansett flew for the armed forces, and after the war they slowly built a domestic network using surplus C-47s. TAA thrived while ANA struggled, and everytime ANA dropped a local destination, Ansett was there to grab it up. In 1957 ANA was facing bankruptcy, and wanting to avoid a monopoly by TAA, the government encouraged Ansett to buy ANA. Eventually the deal was done and Ansett-ANA was the result.
Here we have created local routes from Adelaide in the early years of Ansett. You can run one of three aircraft to destinations like Broken Hill, Kangaroo Island, Port Lincoln, Whyalla, Cleve, Minnipa, Ceduna, Wagga Wagga, Melbourne, Hobart & Sydney. We have also added a DC-6B route from Melbourne to Brisbane to Port Moresby to Lae, New Guinea and back. Today you can enjoy the roots of Ansett with these fun and interesting destinations. In addition, you can fly the ANA routes with the B727, DC9 & Electra II. Just look for the airline code ANA.

United DC-8's

Back in the 1950's Boeing, Lockheed, Convair and Douglas were all considering a commercial jet airliner. Boeing got the jump on everyone when the USAF approved a new jet tanker design, and the commercial variation was the 707. Douglas went in to high gear with the DC-8 and Convair began work on the CV880. Lockheed went the turboprop route with the Electra II. However the DC-8 outlived all of them. Demand for jets was high, providing Boeing and Douglas with over a hundred orders each before their first flight. Delta and United took delivery of the first two DC-8's on Sept 19, 1959. At first, Douglas was determined to keep the aircraft unchanged, with -10 through -50 series differing only in weights, engines and fuel capacity. However by 1965 orders were dropping, because airlines wanted smaller jets for shorter routes and larger jets for more capacity on the longer routes. Douglas responded with the DC-9, which was an instant hit. They also breathed new life into the DC-8 with the introduction of the new Sixty Series. The -61 was longer with 50% more passengers using the same engines as the -55. The -62 was the same as the -55 but had more fuel efficient engines, and the -63 was a -61 with the new engines.  

At HAG we have 64 United DC-8 flights, as well as many more for other airlines. For United, you can fly both short routes and long routes. With a wide selection of DC-8's available from Historic Jet Group, you can fly any model you like. Operations are challenging, for weight is critical. You must plan your fuel load carefully, so as to arrive with sufficent reserves yet to not be overweight on landing. Climbs must be watched closely or you can easily find yourself in a deep stall, and descents must be planned as well for use of spoilers in flight is prohibited. A successful flight in a United DC-8 is both challenging and very rewarding. Enjoy!
TWA Lockheed L049

The Lockheed 049 Constellation was the idea of Howard Hughes, who wanted an advanced airliner for his airline, TWA. It was Lockheed's first pressurized airliner, and had many unique, modern features including electric deice, hydraulically-assisted controls and reversable propellers. Hughes insisted on secrecy, for he wanted the first 35 aircraft to go to TWA before any of his competitors could jump on the order sheet. The plan would have worked except for one little problem: WWII. The Army grabbed up every aircraft planned for construction. The C-69 first flew in 1943 and immediately ran into engine problems. The new Wright R3350 was problematic. Then, while the issues were being delt with, the engine production went over entirely to the B-29, where the engine issues continued. Production was also stopped initially, as production plants were needed for P-38 fighters, Hudsons and Lodestars for the Navy and RAF. As the war came to a close, the C-69 orders were cancelled after only 15 were built. The remaining aircraft were all built under the L-049 designation. With engine trouble corrected, the first aircraft went to TWA as planned in November 1945, two months ahead of PanAm. United and American were kept out of the bidding process, so they went to Douglas for the DC-6. The L049 first flight was a TWA run from New York to Paris through Gander and Shannon. The interior could hold about 60 passengers in luxury accomodations. A year and a half later Lockheed built the L749, an improved version of the L049. The luxury interior was changed to a more standard airline layout, and the takeoff weight was increased by almost 20,000 lbs. This allowed an increase in fuel capacity and the L749 became the first airliner to fly non-stop across the Atlantic (except westbound flights which usually required a fuel stop due to winds). HAG has numerous TWA L049 & L749 flights, including the first trans-Atlantic flight from 1945. CalClassic has excllent models of the Constellation, but use care. It's complex and proper fuel management is essential to a successful flight. Have fun!


Lake Central Airlines

At the end of WW2, famous aviator Roscoe Turner decided to  turn his little charter service in to an airline. Two borthers provided the start up capital in exchange for co but ran in tontrolling interest, and in 1946 Turner Airlines was born. Back then, the CAB controlled the air and airlines could fly to specific cities only with CAB permission. For a new start up, this was a very frustrating process. Turner Airlines had a single war-surplus DC-3 and a few Beechcraft Bonanzas. In 1950, a few new cities were awarded, the Bonanzas went away, the fleet grew to three DC-3's and the name changed to Lake Central Airlines. Two years later, Roscoe sold his share to the two brothers and, as investors often do, they in turn decided o sell LCA to North Central. But North Central had its own financial problems and the CAB decided to hold off on approving the merger. Enter Dr RB Stewart. Dr Stewart was made President of the airline and he knew the CAB was not going to do anything to approve the merger. So he went full speed in reinventing Lake Central. New management personnel and new processes improved morale and profitability. LCA representatives camped out at the CAB and whenever a new city became available, they pushed hard for it. More DC-3s were added, Stewart created alliances with larger airlines, allowing passengers to connect with them to more distant destinations. The airline was now quite profitable and in 1953 the investment brothers sold their shares to the employees, making Lake Central a true employee-owned airline. In 1960, the employees voted to offer shares to the public, ending the era of employee ownership. But with the new capital, Lake Central started upgrading their fleet, buying ex-United Convair 340s. The change was slow, and in 1964 Lake Central owned eighteen DC-3s and eight Convairs. Then LCA made their first big blunder. In 1964 they signed for eight Nord 262s, a small turboprop that was supposed to begin replacing the remaining DC-3s. But the Nord was a nightmare, and the constant breakdowns and flight cancellations hurt Lake Central hard. in 1966 The Nords were grounded, the remaining orders were cancelled and the DC-3s were back. But the damage had been done. Their reputation tarnished, their airplanes now old and worn out, and with cash drawers empty the airline announced it would merge with Allegheny Airlines. One year later the deal was done. Today's USAirways can trace its routes back to Lake Central, the little airline that at one time was the envy of the industry. HAG has 156 Lake Central routes (LKC) using both DC-3 and Convair 340 aircraft. Enjoy some excellent winter time airline regional flying with Lake Central! Click on the image at left for some classic Lake Central home movies.